The challenge of this musical is to keep things buoyant yet insightful (and with some backbone) about a subject many of us dread, namely work and its drudgery.
Working, A Musical, from the book by Studs Terkel. Adapted by Stephen Schwartz and Nina Faso. Directed and choreographed by Ilyse Robbins. Musical Direction by Jonathan Goldberg. With additional contributions by Gordon Greenberg. Songs by Craig Carnella, Micki Grant, Lin-Manuel Miranda, Mary Rodgers and Susan Birkenhead, Stephen Schwartz, and James Taylor. At the Lyric Stage of Boston through February 1.
By Robert Israel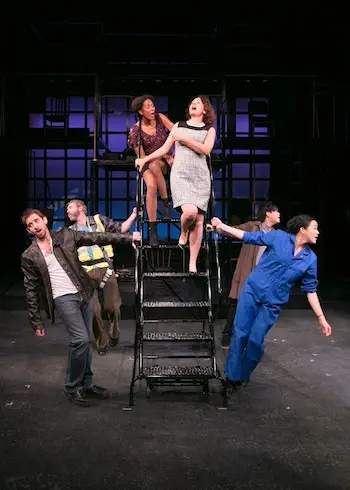 "It's a shame that the only thing a man can do for eight hours a day is work," Nobel Prize laureate William Faulkner once mused. "He can't eat for eight hours; he can't make love for eight hours; the only thing a man can do for eight hours is work."
Faulkner was never interviewed by the late Studs Terkel. Among Terkel's many journalistic talents was his interest in talking to those who toil at low wage tasks, extracting stories that he later shared in print and on his long-running radio program in Chicago. Faulkner's words, as channeled through Terkel, resonate throughout the Lyric Stage production. Unless we are born with inexhaustible trust funds or with rich parents, most of us must face long days doing some sort of labor. (The 1% need not worry, but the growing income gap assures many of us that retirement is a delusion.) There are rewards to work, to be sure. But there are also anxieties and injustices.
In the musical we meet people who labor at multifarious tasks – from cleaning lady to fast food worker, prostitute, stone mason, student, and everything in between. Some of the characters – and the songs that accompany their stories – succeed splendidly. Others fall flat, failing to do what theater of this type is supposed to do: establish empathy, move us to feel the pain and pleasures of lives and experiences other than our own.
The major fault lies with the expansiveness of the script, which deals with the trials and tribulations of over 20 workers. The credits for the opening number, "All the Livelong Day," claim that it pays homage to poet Walt Whitman, the American granddaddy of Democratic Vistas. I admire that the musical's creators wanted to grapple with the predicaments of so many working stiffs. There's nothing wrong with bringing Whitmanesque ambition ("I am large, I contain the multitudes," and all that) into the theater. We could use much more of it. But fewer characters would've sufficed. Today, many jobs are boring and few allow workers to exercise more than a small percentage of their potential or talents. The play would have been better served if it dramatized ways in which a concentrated sampling of workers could rise above what is expected of them, if it had shown the richness of their inner lives, suggested ways in which they might transform themselves into more satisfying existences. Of course, that would raise issues of social justice, domestic violence, educational opportunity, unionization, etc., and that's a dimension that is not approached with any depth or conviction in this musical.
So the Lyric Stage cast of six – three men and three women – do the best they can to convey the individual stories of this motley crew of workers within a matter-of-fact structure, with occasional detours for daydreams. The latter supply the evening's most whimsical moments, when we see the workers envisioning a life beyond the drudgery.
A newcomer to the Lyric Stage, Cheeyang Ng, triumphs because of his winning personality. In the scene when he shares his experiences as an ex-newsroom assistant, he brings the house down just through the playful inflection of his voice. So, too, is Christopher Chew, a talented actor/singer who in real life grapples with multiple tasks as an employee (his day job is an educator/administrator), worthy of praise. His transformations from character to character on stage are marvelous, especially when he portrays an elderly man slowly losing his grip on reality. The female performers also have their successful scenes, although these are not as plentiful. Portraying an ordinary housewife, for example, Merle Perkins struggles with conveying just how prosaic her life has become, despite her dreams to the contrary. Shannon Lee Jones shines in the role of a waitress responding to her duties with spunk and sass. The lovely Tiffany Chen supplies some warmth. The third man in the cast, Phil Tayler, is at his best when he plays "Brother Trucker," but sinks into the background in other scenes.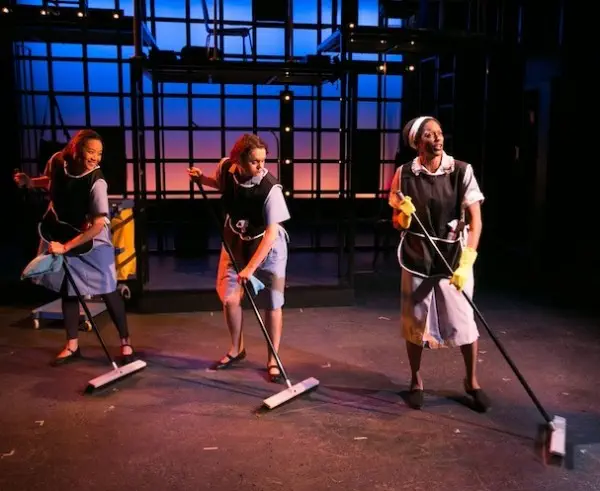 There is much to cheer about in the production's costuming, designed by Rafael Jaen – the actors merely have to peel off one layer of clothing to reveal a new set underneath. And the lighting by John Malinowski, who also graces the Gloucester Stage with his talents, adds sympathetic framing.
The challenge of this musical is to keep things buoyant yet insightful (and with some backbone) about a subject many of us dread, namely work and its drudgery. We know about bad bosses, long hours, low pay, and the increasingly impossible struggles to balance work/life. These are a given in a Walmart-driven economy dedicated to the race to the bottom when it comes to treating the majority of American workers. What Terkel was trying to show us through his pithy interviews was that there are human desires that connect us all. By helping others make the most of themselves and their dreams, we would create an economy that gives workers the opportunity to feed their families and maintain their dignity. It is this element of mutual enrichment — that the American dream should be a reality for all of us, and not just on the terms dictated by the 1% — that is sometimes given short shrift in this production. Looking at the struggles of fewer more deeply would have given us more.
---
Robert Israel writes about theater, travel and the arts, and is a member of Independent Reviewers of New England (IRNE). He can be reached at risrael_97@yahoo.com