Blue Heron explores a rarely performed repertoire with a choir made up of sensational soloists.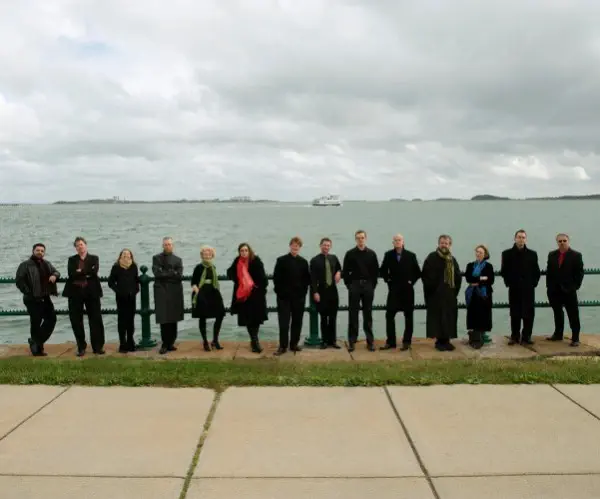 By Susan Miron
Last winter, Blue Heron, the superb Renaissance vocal ensemble under the direction of Scott Metcalfe, sold out both of its Christmas concerts, so this year a performance was added on Saturday between the two evening presentations. With three recorded sessions too choose from, one hopes it will be possible to replicate the beauty of the daytime concert, held in Cambridge's First Congregation Church, Congregational, a favorite of Boston choruses. It would certainly be a CD I'd listen to again and again for the luxuriance of the voices as well as its evocation of an ineffable, calming spirit.
Blue Heron is one of those rare groups that does just about everything right, or, more accurately, brilliantly. Their recent recording, a third volume of music from the Peterhouse Partbooks featuring Nicholas Ludford's Missa Inclina cor meum and John Mason's antiphon Ave fuit prima salus, is gorgeous. Blue Heron explores a rarely performed repertoire with a choir made up of sensational soloists. Performing in groups of from three to twelve, with (at this concert) only a replica of a Renaissance harp, the ensemble is highly polished, and often quite breathtaking. This concert's singers were stellar early music performers: Pamela Dellal, Martin Near, Gerrod Pagenkopf, Daniela Tosic, Michael Barrett, Owen McIntosh, Jason McStoots, Mark Sprinkle, Paul Guttry and David McFerrin.
It is hard to fathom why similar music from this era left me so cold when I studied it decades ago. Scholarship—and Blue Heron has plenty of that behind it—can take you just so far. It's the choice and blend of the voices and the musical sensitivity with which those voices are deployed that make Blue Heron so haunting. (Still, make no mistake — the scholarship helps enormously).
Elizabeth Seitz gave an unusually interesting pre-concert lecture, explaining how music in this time was inextricably linked to both worship and celebration. In other words, music was not simply an adornment but central to Advent and worship in medieval culture. Her somewhat breezy explanations stood in counterpoint, so to speak, with the scholarly notes of Scott Metcalfe, who played a great deal of medieval harp throughout the concert. Strung with 26 strings, it has both a B flat and B natural, and was made by Lynne Lewandowsi of Bellows Falls, Vermont in 2010. In his program notes, Metcalfe writes that it is modeled on instruments depicted in the paintings of Hans Memling and on a few surviving examples of the instrument: "The medieval harp twangs and crackles as its gut strings vibrate against the thin edge of the L-shaped bray pin; the sound is louder and more sustained, especially in the bass, than that produced by a harp without brays. The buzzy sound so characteristic of this harp made the verb 'to harp' in several European languages mean 'to buzz.'"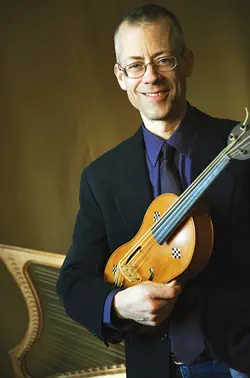 Blue Heron's Christmas in Medieval England program began stirringly with a 13th century French hymn for Advent, familiar to us as Veni, veni Emmanuel. There were seven pieces for the Annunciation, most from the 1400s, sung in various permutations. Ther is no rose of swych vertu was familiar to those of us who heard, sung, or played the third movement of Benjamin Britten's A Ceremony of Carols.
One of the program's highlights was the glorious Gaude virgo salutata / Gaude virgo singularis by John Dunstaple (d. 1453). One needn't know that it is an isorhythmic motet, perfectly proportioned and meticulously constructed, to be dazzled by its beauty. The other composing star here was Leonel Power (d. 1445), represented by several lovely selections from the Old Hall Manuscript.
The second half of the program, Christmas Day, began in the dark, as did the first half. A delightful Sarum plainchant was sung in a semicircle with the men's backs to the audience. Then the lights came on and we heard Nowel: Owt of your slepe aryse from the 15th century, my favorite piece on the program. Throughout the afternoon, the two women singers, Pamela Dellal and Daniela Tosic, were quite moving, sometimes almost heartstopping. The spirited Nowel syng we bothe al and som was the last piece, followed by a lively encore, Nova, nova, an anonymous 15th century carol. The song translations had the original texts as well, and, in the case of the many Middle English poems, there were helpful translations of words and phrases (for those of us couldn't remember much from our Middle English course). This was a truly classy event: Happy holidays and bravi to all the singers and Scott Metcalfe!
---
Susan Miron, a harpist, has been a book reviewer for over 20 years for a large variety of literary publications and newspapers. Her fields of expertise were East and Central European, Irish, and Israeli literature. Susan covers classical music for The Arts Fuse and The Boston Musical Intelligencer. She is part of the Celtic harp and storytelling duo A Bard's Feast with renowned storyteller Norah Dooley and plays the Celtic harp at the Cancer Center at Newton Wellesley Hospital.