Would it be all that nervy to ask if, in the coming years, there might be more, not less, musical experimentation? Couldn't the Boston Pops commission a new seasonal work and showcase it?
Holiday Pops, performed by the Boston Pops Orchestra at Symphony Hall, Boston, MA, through December 24.
By Robert Israel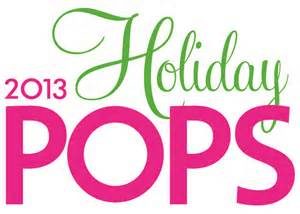 Holiday Pops – that annual cavalcade of tried and true seasonal musical selections performed by the members of the Boston Symphony Orchestra at Symphony Hall – is as beloved as Santa Claus. Patrons return year after year and are seated at cozy tables where they enjoy gingerbread cookies and beverages or peer down from seats on the balconies bedecked with boughs of holly and twinkling red and green lights. It's blustery and chilly outside but inside the hall is cozy and warm. Even the ushers wear Christmas finery, and some come to work with plush reindeer hats atop their noggins.
The musical selections are predictable, sanguine, mawkish. But each year, under conductor Keith Lockhart's artistic direction, these old chestnuts roast to a reasonably pleasing taste. To his credit, Lockhart sandwiches ecumenical selections in between the standard Christian tunes. It's not all that daring to mix things up a bit because folks attending the Holiday Pops expect (and get) a rousing treatment of Christmas carols served up in high style by the some of the finest musicians in town. Hallowed cultural traditions – this one especially – are worth preserving. But would it be all that nervy to ask if, in the coming years, there might be more, not less, musical experimentation? Couldn't the Pops commission a new seasonal work and showcase it? Couldn't the Tanglewood Festival Chorus give us a selection of African-American spirituals or klezmer tunes?
Case in point: the performance I attended, conducted by Gerald Steichen, included a selection, "Candle Lighting Blessings – Drey Dreydeleh," attributed to "traditional-Jacobson." I found the piece somewhat discomforting. It begins with the chorus intoning the blessing over the Chanukah candles, followed by a klezmer-inspired romp that features a robust violin solo by assistant concertmaster Elita Kang. In years past, Lockhart has chosen by Peter Yarrow's more popular Chanukah selection "Don't Let the Light Go Out," a more appropriate tune given that Chanukah is a minor Jewish holiday and has come to be seen, globally, as a heroic testament to religious freedom. (An interest aside: the ever-popular tune "White Christmas," performed at the close of the concerts, was written by none other than Israel Isidore Beilin, a Russian-Jewish immigrant who changed his name to Irving Berlin.)
A highlight of each concert this year is an oral/musical/visual presentation of Chris Van Allsburg's The Polar Express with music by Alan Silvertri and Glen Ballard. The talented actor Will LeBow provided the narration. He not only takes on all the voices in the story, but his body sways rhymically to the music swirling around him. It is a bravura performance.
As long as we're talking about Christmas and my mind is on suggestions for the Pops, how about Dylan Thomas's A Child's Christmas in Wales, a wonderful tale chockfull of poetic language that is just as musical as the melodies played by the Pops orchestra. Perhaps the latter could commission a treatment of this classic tale next year? I'm sure LeBow could handle the narration.
Many audience members look forward to this concert, close to year's end, which provides generous servings of proverbial comfort and joy. The Holiday Pops delivers this, and bravo to them for doing it. But the challenge is to refresh the occasion with new ideas, without casting aside the feel-good vibe so many come to expect.
---
Robert Israel writes about theater, travel and the arts, and is a member of Independent Reviewers of New England (IRNE). He can be reached at risrael_97@yahoo.com