Benjamin Evett as Arthur and Erica Spyres as Guenevere turn in solid performances, dependable anchors for a cast that does the best that it can in a drab, bargain basement production.
Camelot. Book and lyrics by Alan Jay Lerner. Music by Frederick Loewe. Directed and choreographed by Russell Garrett. Musical direction by David McGrory. Staged by the New Repertory Theatre at the Watertown Arsenal Center for the Arts, Watertown, MA, through December 22.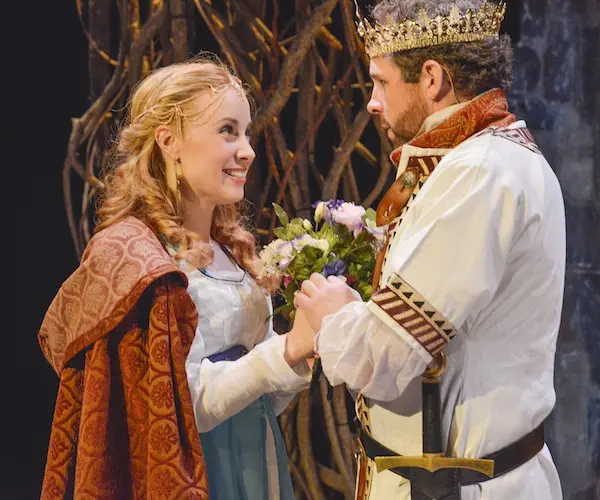 By Iris Fanger
Proposition: A critic must erase any thoughts of past productions of iconic musicals no matter how glowing the memories when watching revivals of same. Proposition: A small theater company should not mount a beloved musical without either 1) the resources to do it proud, or 2) an imaginative re-take on the work.
Pardon my staking out propositions, but it's only to mirror King Arthur's manner of thinking out loud as he strides the stage in Camelot, the well-loved musical by Alan Jay Lerner and Frederick Loewe, adapted from the memorable cycle of novels about the legendary monarch in T.H. White's The Once and Future King.
There are those of us who still remember the show's 1960, pre-Broadway tryout in Boston. Richard Burton starred as Arthur, half-chanting, half-braying the opening lyrics of the song, "I Wonder What The King Is Doing Tonight," while waiting to meet his bride, the lovely and vocally stunning Julie Andrews as Guenevere—post My Fair Lady, pre-film The Sound of Music. Robert Goulet made an astonishing, full-throated American stage debut as Lancelot.
In condensing the story, the composer and lyricist-book writer devised a way of reminding the viewers of Arthur's youth as an acolyte of the magician, Merlyn, by having the young king voice his hopes and fears out loud via logical thinking: a consideration of propositions eventually leads to a decision for action. The musical tries to serve up a narrative that covers, in compact form, a considerably long time period, from the years before the formation of the Round Table to its dissolution because of the affair between Guenevere and Lancelot (plus evoke the knights' predilection for war). However, the performances by Burton, Andrews and Goulet, the melodious score, and poignant lyrics insured the success of the work and its continuing theatrical life. The connection of Camelot to the brief period of President John F. Kennedy's presidency, cut short by his tragic assassination, has been invoked at each revival, especially this year on the 50th anniversary of the shocking death.
First, the good news about the New Rep revival: Benjamin Evett as Arthur and Erica Spyres as Guenevere turn in solid performances, dependable anchors for a cast that does the best that it can with the bad news: a drab, bargain basement production. Evett is appealingly boyish as the self-doubting new king, terrified at the thought of meeting his unknown bride-to-be. One of the most versatile and accomplished actors in the area, Evett grows in wisdom before our eyes, his characterization deepening as more and more suffering is heaped on the monarch. Arthur loses the unity of his kingdom, his queen, and his best friend, not to mention his dream of forging a Round Table to bring permanent peace to his people. Evett's strong-enough singing voice comes as a welcome surprise.
Spyres, a popular actress-singer and veteran of Avenue Q at the Lyric Stage, where she pulled off the twin roles of a perky neighbor and brash puppet handler, gives us a Guenevere who is naive maiden and a mischievous young bride, eventually transforming into an anguished mature woman torn between two loves. Marc Koeck finally comes to life as Lancelot in the second act once he unleashes his full voice in "If Ever I Would Leave You." He's a hunk in armor. but less physically agile than he should be, given the character's reputation as numero uno warrior and Arthur's strong right sword. The find of the cast is the charismatic Nick Sulfaro as Mordred, Arthur's illegitimate (and evil) son. Otherwise, Robert D. Murphy as King Pellinore and Maurice Emmanuel Parent as Sir Lionel manage to make us believe in their characters. Natalie Hall as the Young Girl in Waiting, Dashiell Evett as the newly-knighted Sir Tom, and Julian Schepis as a Page come off as aptly adolescent Authurians.
Unhappily, director and choreographer Russell Garrett's staging is generally inert, despite the promising presence of tall towers as trees for climbing platforms. His choreography consists chiefly of processions of courtiers garbed in ill-fitting costumes that look like they came from the bottom of a thrift shop barrel. Rafael Jaen, who designed the production's costumes, has done good work in the past: one can only surmise that he either had no budget or lost his cool when it came to tackling coming up with the right duds for King Arthur's court. Musical director David McGrory led a small orchestra of musicians who sounded on opening night as if they had met for the first time.
If it had been left to me, I would have staged this Camelot in concert version, with the leading actors grouped around a professional musician at a piano. Then the actors would have been able to simply speak the lines and sing the luscious songs. Now that would have been an evening to remember.
---
Iris Fanger is a theater and dance critic based in Boston. She has written reviews and feature articles for the Boston Herald, Boston Phoenix, Christian Science Monitor, New York Times, and Patriot Ledger as well as for Dance Magazine and Dancing Times (London).
Former director of the Harvard Summer Dance Center, 1977-1995, she has taught at Lesley Graduate School and Tufts University, as well as Harvard and M.I.T. She received the 2005 Dance Champion Award from the Boston Dance Alliance and in 2008, the Outstanding Career Achievement Award from the Graduate School of Arts and Sciences at Tufts. She lectures widely on dance and theater history.