No pianist in his right mind is going to repeat this program. András Schiff had privileged us with a gift that only he could give.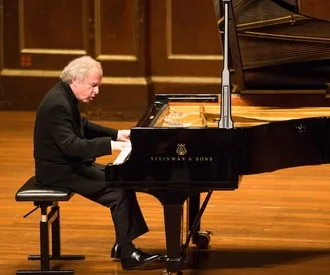 By Susan Miron
There are concerts one expects to be memorable just because of the artist and the works he or she has chosen to perform. Several each year appear in Boston courtesy of the Celebrity Series. The latest featured the brilliant Hungarian-born pianist, pedagogue, and lecturer András Schiff, touring with his two-year Bach Project. Soon to be 60, Schiff has been playing Bach to great acclaim for decades. His idea was to pair in performance the two greatest sets of keyboard variations ever written: Bach's Goldberg Variations and Beethoven's notoriously difficult Diabelli Variations. Separately, each usually dwarfs whatever else is on the same program. Played together (which I have never heard of before, but it now seems natural) they pack a powerful punch.
Widely acknowledged as one of the most important Bach performers ever, Schiff has often told interviewers that he plays Bach every morning of his life. "I see every composer through my experiences with Bach," he stated in 1996. "All great music after Bach is related to Bach and polyphony and counterpoint and different voices… You can't play the Goldberg Variations until you have played everything else by Bach. This is his opus magnum." Schiff recently declared, "In Bach, all the challenges are musical; there is nothing 'technical.'" The musician's unusually lengthy, illuminating program notes were the first excellent thing this unusual concert offered.
Schiff is a no-fuss performer. He walks out on stage, bows, sits (on what looked like his own bench) and plays. He has dedicated many years of thought to this repertoire, and it shows. He played the opening aria of the Goldberg Variations straightforwardly and unsentimentally. The beautiful opening "Aria," which first appeared in the Clavierbüchlein für Anna Magdalena Bach, was ornamented just enough. In his program notes, Schiff points out that one must not listen only to the work's gorgeous melodies. Instead, the listener should focus on the bass line:
Standing in front of a cathedral, we are overwhelmed by its size and grandeur. Our eyes are constantly diverted towards the splendour of the towers and the cupola a tht etop, while we tend to neglect the foundations on which the whole building rests. This ground bass (helpfully shown in the notes) is like that of a a passacaglia or a chaconne, it is the alpha and omega of the construction. There are thirty variations after which the Aria returns in its initial shape, thus uniting the beginning with the end. Bach clearly asks the performer to repeat each section. Not doing so would destroy the perfect symmetry and its proportions. Great music is never too long. It is certain listeners' patience that is too short.
Interestingly, Schiff plays almost all of Bach without using the sustaining pedal. It is the clarity of the voices, the cantabile (singing) way he shapes his phrases that make his Bach so impressively elegant.
Schiff has recorded the Goldbergs twice and he explains that he acts as a musical guide, drawing our attention to important details we will not want to miss. In nine pages of notes he proves why he is so sought after for master classes (several are posted on You Tube) and for lectures (his superb talks on the complete Beethoven sonatas appear on guardian.co.uk). His quiet charm and utter seriousness about Bach also comes through in his approach to the Goldbergs, in which he, like countless others, finds new revelatory gems each time he plays them. It's worth noting that Schiff, as well as our local Bach luminary Sergey Schepkin and Glenn Gould, recorded this work twice. It's one of those works of genius that stays new because it demands reconsideration.
There were several breaks between variations in which Schiff observed a few moments of silence before embarking on the next variation. The long silence at the work's end (70 minutes had elapsed) was one of the most moving experiences I've had at a concert in a long time. The audience was spellbound.
For his heroic second half, Schiff undertook Beethoven's diabolically difficult Variations on a Waltz by Anton Diabelli, Op. 120.
In a Globe interview, the pianist said the Diabellis are a kind of summa of Beethoven's art: "His whole personality and all the diifferent sides of his character (are there). I would call it his most Shakespearean creation. Only Shakespeare can do this: to have the dramatic, the lyrical, and the comic united." Schiff explains that Beethoven knew Bach's music, although it was "virtually unknown and unplayed in Beethoven's Vienna." "I see every composer through my experiences with Bach," Schiff confesses. Beethoven clearly had Bach on his brain when he wrote (in 1819 and 1823) these monumental variations. "Beethoven's challenge was the 'Goldberg Variations," the pianists insists.
Schiff writes about the Diabelli Variations, "How do we characterize them? Some are dramatic, majestic, lyrical, tender, while others are funny, insolent, philosophical, mysterious. There is no other work that contains so many features of his genius. Such a masterpiece needs to be listened to over and over again. As for us performers, we must spend a lifetime trying to comprehend its secrets."
Schiff seemed almost a different performer during the Beethoven. His playing was passionate, exciting, often thrilling. He has lectured about how he disliked pianists "ironing out the edges, not bringing out the 'ugly' accents" that composer wanted. Schiff brought out the humor and, most likely, every other quality Beethoven intended in this piece. It was, quite simply, a magisterial performance, full of surprises and beauty.
After the thunderous standing ovation (both halves of the concert), some people headed for the doors. What could one play as an encore, they all muttered. But Schiff, astonishingly, had saved the best for last.
His 15 or so minute encore, the "Arietta" from Beethoven's last piano sonata (Op. 111), is a piece Schiff feels is "extremely spiritual music of the utmost ecstasy… one of the wonders of mankind" (One can hear him speak in profound detail about the composition and then perform it at The Guardian.) Here we heard Schiff at his profound best, delivering the most extraordinary music making of the evening. After a few minutes, however, he stopped suddenly and told the many coughers to desist. "This is a gift for you," he explained. There was no more coughing. He then took his listeners to a spiritual space I have rarely experienced in a concert. This was one of those very rare moments I will remember for the rest of my life. No pianist in his right mind is going to repeat this program. Schiff had privileged us with a gift that only he could give.
---
Susan Miron, a harpist, has been a book reviewer for over 20 years for a large variety of literary publications and newspapers. Her fields of expertise were East and Central European, Irish, and Israeli literature. Susan covers classical music for The Arts Fuse and The Boston Musical Intelligencer. She is part of the Celtic harp and storytelling duo A Bard's Feast with renowned storyteller Norah Dooley and plays the Celtic harp at the Cancer Center at Newton Wellesley Hospital.