Whenever you hear greeting card bromides intoned with a straight face (it's usually in scenes set in a hospital), you know that moral corner-cutting isn't far behind.
The Power of Duff, by Stephen Belber. Directed by Peter DuBois. Staged by the Huntington Theatre Company at the Calderwood Pavilion at the Boston Center for the Arts, Boston, MA, through November 9.
By Bill Marx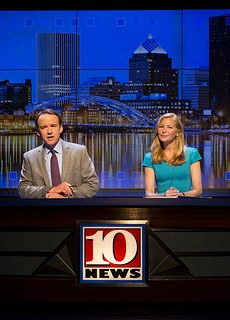 Stephen Belber's The Power of Duff begins with an enticing premise, one that with some imagination, courage, and verve might have made for a bold evening of theater. Charles Duff, a middle-aged news anchor for a small market TV station, prays to God publicly at the end of a broadcast and, lo and behold, the guy's daring and spontaneous act of faith bears fruit in the real world. Duff quickly becomes a global celebrity as he continues to pray on-air and the apparent 'miracles' multiply.
Think of the dramatic possibilities: the broadcaster happens to be a Muslim and it is Allah who is healing the afflicted and helping the poor. Or a fight breaks out among various Evangelical God Squads to claim the chosen news hound, setting off a pint-sized Crusades across the homeland. Maybe a savvy replay of the '50s classic The Next Voice You Hear, which gave us God speaking directly to the American public over the radio. Or an update of the 1940 play Susan and God (made into a film starring Joan Crawford), where a woman is born again, and, juiced up with self-righteous fundamentalist fervor, drives her non-believer friends crazy. Think of what this holy variation on the hellish vision of Network — a Howard Beale whose fervent prayers come true — could explore given today's volatile mix of religious, political, and cultural trench warfare.
But hopes of something nervy and fresh, either in the way of satire or provocative drama quickly fade. What we have here is middlebrow commercial entertainment (the heavenly manna of phony significance droppeth upon middlebrow critics). Belber posits a neat-sounding hook and then buries it in the same old bourgeois blues. The dramatist has little interest in exploring the dangerous intersection of faith and secularity in America; he is not concerned with the state and value of religious belief today or asking difficult questions about competing 'ultimate' values. That would be risky — that may cause discomfort. The Power of Duff exploits prayer in order to give us yet another tired version of the burnt out white male redeemed (once his requisite wild oats have been sown, of course). This unconvincing homage to the glory of family values asserts that genuine goodness lies in doing little but valuable things: kiss your children (a lot), help blind people across the street, and feed stray animals.
In that sense, Belber's script provides more evidence that, at the moment, the stage — out of panic? the desperate need to please aging, well-heeled audiences? — is going down a conservative path. Rather than take a contentious position that might make us challenge something about the notion that we 'have to work on ourselves first,' The Power of Duff embraces pieties that safely cross the political and theological spectrum but fall short of consistency. Whenever you hear greeting card bromides intoned with a straight face (it's usually in scenes set in a hospital) you know that moral corner-cutting isn't far behind.
The Power of Duff started out as a screenplay, so the evening feels like one of those reversible raincoats: wear it this way and the script is a movie-like play; turn it the other way and it is a play-like movie. Many of the stereotypical dramaturgical boxes for big screen and stage are checked — short scenes, sit-com/adolescent humor (reassurance to the nervous that the evening won't be solemn), characters that explain (and then re-explain) Duff's dilemma step-by-step so that no one in the audience could possibly be confused. Dysfunctional family dynamics lifted right off the assembly line: estranged from his family because of his affairs and disconnected ego, Duff is dealing, badly, with a snarky-to-the-max 15-year-old son and a former wife who is battling breast cancer. Boomer anxieties about aging appear, naturally — Duff's on-air prayers are triggered by his father's death. Political correctness comes in the form of a black gay man from Africa who has AIDS — he benefits from Duff's friendship and apparent powers to call on God's graces. There's Duff's horny sports reporter friend, whose jokey facade hides… well, you can guess. Sex appeal is supplied by the broadcaster's female co-anchor, while the TV station manager turns out to be the predictable cynic, though I have been around enough newsrooms to know that selling out need never be talked about so blatantly or 'objectivity" mentioned with such earnestness. In mainstream broadcasting everybody knows the score — silence means job insurance.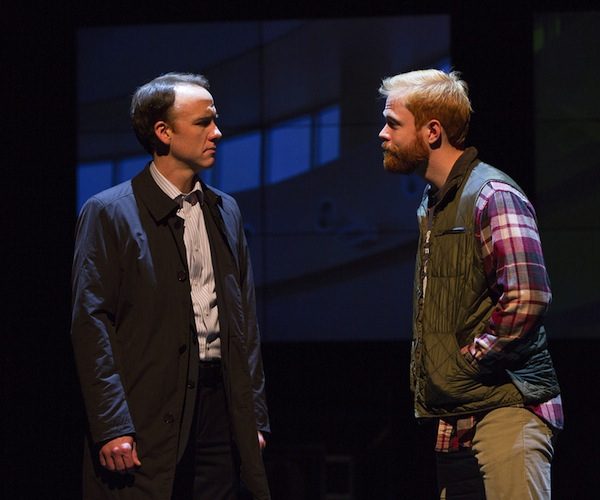 The Huntington Theatre Company production is efficiently directed by Peter DuBois, with David Wilson Barnes giving an intriguing turn as Duff. His broadcaster is a very repressed, emotionally reserved man — incurious to the point of downright insensitivity. If your prayers were answered and you became a media phenomenon, a darling of CNN, wouldn't you at least think a little about studying religion? Barnes maintains a poker face through it all, perhaps as a strategy against falling prey to the play's sentimentality — the result is a tight-lipped performance that is more intriguing for what it doesn't do than for what it does. The supporting cast is diligent, but it gives off soap operatic vibrations — the send-ups of facile TV news reporting are amusing, but the real things are much more hilarious.
I mentioned moral fuzziness. Sitting through The Power of Duff I couldn't help but speculate that the play is not so much about the vissictudes of faith (which is the bait-and-switch set-up for what is your standard troubled family melodrama), as the inevitably vulgar (personally compromising?) price of success. Duff's essential conflict is between his distaste for the circus of publicity generated by his 'power' to do good and the emotional space he needs to meaningfully connect with his loved ones. (Note: Google's job offer to Duff in the play pales besides the magnificent Ned Beatty sucking away Peter Finch's soul in Network.) In a successful effort to remain completely harmless, the script suggests that prayer best begin (and perhaps end?) at home. You can't have both — the public cancels out the private. Apparently, helping others on a large scale is better left to God, though according to Duff The Almighty doesn't exist. The heavy lifter has left the building — but keep thinking small, anyway.