Lightning Bolt, Pearl Jam's tenth and latest studio album, takes the band's newfound (or at least newly re-found) appreciation for radio-friendly mainstream rock and successfully stretches its parameters a bit.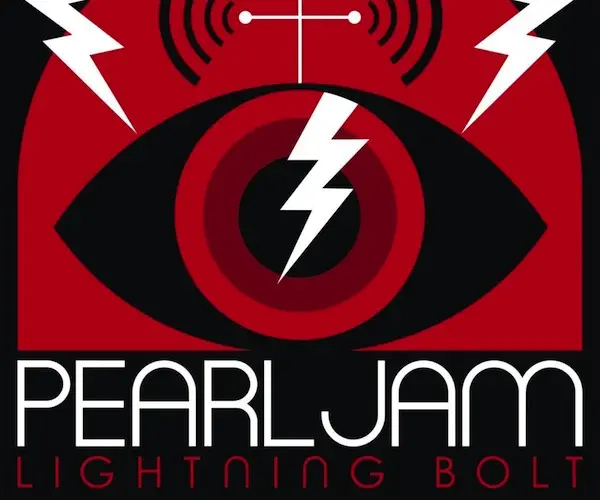 Lightning Bolt, Pearl Jam (Monkeywrench / Republic Records)
By Adam Ellsworth
Pearl Jam are a band that have had (at least) three acts. Act One, "The Mega Years," lasted from 1991 to 1995, and produced the albums Ten, Vs., and Vitalogy. For much of this period, Pearl Jam were the biggest band in the world, and as such subjected to all the pressures that came with that distinction. To say the least, singer Eddie Vedder didn't much like it.
This led directly to Act Two, "The Retreat," which covered 1996 to 2005 and the albums No Code, Yield, Binaural, and Riot Act. Frankly, Act Two seemed even longer than the decade it took. Not that it was all bad. The 1998 album Yield was as strong as anything the band released during "The Mega Years" and in 1999 Pearl Jam's cover of "Last Kiss" went all the way to number two in the Billboard Hot 100, where it was sandwiched between "If You Had My Love" by Jennifer Lopez and "Livin' La Vida Loca" by Ricky Martin (yes, kids, the late '90s were a funny time). It was also during these years that the band began solidifying their reputation as the best live band of their generation. But for all this, the music was often less direct, less rocking, and less like what their more fair weather fans wanted to hear. At times, it was also less like what some of their more dedicated fans wanted to hear.
Thankfully for Pearl Jam fans of all commitment levels, the band is currently in Act Three, "The Revival." It's as if, starting with the release of 2006's Pearl Jam, the band realized that even if they aspired to once again be "The Biggest Band in the World," it would never happen, so they were free to make music that sounded really good on rock radio without having to worry about the crushing pressures that come with massive success. Backspacer, from 2009, took this freedom to the logical extremes with songs that mostly lasted less than four minutes, a pop rock lead single ("The Fixer"), and the release of the gentle ballad "Just Breathe." For all this, Pearl Jam were rewarded with their first number one album since No Code.
Lightning Bolt, Pearl Jam's tenth and latest studio album, takes the band's newfound (or at least newly re-found) appreciation for radio-friendly mainstream rock and successfully stretches its parameters a bit.
Take the lead single and second track on the album, "Mind Your Manners," a sub three minute blast of punk-inspired rock. "Mind Your Manners" might not sound like anything else that's on the radio right now, but it does sound an awful lot like Act One's "Spin the Black Circle."
If you're really looking for a song to screw with your head, look no further than the nearly six minute ballad "Sirens," the second release from Lightning Bolt. Ballads are nothing new for Pearl Jam. Some of their best songs have been ballads. But "Sirens" is a genuine raise your lighter in the air, slow dance at a wedding, cry at the prom, "Can you take me hiiiiiiiiiiiiiiigh enough," power ballad. A word of advice: if you hate "Sirens" so much the first time you hear it that you turn it off halfway through (uhm, not that I had this experience or anything), that's okay. Give it a few weeks, and then try it again. If you aren't completely turned around on your second listen then you probably never will be. Still, whether you like it or not, "Sirens" is going to be on the radio forever so you better get used to it.
"Mind Your Manners" and "Sirens" are the two extremes of Lightning Bolt, and interestingly enough, both were co-written by lead guitarist Mike McCready. For most of the band's first two acts, McCready offered guitar wizardry, but not much in the way of songwriting. Obviously, that's changed.
The rest of the songs on the album hit all the traditional Pearl Jam bases from hard rock riffs, to mid-tempo burners, to lighthearted strummers, to big, emotional, belters. The hard charging opener "Getaway" sets the pace musically, while lyrically it insists that there's nothing wrong with differences of opinion, but we shouldn't let those differences get in the way of the bigger picture. Maybe there are some Pearl Jam fans in Congress who could use this advice?
"My Father's Son" treads familiar lyrical ground for Eddie Vedder, who famously was raised by his mother and a man he incorrectly thought was his biological father.Though early Pearl Jam songs like "Alive" touched on this situation with brutal honesty, the words to "My Father's Son" seem to be about a more fictional scenario.
The title track, "Swallowed Whole," and "Let the Records Play," let the guitars loose, while "Infallible" bops almost circus-like, and "Pendulum" broods in a way reminiscent of the Vitalogy song "Immortality." Of these five songs, only "Let the Records Play" feels unnecessary.
Vedder pulls out his trusty ukulele for "Sleeping by Myself," a breezy ditty about a common Vedder theme: the pain you feel (or would feel) when (or if) your lover leaves you. Admittedly, this motif is starting to get old, but if you looked like Eddie Vedder (i.e., just a normal dude) and your wife looked like his wife, (i.e., like this) maybe you'd be paranoid about getting dumped too.
The penultimate song "Yellow Moon" is a big song with crashing drums and soaring guitars. The band has already started playing it in concert, and it no doubt really comes alive in that setting.
Lightning Bolt culminates with "Future Days," a tune whose beauty is generated by a piano and acoustic guitar. Essentially, "Future Days" is a more subtle version of "Sirens," and as a result it's the stronger, if less commercial, track. Regardless of which of those songs you prefer though, it's a testament to the strength of Pearl Jam's Act Three and the strength of Lightning Bolt that there's more than enough room for both of them.
**********
Adam Ellsworth is a writer, journalist, and amateur professional rock and roll historian. His writing on rock music has appeared on the websites YNE Magazine, KevChino.com, Online Music Reviews, and Metronome Review. His non-rock writing has appeared in the Worcester Telegram and Gazette, on Wakefield Patch, and elsewhere. Adam has a MS in Journalism from Boston University and a BA in Literature from American University. He grew up in Western Massachusetts, and currently lives with his wife in a suburb of Boston. You can follow Adam on Twitter @adamlz24.