The audience, mostly gray-haired seniors and aging baby boomers, walked out with smiles on their faces, as did I.
Million Dollar Quartet, co-written by Colin Escott and Floyd Mutrux. Directed by Eric Schaeffer Presented by Broadway in Boston at the Citi Emerson Colonial Theatre, Boston, MA, through October 20.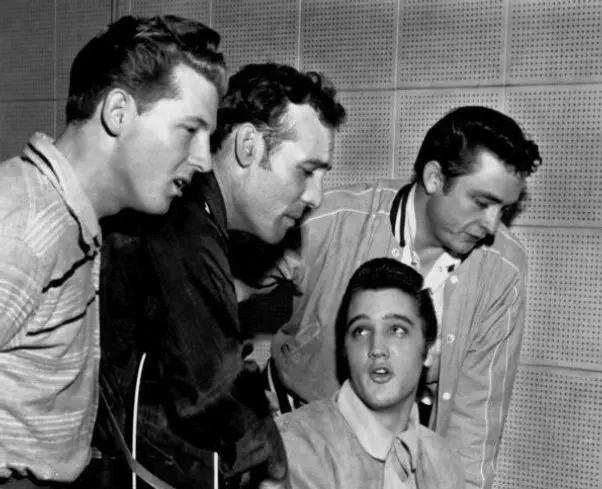 By Glenn Rifkin
Bringing iconic popular music to the Broadway stage has proved to be a winning, and lucrative, commercial formula. From Mamma Mia to Jersey Boys, the jukebox musical has morphed into a genre and done well, it means steady ticket sales, Tony nominations and the inevitable touring show.
Such is the raison d'être of Million Dollar Quartet, the infectious musical that opened on Tuesday night at Boston's Colonial Theater to an enthusiastic and sold-out house. Despite the fact that the show was first staged in 2006 in Florida and ran on Broadway for much of 2010 and 2011 I had never heard of it. With its unique back story, its relative obscurity is a bit odd given that its musical pedigree is far more interesting than a night of Abba or the Four Seasons.
The book is based on a fascinating rock and roll legend that happens to be true. On December 4, 1956, at Sun Records ramshackle, one-room studio in Memphis, four emerging rock and country icons met in an impromptu jam session hosted by Sam Phillips, Sun's iconoclastic founder and driving force. In the studio were Elvis Presley, Carl Perkins, Johnny Cash, and Jerry Lee Lewis. Urged by Phillips, the impresario who discovered and nurtured all of them, the four young artists began to play and sing. The studio engineer, obviously realizing that something special was unfolding, turned on the reel to reel tape system and the evening was captured in its raw and singular form. Word leaked out that the group was there and a local newspaperman and photographer rushed over to witness the one-time event. A recording was released in Europe in 1981 and in the US in 1990 and years later, stage writers and producers Floyd Mutrux and Colin Escott saw an opportunity to mine the story for a new jukebox musical.
The result is a mixed bag, a storyline that feels heavily contrived and uninspired offset by an amazing roster of iconic hits performed so well that you want to leap out of your seat and start dancing (which the audience eventually does). Few of the numbers in the show were actually performed or even written when the real event took place. But no matter. This is Broadway and the audience is here for an entertaining evening not a history lesson. Kicking off with "Blue Suede Shoes," the Carl Perkins composition that skyrocketed Elvis to fame, the song lineup is toe-tapping, hand-clapping wonderful. Among the numbers: "Who Do You Love", "Folsom Prison Blues," "That's All Right," "Down By the Riverside", "Sixteen Tons," "Great Balls of Fire," "Hound Dog," "I Walk the Line," and "Whole Lotta Shakin Goin On." Each of the performers is featured and, unlike the unrehearsed and raw original recording, these numbers are polished, tight and replete with terrific harmonies.
What makes jukebox musicals soar is that somehow the producers find remarkably talented individuals who can not only sing but play their own instruments. There is no house orchestra. These guys are kicking it all by themselves and at the Colonial, James Barry as Perkins is a treat. He has serious rock and roll chops on the guitar and carries much of the musical thread that ties the evening together. John Countryman is equally adept at the keyboard as the inimitable Jerry Lee Lewis, who serves as the group's brash young foil, insulting, arrogant, and wildly talented. Scott Moreau does an eerily effective Johnny Cash and Tyler Hunter is a serviceable Elvis, replete with the King's signature stage moves.
Vince Nappo portrays Sam Phillips, the genius who championed the birth and growth of rock and roll. Nappo is the show's narrator and the story's foundational element. He has discovered these rising stars and shaped their early careers but his Sun Records is not big enough or influential enough to hold onto them. By the end of the show, Phillips realizes that fame is indeed fleeting. The studio session is not only a celebration but a portent of the demise of Sun as the center of the nascent rock universe.
The show is a tight ninety-plus minutes without an intermission.The ending seems so abrupt that the producers felt obliged to add a sort of built-in encore in which colorful sequined jackets descend from the rafters for each of the performers who then sing a few more classics, urge the audience out of its seat to sing along and dance, and allow for the inevitable sparkling glitter to fall from the sky. The audience, mostly gray-haired seniors and aging baby boomers, walked out with smiles on their faces, as did I. It is, as I said, a fun evening. But throughout the evening, I had the uneasy feeling that a PBS fundraiser would break out at any minute.
---
Glenn Rifkin is a veteran journalist and author who has covered business for many publications including The New York Times for more than 25 years. Among his books are Radical Marketing and The Ultimate Entrepreneur. His efforts as an arts critic represent a new and exciting direction.