Kneebody threw jazz into the stylistic blender and it was poured out as something you probably haven't heard before. The future sounds good.
By Steve Mossberg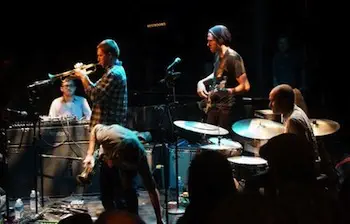 "Isn't the future of music all about superimposing different styles on top of each other?," quipped bassist Kaveh Rastegar at Berklee's Cafe 939 on Monday night. He had just finished playing a clearly non-cha-cha song called "Cha-Cha," but assured listeners that they could do the proper dance along with it if they really tried. Rastegar got some laughs from the crowd, but the joke might have had more than a little touch of truth for the other members in the collaborative quintet, a sleek post-modern outfit that is well known in jazz and other circles for its expert, unclassifiable blend of genres.
With drums, electric bass, electric piano, trumpet and tenor saxophone, Kneebody looks the part of a young, contemporary jazz group. Their approach to playing is clean, immediate, and direct. It's obvious, from song to song, (and they played many songs last night) that they draw from various wells of inspiration, but it's extremely hard to identify which one they're tapping at any given moment. If the band's gimmick is stylistic collage, then they do it in such a natural way that they're virtually "un-bustable" to even a sharp-eared cynic. It's a composer's band – all five members contribute pieces, and the material during the concert showed plenty of savvy craftwork. On every song, from the short, melodic "Pushed Away" to the trickily timed million-note blowout "Nerd Mountain" the music was balanced, nuanced, and transparent.
Regardless of manifold stylistic hats Kneebody wore on Monday night, the vibe of the concert was undeniably rock. The club was standing room only, the crowd was young, and the volume was loud. Nate Wood's drumming possesses none of the ambiguity or brainy embellishment proffered by contemporaries when they lay down their grooves. His playing is firm and emphatic, with a deep pocket, calling to mind Led Zeppelin and Black Sabbath even when he is playing in complex time signatures. He twirled his sticks in a display of warm-hearted arena-rock irony on the closing number "Ready Set Go" and was sharp and assertive even on a beautiful ballad like "Sleeveless." Rastegar is an authentic pop player: he has appeared with Bruno Mars and Cee-Lo Green among others. His no-frills bass work reflects that experience both in its economy of notes and huge, resounding tone.
A natural challenge when playing such tightly constructed music is how to integrate improvisation without detracting from each's song's structured artistic statement. Kneebody is not an endlessly searching, unpredictable type of group; on songs such as saxophonist Ben Wendel's "Politician" nobody took solos at all. Other songs featured enormous spontaneity, but it's pretty clear that the musicians weren't aiming to break down any jazz improv walls. All the players in the group are clearly virtuosic, but Wendel and trumpeter Shane Endsley handled most the real acrobatics. Both of them have pop credentials like the bassist, but they have recorded albums outside of the group in which they've demonstrated their ferocious ability to play traditional jazz with the very best. On "Still Play," the tenor player unleashed a terrifyingly fast solo using Bulgarian rhythms that matched the vibe of tune well. Endsley seemed more probing in his approach and somewhat less musically scintillating, but he found sweet spots as a soloist and supporting player, comping on his trumpet like a guitarist at times as well.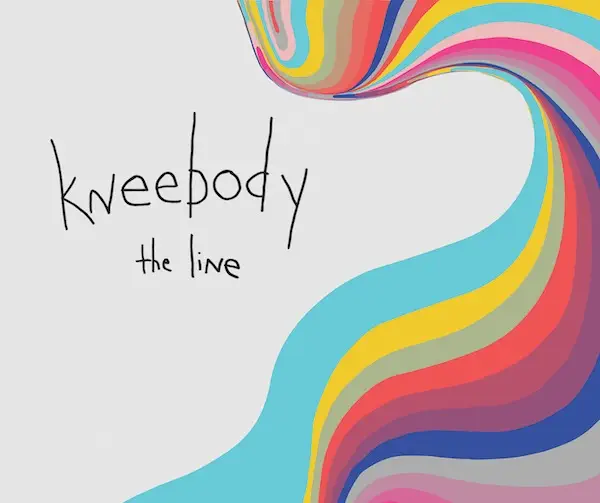 Keyboardist Adam Benjamin was perhaps the most flexible improviser of the night. On his own tune "Lowell," he developed a very sophisticated solo with a sense of humility that evoked such masters of understatement as Fred Hersch. On Endsley's aforementioned non-cha-cha "Cha-Cha," he was more athletic, but still managed to show equanimity with more notes at his command. His Fender Rhodes piano was electronically enhanced, just like the horn playing of Wendel and Endsley, and he got a lot of mileage out of the knobs and switches. Though he shaped his keyboard sound to resemble guitars and drums and spaceship engines, Benjamin never let the technology become the star of the show.
While the group's music isn't brainy in the least, the melodic language they use can tend towards the unusual and taxing. Given the right dosage, it's approachable and even catchy. Kneebody is clearly generous of spirit, handing out the cookies from their green room to the audience during the show. This generosity also led them to play two sets of material, and while it was nice to hear more of their finely crafted tunes, the amount of music led, on occasion, to diminishing aesthetic returns. Rastegar's new song, which opened the second set, would have shone more if it didn't have to follow Wendel's "Trite," and Benjamin's "Work Hard, Play Hard, Towel Hard" wasn't as easy to appreciate when played as the eleventh piece of the night as it might have been earlier on.
If the future of music is as Rastegar said it was, then Kneebody may be the jazz band of the future. That is, if they are a jazz band. It's hard music to describe, but of course that's the kind of problem that always pops up when a critic faces artistic innovation. The group's music-making is intriguing, creative, engaging, and totally guileless. They don't perform down to their audiences: they are clearly pleasing themselves. Yet their listeners seem happy with the group's singular sound.
---
Steve Mossberg is a composer, jazz pianist, and music educator living in Somerville, MA. He holds an MMEd. From Boston Conservatory and has taught jazz piano at Clark University. In addition to teaching music in the Cambridge Public Schools, he performs regularly with many of Boston's top musicians.