Overall, Elysium is an entertaining distraction posing as a meaningful global allegory.
Elysium. Directed by Neill Blomkamp. At cinemas throughout New England.
By Tim Jackson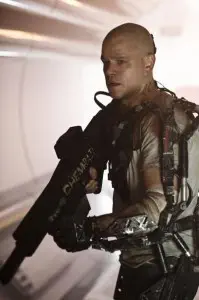 Neill Blomkamp's highly anticipated film Elysium begins with an interesting idea. The one percent has built and populated a floating colony in nearby outer space, 20 minutes by shuttle, filled with pristine, white architecture, sprawling picture windows, manicured lawns, and lots of green shrubbery. Every home is equipped with scanning machine pods able to instantly heal any disease or even rebuild broken bodies. Back on a squalid and decaying planet Earth, the rest of the population grovels in the dirt amidst endless landscapes of abandoned and dilapidated, high-rise buildings that look like endless favelas. Unwashed children play in the dirt, and everyone is dressed in rags, walking aimlessly amidst the ruins and heaps of rubble. Anyone with a job considers himself or herself lucky, but these are mindless jobs monitored by robot armies. There appears to be no access to health care. Obviously, it is all meant to sound very familiar. I guess by 2154 things are going to get much worse.
As with the director's previous film, District 9, a political parable is at the core of a story set in an imaginative, cyberpunk-looking future, shot in a pseudo documentary camera style, with elaborately detailed special effects. And it's style that is really on display on here. Blomkamp is great at creating endlessly engaging futuristic gizmos, intricate, battle-worn spaceships, and retro and derelict designs at the beck and call of non-stop action. But in doing so, he limits the the possibility of making his potential allegory anything more than a simple exercise in visual extravagance. What kind of people live in these opposing worlds? Who knows? What we get instead of characterization is a lot of high tech action and brawling.
Next to the effects, the best thing about the film is the sturdy and reliable Matt Damon, who plays Max De Costa, an ex-con who downloads computer programing into his brain that, by rewiring the Elysium Guardian robots, will completely reverse the exploitative relationship between Elysium and the ravished earth. How he gets that formula and what he does with it is the meat of the story. It's a sophisticated piece of software that can reprogram an entire society. I couldn't help but think that the director must have software embedded in his own brain that has referenced and combined plot details and visual ideas from a hundred other post-apocalyptic films.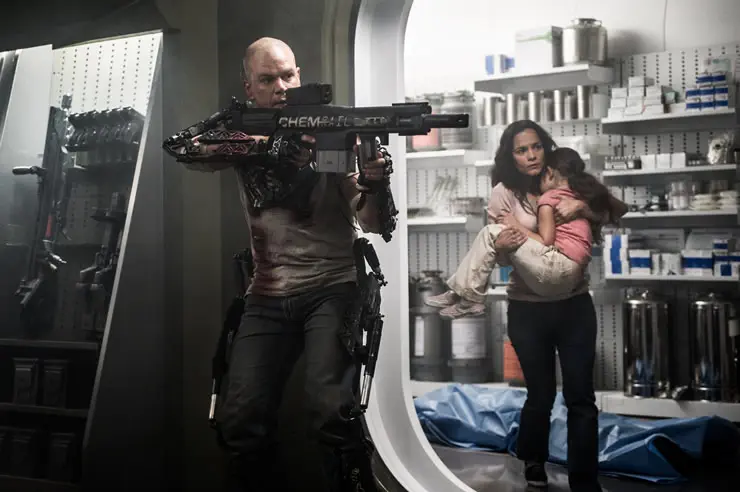 Like this summer's Man of Steel, Max finds himself venturing from a crumbling planet on a messianic mission, backed by the confidence of a mom who senses her kid is "born to do something remarkable." Blomkamp's friend and regular Sharlto Copley gets to chew up the scenery as Max's nemesis Kruger, a crusty and compromised special forces soldier sent from Elysium to deal with problems back on earth. His performance gets hammier and more outrageous as it goes along—he channels the baddies in Mad Max, Pirates of the Caribbean, Sergio Leone westerns. He finally ends up settling on Captain Hook. Jodie Foster as Defense Secretary Rhodes puts in an inexplicably weird performance in a role that would be better served by Judy Dench or Glen Close. Foster speaks in an accent from God-knows-where that generally exudes all the malevolence of Dr. Evil from the Austin Powers films. At her best, to be fair, she conjures up Ming the Merciless from the old Flash Gordon serials.
Plot details careen from maudlin to ridiculous. In one subplot, we find out that the daughter of Max's childhood friend, Frey (Alice Braga) has leukemia. The stakes are raised. Can the little darling be delivered to Elysium and saved? We're also hoping that Max, who has been exposed to radiation and only has a few days to live, will get to Elysium in time to be saved. Can he possibly survive the multiple crashes, endless, acrobatic hand-to-hand combat, knifings, and poundings to save Earth? Is his motivation to save himself, his dying planet, or his girlfriend's daughter? The stakes are high, but the tidal waves of sensory overload leave our brains high and dry.
Overall, Elysium is an entertaining distraction posing as a meaningful global allegory. Sometimes I think reviewing films like this ought to go to people who are experts on the evolving achievements in the art of CGI. I can't say I didn't enjoy the elaborate design of the film and its mash up of performance styles, but once this banquet of futuristic superabundance is over, viewers will be hungry for something to think about.
---
Tim Jackson is an assistant professor at the New England Institute of Art in the Digital Film and Video Department. His music career in Boston began in the 1970s and includes some 20 groups, many recordings, national and international tours, and contributions to film soundtracks. He studied theater and English as an undergraduate and has also has worked helter skelter as an actor and member of SAG and AFTRA since the 1980s. He has directed two documentaries: Chaos and Order: Making American Theater about the American Repertory Theater, and Radical Jesters, which profiles the practices of 11 interventionist artists and agit-prop performance groups. His a third documentary, When Things Go Wrong, about the Boston singer/songwriter Robin Lane, with whom he has worked for 30 year, screens with a Q&A and live performances at the Regent Theater in Arlington on April 4th. You can read more of his work on his blog.