This production of "Pygmalion" is also a case study in how an accomplished director –- former Huntington Theatre Company director Nicholas Martin – weaves every part of his team into a seamless whole.
Pygmalion by George Bernard Shaw. Directed by Nicholas Martin. Staged by the Williamstown Theatre Festival, Wiliamstown, MA, through July 27.
By Helen Epstein.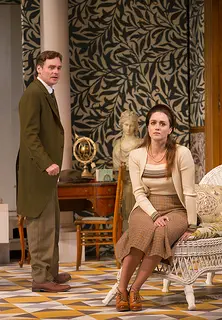 What are the ingredients of a perfect evening at the theater? For me, it begins with a great script, filled with lines that make me laugh or reflect, characters that intrigue me and who change over the course of the play—both within themselves and in relation to the other characters. A cast that brings them to life. A design team that provides the ambiance—sets, costume, music, lights—and enhances the script without distracting from it. And of course a director who chooses, coordinates, and interprets what the playwright wrote. This production of G. B. Shaw's 100-year-old classic, Pygmalion, which only plays nine more performances, delivers it.
The Williamstown Theatre Festival is by far the best-endowed in the Berkshires, and I have sometimes felt that it squandered its enormous resources. The design of this production is over-the-top in every way—several sets that include trompe'l'oeil painting; a crammed, floor-to-ceiling wall of oak and glass bookshelves; a miniature organ loft in Professor Higgins study; William Morris-like wallpaper framing the stage and the walls of Mrs. Higgins's salon—and while part of me wondered how many could have lived for a year on the design budget, it was impossible not to admire.
Besides providing an extraordinary evening of theater, this production of Pygmalion is also a case study in how an accomplished director—former Huntington Theater director Nicholas Martin—weaves every part of his team into a seamless whole.
In case you've never read Ovid's tale or seen Shaw's play or the wildly popular Lerner and Loewe musical or film, Pygmalion is a male who creates a perfect female out of unpromising raw material and falls in love with her. In Shaw's version, a filthy, foul-mouthed flower seller outside Covent Garden is "adopted" by the linguists Henry Higgins and Colonel Pickering, who bet that they can pass her off as an English aristocrat. The story, set just before the First World War shattered that belle époque world, is timeless and, in 2013, called to mind themes of immigration, upward mobility, reality shows and celebrity culture, and the successive stages of feminism.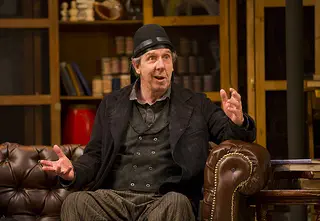 Shaw was a famous feminist, and the cast of this production brilliantly mirrors each character's relation to "the woman question," each in his or her own way. Eliza Doolittle is played by the wonderful Heather Lind, who is so flat out natural and convincing that she dispels any memories of Julie Andrews. Robert Sean Leonard is an equally persuasive Henry Higgins, youthful, headstrong, and boorish but indulged by his mother and housekeeper. Paxton Whitehead plays an older, wiser, kinder Colonel Pickering with great dignity. I got a huge kick out of all the women: Maureen Anderman as a stylish, wily, and resigned Mrs. Higgins, Patricia Conolly as a clueless Mrs. Eynsford Hill, Caitlin O'Connell as the persevering housekeeper Mrs. Pearce, and Maura Hooper as Clara Hill.
Don Lee Sparks, however, steals the show as Eliza's absentee father Mr. Doolittle. When he's dressed for his wedding in lavender gloves, vest, and spats, he serves as the perfect mouthpiece for Shaw's views on class, marriage, morality—almost everything.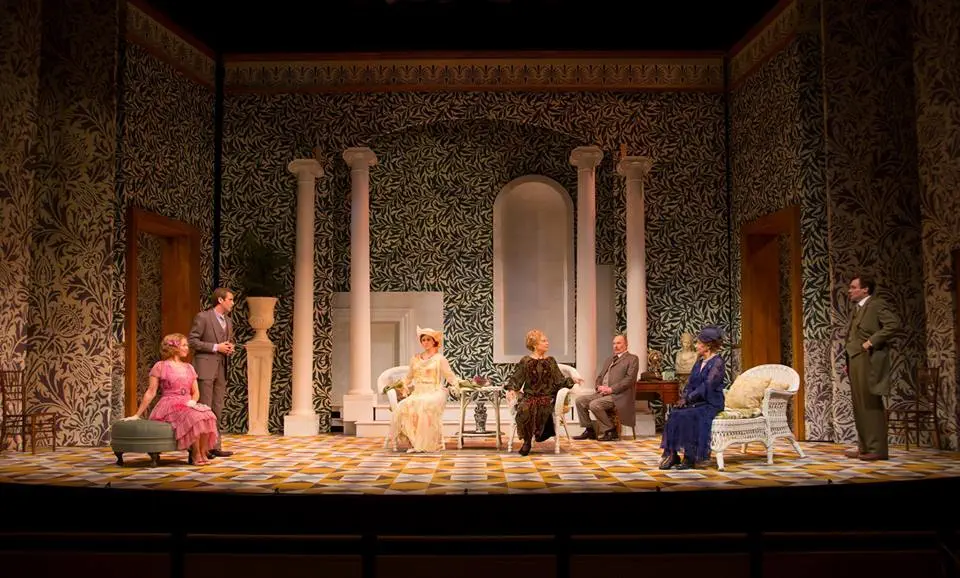 The creative team—Alexander Dodge (Scenic Design), Phillip Rosenberg (Lighting Design), Gabriel Berry and Andrea Hood (Costume Design) and Deb Hecht (Dialect Coach)—is stellar.
The one element I did not love was the music, which added little to the production. And I'm increasingly annoyed by the tinny, echoing amplification in theaters that don't need it. Today's actors are trained to project their lines while singing, dancing, or even dangling from trapezes and standing on their heads. A state-of-the-art theater such as the one in Williamstown has excellent acoustics—can we kill the microphones?
But back to Pygmalion. What a production! I can't believe it's only on for nine more days.
Arts Fuse editor Bill Marx reacts to the WTF's Pygmalion on Fuse News.
---
Helen Epstein is the author of Joe Papp: An American Life and the co-publisher of Plunkett Lake Press eBooks of Non-Fiction.