Pygmalion by George Bernard Shaw. Directed by Nicholas Martin. Staged by the Williamstown Theatre Festival, Wiliamstown, MA, through July 27.
By Bill Marx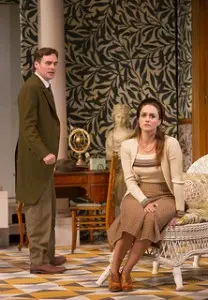 I generally agree with Helen Epstein's admiring review of the Williamstown Theatre Festival presentation of Pygmalion—this is a splendid staging of a delightful anti-romance that even in these supposedly post-feminist days poses somewhat of a problem, particularly when a production turns its back on George Bernard Shaw's elemental demand: that the audience should not yearn that Eliza, once she gains her self-respect and independence, remain on speaking terms, let along stay with, her tyrannical teacher, Henry Higgins.
Of course, the film version of Pygmalion, along with the sentimentalized but magnificent musical My Fair Lady, fudge this issue dreadfully, intimating that the God-like professor and smitten student somehow reunite in some sort of canoodling relationship. But that is to misunderstand the ironically evolutionary nature of the play: The very qualities (arrogance, emotional immaturity, the gamboling spirit) that led Higgins to create a new Eliza make him impossible as a husband. A free-thinking individual, Eliza not only absorbs his intellectual chops but tempers them in a more human, and egalitarian, sensibility. As a teacher, she has become his superior in every way that counts—she is the democratic future, he is the aristocratic past.
Director Nicholas Martin generally gets Shaw's prickly approach right, until the final act. In the opening scenes, Heather Lind's Eliza puts a fresh, funky spin on the usual characterization of the flower-girl: her Eliza is not only frightened and whiny but flirty as well, suggesting that at first she believes her power to be sexual (all those proclamations that she is "a good girl"). Once Eliza realizes that Higgins has patronized her as a woman, held her to satisfy his wager that he can educate her into becoming a lady—a nearly inanimate piece of drawing room decoration without apparent purpose or function—she sees that sexuality, as well as "good manners," are a trap for the developing self. As Higgins, Robert Sean Leonard does well playing a charming boy-man with a mother fixation (Higgins is the great-grand daddy of the dweebs who won't grow up in the films of Judd Apatow), always making the game (which never changes, for him) with Eliza a matter of power rather than emotion or reason, each move calibrated to keep his subject under his control.
The final scene, where Eliza and Higgins have their great debate, becomes unnecessarily shrill at the WTF, with Lind's Eliza screaming her defiance at Higgins, happy that she has finally found his weak spot. The point-counterpoint is deftly modulated—it should never veer toward the manic. Shaw's point is that Eliza has learned to control her emotions; there should be a touch of steel as she takes her leave of Higgins, announcing that she may marry the adoring but thick-headed Freddy. It is puzzling that Martin deletes an earlier short scene between Eliza and Freddy, which helps establish the couple's attraction (such as it is), yet he invents a final tableau where Higgins imagines (?) that he sees Eliza and the penniless Freddy being hitched. The protagonists shoot each other a soap opera glance that appears to be dripping with regret (if only it could have worked out . . .). That is the evening's major misstep—surely the lesson of Pygmalion is that Eliza should never look back. She doesn't need to.
The wedding raises the issue of why Eliza says she is going to marry Freddy. What is Shaw up to? Why should she settle down with a man? That is not the independent thing to do. Is it part of Eliza's revenge against Higgins? The playwright thought the institution of marriage was an absurdity in which women gave up their legal rights, their personal freedom, even their very souls. Here he is on the deadening marital state in the preface to Androcles and the Lion, written right around the time of Pygmaliom:
The greatest sacrifice in marriage is the sacrifice of the adventurous attitude toward life: the being settled . . . it is a form of suicide.

Now to say of any institution that is incompatible with both the contemplative and the adventurous life is to disgrace it so vitally that all the moralizings of all the Deans and Chapters cannot reconcile our souls to its slavery.
So why Freddy? In his writing about the question, Shaw simply states that Higgins "was a predestinate old bachelor" but that Eliza was "not a predestinate old maid." He goes on to explain that Eliza is the stronger of the two—she, not Freddy, will call the shots—and that she will influence her husband in a constructive but empathetic way. The marriage will be a rebuke and rebuttal to her relationship with Higgins. Perhaps the idea is that Eliza will have children—in contrast to Higgins' sterility. It could be the haughty Shaw having fun with the popularist implications of Eliza's triumph.
I prefer to think that the marriage with Freddy never comes off and that Eliza, if she did settle down with someone, picked a more suitable mate. In his decision to condemn Eliza to a "suicidal" fate, Shaw was somewhat condescending to his marvelous creation. Perhaps Eliza had outgrown Shaw—who had more than a touch of the Victorian in him—as well as Higgins.
---
Bill Marx is the editor-in-chief of The Arts Fuse. For over three decades, he has written about arts and culture for print, broadcast, and online. He has regularly reviewed theater for National Public Radio Station WBUR and The Boston Globe. He created and edited WBUR Online Arts, a cultural webzine that in 2004 won an Online Journalism Award for Specialty Journalism. In 2007 he created The Arts Fuse, an online magazine dedicated to covering arts and culture in Boston and throughout New England.