Sunday's concert had the Discovery Ensemble and conductor Courtney Lewis playing with uncommon vigor and focus: this was one of the most exciting symphonic performances that any local orchestra has given this season.
By Jonathan Blumhofer.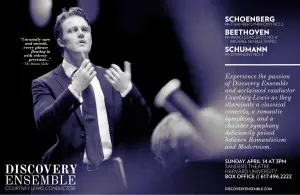 For those who have followed the Discovery Ensemble for any length of time, it comes as no surprise that their concerts are always well-programmed: this is a group that thrives on fresh and inventive pairings of music familiar and less well-known, and they play everything with an enthusiasm and depth of feeling that is infectious. So it was again on Sunday afternoon, during the ensemble's fourth and final concert of the 2012-13 season, one that, on paper, looked to be the most conservative program of the year.
But nothing about the ensemble's performance of Arnold Schoenberg's Chamber Symphony no. 2, Beethoven's Piano Concerto no. 4, and Schumann's Symphony no. 4 felt conventional or ho-hum. If anything, Sunday's concert had the ensemble and conductor Courtney Lewis playing with uncommon vigor and focus: this was one of the most exciting symphonic performances that any local orchestra has given this season.
For some, Arnold Schoenberg represents all that's wrong with twentieth-century (and, by extension, all of contemporary) music, not that he should: Schoenberg's bark is often worse than his bite, some snide, pre-concert comments from Sunday's audience members questioning that fact notwithstanding. In fact, Schoenberg knew a thing or two about tonal music, too—he literally wrote the book (or a book, Harmonielehre) on it—and both of his Chamber Symphonies deal with the restraints of tonality in fascinating ways.
The Chamber Symphony no. 2, begun in 1906 but only completed in 1939, is a compelling piece that, for most of its 20 minutes, looks back, harmonically, on Schoenberg's late-Romantic roots. Only at the end of its lengthy second movement do Schoenberg's Modernist tendencies really make an appearance—and then it's largely through the orchestration. Much of the time, the piece hews closer in style and instrumental textures to Brahms and Tchaikovsky than to Webern and Berg, and that, more than anything, makes it sound so peculiar.
On Sunday, Lewis drew a taut, confident performance from the ensemble that was notable for the clarity of its many contrapuntal lines as well as the group's rich string sonorities and their finely tuned blend of wind instruments (especially low reeds). Flutist Bianca Garcia's undulating opening solo set the mood, and that carried through to the cartoonish opening of the second movement and the Symphony's grim closing pages of flutter-tongued flutes and muted brass. This is compelling music convincingly played, and it left me wishing the rest of the program featured—of all things—more Schoenberg.
But it didn't, and that turned out to be just fine.
The distance between Beethoven and Schoenberg isn't really all that great (as James Levine and the BSO convincingly demonstrated about a decade ago), and Irish pianist Michael McHale's impressive account of Beethoven's Fourth Piano Concerto had one drawing all sorts of unexpected connections between the two composers: there's the shared approach to motivic development; the slinky, chromatic melodic writing; the sudden shifts of orchestral textures and colors; and so forth.
Lewis and McHale opted for a lyrical approach to the first movement that sounded at times almost too laid back: it wouldn't have hurt the sense of overall musical tension for the music to have possessed more of a punch. Still, Beethoven's melodic writing came to the fore in this interpretation, and McHale captured many of the music's poetic impulses with an understated eloquence.
The middle movement—a depiction of Orpheus taming the Furies—came off best. The orchestra snapped and raged, and McHale responded with a calming chorale. This was a very tight performance: nobody onstage even flinched when a lightbulb exploded above the stage mid-movement. The finale balanced that sense of direction with good doses of humor and character, McHale tossing of the virtuosic solo part with aplomb. In response to the ovation that greeted his performance, he gave a glowing, haunting account of John Fields's delicate Nocturne in B minor.
After intermission Lewis and the ensemble returned with Schumann's Fourth Symphony. This is a very Beethovenian work, especially in its approach to form, taking the transitional model of the last two movements of the latter composer's Fifth Symphony and applying it to the entire piece.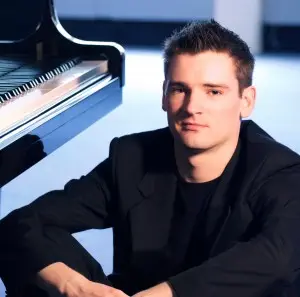 It is also, perhaps, the most efficient entry in the genre, wasting nary a note when it comes to musical content. Orchestration-wise it does present problems, and balance issues crept up in Sunday's performance, though that takes little away from the overall accomplishment of the ensemble's effort. Most of all, Lewis and the ensemble emphasized that this is a youthful symphony (Schumann wrote it when he was 30 and revised it a decade later) and energetic: on Sunday it clocked in at just about 28 minutes.
Its busy instrumentation often renders Schumann's orchestral music cumbersome, but Sunday's performance never felt unwieldy, emphasizing, as it did, the stately, lyrical quality of his writing. The introduction to the first movement sang with a marvelous clarity and concertmaster Julia Noone delivered finely shaped accounts of her second movement solos. The brass, though they overwhelmed the strings at their most heroic, brought a thrilling sense of majesty to the proceedings, the horn and trombone suspensions in the outer movements especially so.
There was an insert in Sunday's program announcing the 2013-14 season, all the concerts of which look inviting (particularly the season-opening Mozart-Ligeti-Sibelius triple bill on October 20th). While the end of this concert marked the beginning of a six-month hiatus before we get to hear the Discovery Ensemble in action again, the triumphant conclusion of the current season offers plenty of cause for celebration: for an orchestra whose members clearly play for the love of making music; for an ensemble committed to community and audience outreach; and for a group of musicians who dare to present bold programs that make the symphonic repertoire come to life as functional music, meaningful, and relevant. Not a bad set of accomplishments for a group that's been around for just five years.