By Helen Epstein.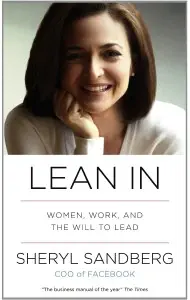 I've just finished Sonia Sotomayor's absorbing My Beloved World and tried to get through Sheryl Sandberg's Lean In—two books by two of the more successful women of our time: one, clearly exceptional, and willing to share her experiences with a broad public; the other, much-promoted, yet oddly reticent and opaque.
It's unfair to compare a manifesto with a memoir but hard to refrain, given the enormous publicity accorded to the former while the latter delivers the goods in a quieter but far more effective way. The Supreme Court justice has produced an accomplished memoir (see Roberta Silman's recent Fuse review) that traces the trajectory that Sotomayor followed to the Supreme Court step by step. She fully describes key professional stepping stones with specificity and humor, naming names, and reflecting back on them with a view to better self-understanding as well as providing a model for both younger men and women to follow.
My Beloved World brings to life a childhood and adolescence in the poor, Puerto Rican community of the Bronx as well as Sotomayor's time at Princeton and lawyering in a variety of venues. Not only a compelling self-portrait, the memoir is a layperson's intro to the legal profession—something I'm sure the canny Justice had in mind as she was writing it.
It's unclear what Sheryl Sandberg had in mind when she wrote Lean In. Maybe MBAs have no trouble decoding COO of Facebook Sandberg and her career path, but I do. All through Lean In—which has already sold a reported 275,000 copies—I was puzzled by what anyone, let alone a series of powerful, male mentors starting with Larry Summers, found extraordinary in Sandberg. Was she unusually quick, bright, perceptive, persuasive? Did she think up wildly innovative solutions for problems? How did she stand out from other intelligent men and women at Harvard College and Business School?
"This book," she writes in her intro, "makes the case for leaning in, for being ambitious in any pursuit. And while I believe that increasing the number of women in positions of power is a necessary element of true equality, I do not believe there is one definition of success or happiness. Not all women want careers. Not all women want children." And so on via the "Lean In Community" wherever you may be.
Although her exhortation to "Lean in" recurs with cuckoo-clock regularity in her manifesto, Sandberg rarely describes with any clarity how she herself leaned in, what jobs she completed and for whom. She seems like a well-bred, middle-class, Jewish girl from Florida who shrewdly leveraged her Harvard education. Although she refers to working as a Congressional page in high school, Sandberg doesn't say how she landed that job or any other. For me, it remained a mystery how she distinguished herself from her peers throughout her career.
The extended pep talk she calls Lean In is short and unenlightening on facts ("A meager twenty-one of the Fortune 500 CEOs are women") and long on flattering anecdotes ("I had the opportunity to see the power of authentic communication in a leader first-hand when I . . .) Platitudes and cliches abound as though Dale Carnegie had came back as a twenty-first century corporate woman. But maybe Sandberg had no interest in the requirements of a good book—just its potential use as a marketing tool. That's the impression I had reading Lean In. I tried hard but couldn't get myself to lean in and finish it.
Helen Epstein is an author and epublisher at Plunkett Lake Press