While The Vaccines Come of Age is a very good album, I can't listen to it without thinking that maybe the band grew up a little too fast.
By Adam Ellsworth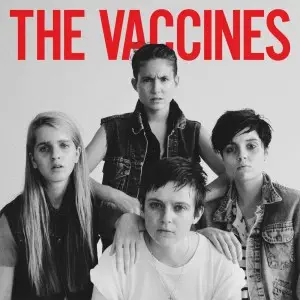 It's hard to talk about The Vaccines without talking about youth. Youth, and the state of being young, is a hallmark of the London-based band's lyrics, from the full-speed attack of "Norgaard" ("Her mind's made up she don't want to go steady, she's only 17 so she's probably not ready") to the more contemplative "Wetsuit" ("If at some point we all succumb, for goodness sake let us be young"). Hell, the band's lead singer is named Justin Young, so they probably can't help themselves.
Songs about being a teenager are fun, of course. They make the old feel young and the young feel perpetual. But to The Vaccines' credit, the band recognizes that adolescence won't last forever. Even on the group's 2011 debut, What Did You Expect from The Vaccines?, an album filled with energy and the wild life, Young sings, "you wanna get young but you're just getting older, and you had a fun summer but it's suddenly colder" (from the album closer, "Family Friend"). On that same album's "Wetsuit," just after Young sings, "if at some point we all succumb, for goodness sake let us be young," he adds "because time gets harder to outrun." A few lines later he tosses in "we all got old at breakneck speed, slow it down, go easy on me." Young is still young (he's in his mid-20s), but he knows he's not Peter Pan. Eventually, he has to grow up.
Not that growing up is easy. "When you're young and bored at 24 and you don't know who you are no more, there's no hope, and it's hard to come of age," Young philosophizes on "No Hope," the opening track of the band's 2012 sophomore effort, The Vaccines Come of Age. These lyrics highlight the struggle of growing up, and there's no doubt that as a band The Vaccines have matured. The album still has the super-catchy radio songs that made What Did You Expect from The Vaccines? so refreshing (as of this writing, Come of Age's "Teenage Icon" is in heavy rotation at wfnx.com), but it also expands the band's musical footprint. "Ghost Town" sounds ska influenced (without the horns), while "Weirdo" is country-tinged.
This bodes well for The Vaccines' long-term success. But my one complaint about the album is that it's not as exciting as the group's previous effort because it is not as young sounding. As a byproduct of expanding its musical horizons, the band leaves out songs like "Wreckin' Bar (Ra Ra Ra)" and "Norgaard," two runaway freight trains that each clock in at less than 95 seconds and were standout tracks on the debut. The same album's "If You Wanna" is a more "traditional" length, coming in at just under three minutes, but it exudes the same youthful spirit. These songs are exercises in pure joy, punk rock without the bile. I don't hear anything like them on The Vaccines Come of Age, which is still a very good album, I just can't listen to it without thinking that maybe the band has grown up a little too fast.
Thankfully, The Vaccines' January performance at Boston's Paradise Rock Club was filled with youth, and all the excessive energy that comes with it. For one thing, the sell-out crowd itself was exceedingly young. The show was 18+, but everybody looked like they were about 15 or so. Even the kids with drinks in their hands (which, presumably, meant they were at least 21) looked 15.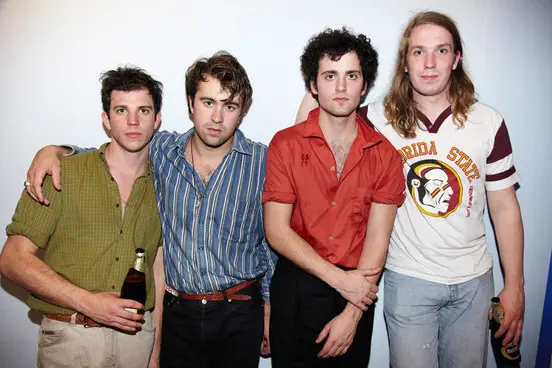 Much to the delight of the crowd, the band kicked things off with "No Hope." "Wrecking Bar (Ra Ra Ra)" electrified the crowd, which clapped and sang, jumped up and down, and collectively lost its mind. The last time I saw listeners react to a song with so much enthusiasm I was an 18-year-old watching Joe Strummer perform "I Fought the Law" at the 9:30 Club in Washington, D.C.
"America's gonna have trouble beating you, Boston," Young informed the crowd early in the set, an acknowledgement that the Paradise show was the first night of the band's first headlining U.S. tour.
(The band was scheduled to play Paradise in September 2011 as part of what would have been their first U.S. tour, but the tour was cancelled after Young had to undergo surgery for a polyp on his vocal chords.)
While songs like "Wetsuit" and "All in White" brought some (relative) calm to the proceedings, The Vaccines' set pretty much started at high speed and stayed there for the duration. Whether he was playing guitar or just singing, Young worked the entire stage throughout the night and showed off his considerable head banging skills. His bandmates Arni Arnason (bass), Pete Robertson (drums), and Freddie Cowan (guitar and occasional keyboard) were equally animated; Arnason was especially a sight to see in his Bad Brains t-shirt, his shoulder-length blond hair flying about.
We were getting the band that made What Did You Expect from The Vaccines? even when the group was performing songs from The Vaccines Come of Age—it was high energy start to finish, and it's worth noting that of the 18 songs the band played, 10 of them were from What Did You Expect from The Vaccines?, with only seven from their most recent offering (the remaining song, "Tiger Blood," was released as a non-album single).
The main set ended with "If You Wanna," which earned a crowd reaction that rivaled the one "Wreckin' Bar (Ra Ra Ra)" received earlier in the night. The band returned to the stage to play "Wolf Pack," off their debut, followed by "Bad Mood," the hardest rocker on The Vaccines Come of Age. They closed with "Norgaard," arguably the greatest song ever written about a 17-year-old girl, which is really saying something.
"We didn't know what to expect," Young told the members of the crowd during the encore as he thanked them for their enthusiasm. It's the kind of thing a front man usually says to the audience, only this time it was evident Young was sincere. It's taken The Vaccines a long time to get to America, but if the reaction they got at the Paradise is any indication, it's only a matter of time before they're playing to bigger crowds in bigger venues.
San Cisco, a four-piece from Australia, opened the night with an enjoyable set of Vampire Weekend-inspired pop rock. The highlight was a song called "Fred Astaire," which would sound great on the radio . . . if there were still radio stations that played new music.
The Vaccines played the following:

Main Set:
"No Hope"
"Wreckin' Bar (Ra Ra Ra)"
"Tiger Blood"
"A Lack of Understanding"
"Wetsuit"
"Teenage Icon"
"Under Your Thumb"
"Aftershave Ocean"
"Ghost Town"
"Post Break-up Sex"
"All in White"
"Change of Heart Pt 2"
"Blow it Up"
"I Always Knew"
"If You Wanna"

Encore:
"Wolf Pack"
"Bad Mood"
"Norgaard"
---
Adam Ellsworth is a writer, journalist, and amateur professional rock and roll historian. His writing on rock music has appeared on the websites YNE Magazine, KevChino.com, Online Music Reviews, and Metronome Review. His non-rock writing has appeared in the Worcester Telegram and Gazette, on Wakefield Patch, and elsewhere. Adam has an MS in journalism from Boston University and a BA in literature from American University. He grew up in Western Massachusetts, and currently lives with his wife in a suburb of Boston. You can follow Adam on Twitter @adamlz24.