Larry Coen directs Chinglish's awkwardly written romance with a savory earnestness, but he can't put the pieces of the fragmented script (you laugh/you cry) together.
Chinglish by Henry David Hwang. Directed by Larry Coen. Staged by the Lyric Stage Company of Boston. At the Lyric Stage, 140 Clarendon Street, Boston, MA, through December 23rd.
By Bill Marx
Henry David Hwang's Chinglish promises to be an amusingly thoughtful amalgamation of East and West, a comedic exploration of how inscrutability plays no favorites when it comes to the ongoing economic coupling of world business giants China and America. Misunderstandings regarding language, passion, and manners cut both ways. Of course, the culture clash has assumed an air of tragicomic desperation—how much must be sacrificed, ethically and morally, in the search for new markets, cheap labor, and international prestige? What price growth? Shouldn't the battle for free speech and human rights cost something?
Potentially, there's plenty here touching on American and Chinese complacency, duplicity, and psychological gridlock (on the field of "anything goes" capitalism) that could be hammered out in provocatively dramatic ways. Unfortunately, the script doesn't dig into Hwang's juicy conflicts but lets them flap in isolation, to the point that the play seems to fall into two—East and West don't fuse in lethal foolishness so much as end up standing safely on well worn ends of the same romantic/ melodramatic platitude. China and America shift brutally between the pre-modern and the post-modern—Hwang clings to the formulaic modern that smooths out the rough edges.
On the one hand, Chinglish is an amiable farce from the author of M Butterfly about the linguistic missteps of Cleveland businessman Daniel Cavanaugh, who is trying to set up a contract to manufacture signs for a small city in China. His efforts are hampered by a collection of myopic translators prone to head-spinning malapropisms. The linguistic snafus are inventive and amusing (translations of the Mandarin Chinese are projected on a scrim above the performers), with attempts to get the meaning right triggering knockabout episodes of charades, though by the end of the play these standoffs in incomprehensibility become a bit predictable, culminating in the paradox that doing business means creatively cultivating the false glory of celebrity.
Of course, whether the meanings are ironed out depends on whether or not you are interested whether Cavanaugh pulls off his big deal. The problem is that Hwang doesn't provide compelling grounds for empathy. The businessman's secrets cut against the script's constant (and increasingly unconvincing) proclamations that he is a "good" and "honest" man. Vague intimations of Cavanaugh's agonized search for redemption feel trumped up. What's more, this supposed wheeler-dealer is pretty dumb: a child could see through an online scheme to protect his business, and his choice of a progressively problematic translator isn't very swift. David Mamet knows how to make the art of the deal dramatic—Hwang is much less skilled at finding ways to generate a sense that something is at stake beyond moving bucks around from one country to another.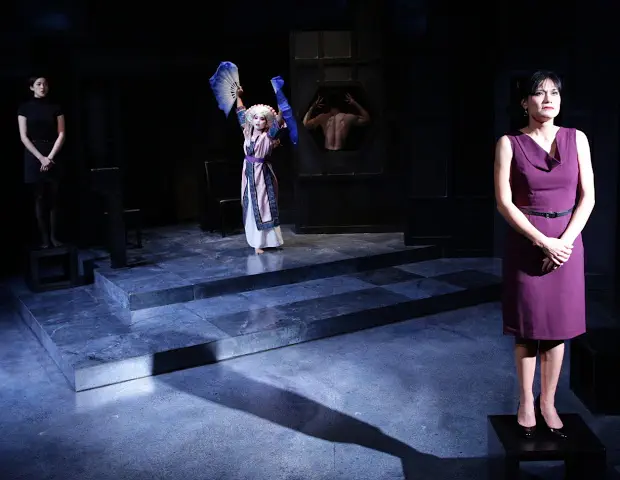 Still, the uneven Lyric Stage production is on its strongest ground when it deals with the language mix-ups—director Coen tweaks up the performances a bit too high at times, but there are plenty of pleasant laughs garnered by a blithely baffled Barlow Adamson, who plays Cavanaugh, and a solid supporting cast that includes Tiffany Chen, Liz Eng, Chen Tang, and Michael Tow as various Chinese functionaries. Alexander Platt as Peter Timms, an enigmatic English translator, supplies some snippy fun, though he can't do much to make sense of his character's strange trajectory. Given Coen's chops as a superb comic performer, it is no surprise that this production of Chinglish delivers on the script's genial laughs, though it falls short of getting at the dark impulses underneath the yuks.
The other ingredient in Chinglish is an illicit romance between the unhappily married Cavanaugh and a female Chinese official, Xi Yan, who is also unsatisfactorily hitched. The relationship is not particularly convincing, the bedroom scenes sitting uneasily on the script's web of deceit. The saving grace of this plot strand is the agile performance of Celeste Oliva as Xi Yan. Adamson doesn't put much longing or desire into the actions of the clueless Cavanaugh, who seems to initiate the tryst because business is slow and he hasn't much else to do. But Oliva's nuanced performance suggests depths of yearning, intelligence, and self-loathing. This is a performance that connects a search for freedom with a fall into martyrdom: it deserves a stronger script. But even Oliva can't keep the moral of Chinglish from degenerating into a creaky lesson about self-sacrifice (the new is built on knowing what to sell and when to hold onto) that degenerates into an ironic variation on the "you don't always get what you want, but sometimes you get what you need" trope. American audiences leave assuaged (it's corruption as usual) rather than challenged.
Coen directs the script's awkwardly written coupling with a savory earnestness, but he can't put the pieces of the fragmented script (laugh?/cry?) together. So Chinglish comes off as a mildly entertaining missed opportunity to deal with crucial issues raised by expanding American and Chinese empires. Just today Chinese writer Mo Yan, recently handed a Nobel Prize for Literature, announced that censorship in his country is necessary, like security checks at airports. As dissident Chinese artist Ai Weiwei writes in his recently published volume Weiwei-isms, "Without freedom of speech, there is no modern world, just a barbaric one." When it comes to dramatizing the behavior of China and America, our homegrown dramatists are going to have to use stronger language.