Saariaho's music is often lush and vibrant, to be sure, but it also can lose track of its musical purpose and meander excessively from time to time. Not so in Circle Map.
By Jonathan Blumhofer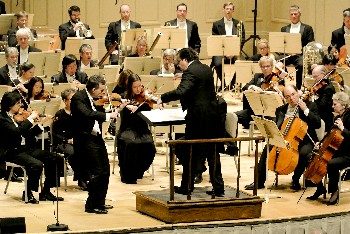 The Boston Symphony Orchestra (BSO) is often one of the country's more tradition-bound ensembles, regularly focusing its efforts and attention on the standard repertoire. Over the first six weeks of the current season, though, something rather outside the norm has been happening on the corner of Mass. Ave. and Huntington: each subscription program the orchestra has presented has featured at least one major score written since 1911. Several of them have been by familiar names (Stravinsky, Ravel, Debussy), but less well known composers have been represented, too (Leonard Bernstein, Frank Martin, Roberto Sierra next week). It's all paying musical dividends: the BSO seems refreshed and energized by their programming, and, after the ups and downs of last season, they're playing consistently well, too.
Indeed, strong programing and playing marked the BSO's outing last weekend, in a program featuring the American premiere of Kaija Saariaho's Circle Map, Benjamin Britten's magnificent Violin Concerto, and Dvorak's dark-hued Symphony no. 7. Gil Shaham was the soloist in the Britten, while Juanjo Mena, returning to Symphony Hall for his second consecutive season, provided steady leadership from the podium throughout.
The BSO is the only American orchestra in a consortium of six (the rest are based in Europe) that commissioned Saariaho's Circle Map, which premiered earlier this year in a converted industrial space in Amsterdam. Now based in Paris, Saariaho is the eldest of a triumvirate of notable Finnish composers (Magnus Lindberg and Esa-Pekka Salonen were her classmates at the Sibelius Academy), her musical language often blending electronic and acoustic elements. And so it did in the present work, which sets a heavily manipulated recording of six quatrains by the mystical poet Rumi (read in the original Persian by Arshia Cont) against a large, colorful orchestral backdrop.
Saariaho's music is often lush and vibrant, to be sure, but it also can lose track of its musical purpose and meander excessively from time to time. Not so in Circle Map. This is a score that is straightforward and evocative—one might even be tempted to call it accessible—vividly articulating the original poetic images (helpfully provided in translation in the program). But even without aid from the program, there's a directness and immediacy to Saariaho's writing here that comes to the fore: from the swirling depiction of "Morning Wind" in the opening movement to the crunching, claustrophobic dissonances of the second movement (representing absence and loss) to the gentle murmuring of the closing "Day and Night, Music," this is a piece that doesn't waste any notes or gestures.
Considering Saariaho's frequent use of live electronics, it was somewhat surprising to experience the relative simplicity of musique concrete in Circle Map. Of course, there's nothing simple about Saariaho's treatment of the vocal material, which is transformed in a variety of ways that blend dramatically with the orchestral fabric. The BSO and Mr. Mena delivered a performance that was as assured as one might hope to hear, even if the electronic element seemed a bit out of balance with the acoustic at one or two points in the later movements.
Britten wrote his Violin Concerto in the aftermath of the Spanish Civil War, and it received its first performance in New York as another war was smoldering in Europe in March 1940. It's been inexplicably overlooked, perhaps on account of its lack of flashy, virtuosic moments (though it's plenty challenging—Heifetz declared it "unplayable"—and has much, expressively, in common with its nearest compatriot in the repertoire, Bartók's Violin Concerto no. 2, a piece that's had no difficulty attracting legions of admirers). Still, over the last decade, several major violinists have championed it (including Maxim Vengerov and Frank Peter Zimmermann), and this weekend's performances mark its second appearance at Symphony Hall since 2000 (it only turned up once in all of the 1900s).
Gil Shaham made an interesting choice for soloist. As a violinist, Mr. Shaham is best renowned for his sweet, lyrical tone, and, to be sure, there are plenty of moments for such playing in this concerto. On Saturday night, though, he demonstrated another side to his musical personality: powerful (even violent) articulations and a strong sense of martial drama that suited the music very well. If only it could have been better in tune. There were a surprising number of intonation lapses in the opening movement and some interpretive decisions (like converting half-steps into quarter tones) in the finale that didn't quite work.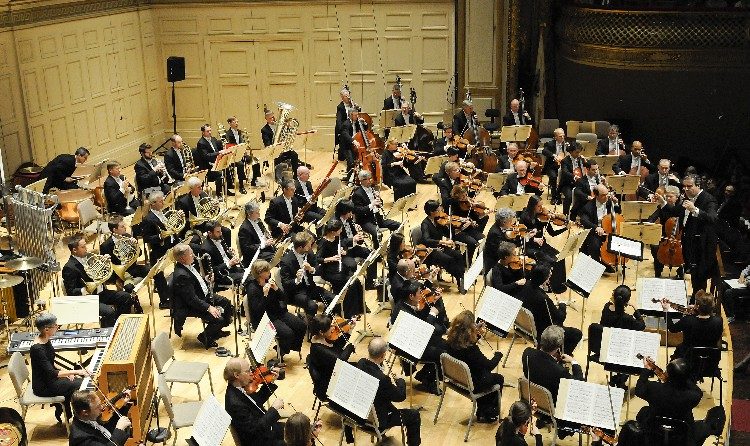 But then there were moments that were super-charged: the cadenza linking the second and third movements blazed, and the closing pages of the Passacaglia possessed a tragic ambiguity that was positively haunting. Interpretive quibbles aside, this is a piece Mr. Shaham clearly believes in and his performance was, ultimately, laden with conviction.
The BSO emphasized the symphonic character of the orchestral accompaniment nicely, highlighting the many deft sonorities of Britten's orchestration (the two-piccolo/tuba trio in the Scherzo, for one example, positively sparkled in its byzantine glory).
After intermission, Mr. Mena returned to lead a warm, vibrant account of Dvorak's Symphony no. 7. Sections of the opening movement sounded a bit rough, and there were a couple of points in which the brass drowned out the rest of the ensemble, but things eventually smoothed out nicely. This was a reading that emphasized the tragic element of this score (it paired particularly well with the Britten), the closing turn from D minor to D major feeling particularly forced and not altogether convincing—just as it should be.
---
Jonathan Blumhofer is a composer and violist who has been active in the greater Boston area since 2004. His music has received numerous awards and been performed by various ensembles, including the American Composers Orchestra, Kiev Philharmonic, Camerata Chicago, Xanthos Ensemble, and Juventas New Music Group. Since receiving his doctorate from Boston University in 2010, Jon has taught at Clark University, Worcester Polytechnic Institute, and online for the University of Phoenix, in addition to writing music criticism for the Worcester Telegram & Gazette.