Each film demonstrates a distinct female sensibility as well as a strong and unique stylistic vision.
Female Helmers. A Short Film Program presented by the Boston Jewish Film Festival. At the Coolidge Corner Theatre, Brookline, MA, November 12.
By Tim Jackson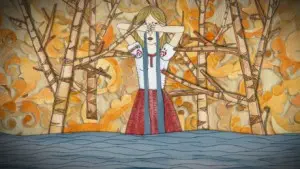 The Boston Jewish Film Festival presents Female Helmers, four short films by new, young, female directors. While its mission is to bring exposure to women directors, the gathering achieves something much more. Each film demonstrates a distinct female sensibility as well as a strong and unique stylistic vision. It's a terrific evening of shorts.
Surf and Turf
Abigail Child
Surf and Turf is part of Child's Suburban Trilogy, a series of short pieces focusing on post-World War II, North American suburbs. This 32-minute segment features the voices, faces, and spaces of a wealthy, Jersey Shore Jewish community where there is ongoing battle among surfers, fisherman, and the nouveau riche Jewish property owners. The film makes no judgments but lets the memories and voices of community members speak for themselves. In rapid montage sequences, Child's unique style juxtaposes images of the homes and shorelines of the area with testimonials. It is a distinct style of poetic documentary and calmly offers up a pointed discussion on class and privilege in America.
Catherine the Great
Anna Kuntsman
This simple animated short, done with cut out animation, is about a young, Moldovan girl whose promise of a dream job in Tel Aviv goes terribly wrong. The folk style of the animation plays in stark contrast to the disturbing storyline and in five minutes builds to a profound and moving conclusion. Kuntsman's work is a lean, mean, and powerful use  of minimal materials.
Of Birds and Boundaries
Annie Berman
The filmmaker's background in photography, psychology, visual culture, and religion contribute to the creation of a unique example of experimental documentary. What we hear on the soundtrack is Berman engaging a 25-year-old, Hassidic married man from Brooklyn in conversations about sexuality, marriage, secular life, and a range of surprising topics. This is not a prank call, but a filmmaker doing research with a willing participant, neither of whom ever sees the other. While our ears are drawn to the filmmaker's inquisitive conversation and mellifluous voice, we are presented a visual stream of mesmerizing, blobby black on white, Rorschach-type images. The words engage; the images sow confusion—the film scores as a compellingly hypnotic experiment in examining the psychological messiness of human relationships.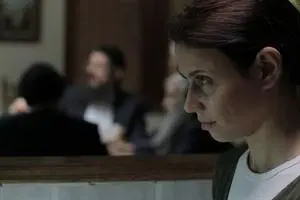 Sister of Mine
Oshrat Meirovitch
Ruchi is the favorite daughter from an ultra-Orthodox Jerusalem family. Her younger sister has Down syndrome. Meanwhile her marriage has been arranged to a young man appears to have some mental health issues of his own. This arrangement, if resisted, brings shame on both families. The filmmaker is a graduate of the Ma'aleh School of Television and Film, which is the only film school in the world devoted to exploring the intersection of Judaism and modern life. The story, based on real life situations, does not at all go where you might expect. This beautifully told story will stay with you long after its conclusion.