The Great American Trailer Park Musical. Music and Lyrics by David Nehls. Book by Betsy Kelso. Directed by Paul Daigneault. Nicholas Connell, Music Director. David Connolly, Choreographer. Jenna McFarland, Scenic Design. Seth Bodie, Costume Design. Karen Perlow, Lighting Design. Aaron Mack, Sound Design. Staged by the SpeakEasy Stage Company at the Boston Center for the Arts, through May 30.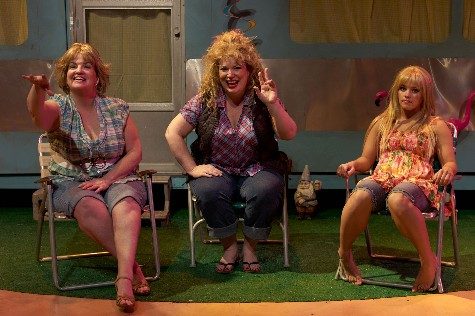 Reviewed By Alyssa Machado
For 100 minutes of unabashedly zany, laugh-inducing antics, head down to the Armadillo Acres trailer park currently found in the SpeakEasy Stage Company's outstanding Boston-area premiere of The Great American Trailer Park Musical. This quirky, Off-Broadway gem tells the tale of Jeannie, an agoraphobic who hasn't left her trailer for 20 years, her frustrated husband Norbert, a toll collector, and the arrival of a new resident, Pippi, a stripper fleeing from her unstable, magic-marker sniffing ex-boyfriend.
The production pulls off the difficult trick of being fun and bold without mocking the characters by turning them into one-dimensional ragamuffins. From the moment Betty, Lin, and Pickles, the canola-oil-covered trio of trailer park neighbors who serve as narrators and de-facto Greek chorus, break the fourth wall to welcome the audience, The Great American Trailer Park Musical remains a good-natured, self-aware celebration of trailer-park life to which everyone is invited.
The music by David Nehls is a pleasant, if bland and unmemorable, mix of pop, rock, country, and disco. His lyrics, however, are witty and silly and a perfect match for Betsy Kelso's snappy, consistently funny dialogue. In fact, the generic quality of the melodies makes it easier to focus on the absurd and amusing lyrics ("I got to make like a nail and press on," "Just like the clothes at Wal-Mart, my love life is fallin' apart"). .
The music, plot, and lyrics could never be called masterful or innovative, but Trailer Park succeeds because it is playfully self-aware. In addition to directly addressing the audience, the characters frequently acknowledge the production itself with a wink and a wisecrack (like Jeannie's deadpan comment "I feel a dream sequence coming on" right before the dream sequence).
Norbert notes, "Knick knacks are what make a trailer home," and scenic designer Jenna McFarland serves up a cheery, homey set with just the right amount of gaudy accoutrements to set the mood without going overboard. The set consists of three trailers, painted in bright, Floridaesque pastels and decorated with strategically placed, kitschy accents like astroturf, a garden gnome, animal-shaped mailboxes, a few plastic pink flamingos in cinder blocks, and palm trees with Christmas lights.
The larger, middle trailer cleverly slides open to reveal Jeannie and Norbert's retro-looking living area, and the outside area, with the additional of a stripper pole, converts easily into the Litter Box Show Palace, Pippi's strip club.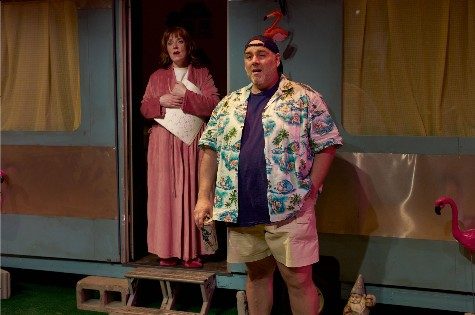 Costume designer Seth Bodie and choreographer David Connolly also keep the production silly and deliciously tacky. Bodie supplied colorful Hawaiian shirts, pink plaids, and floral shirts, over scanty "white trash" outfits (with the logical exception of Pippi), and his gauzy, blue, lightning-bolt-laden robes designed for the group disco number "Storm's A Brewin'" elicites laughs before the song even began. David Connolly's choreography creatively utilizes a variety of props like flashlights, plungers, and foil-covered tanning boards for visual and comedic effect.
The seven-person cast is solid all around. Though it is ably anchored by Leigh Barrett (Jeannie), fresh from her well-received turn in SpeakEasy's previous production of Adding Machine, and David Benoit (Norbert), who provided similar laughs in the recent tour of Avenue Q, the real showstoppers are the trio of Kerry Dowling (Betty), Mary Callanan (Lin), and Santina Umbach (Pickles), who take on the role of the tale-telling neighbors as well as the additional minor characters. They play everything from flan vendors to road kill and do it all with tight harmonies and perfect comedic timing. All three have such strong voices that their head microphones could have been tossed away in the small theater space.
Umbach, a junior at Boston Conservatory and someone to watch for in the future, displays quality acting chops. Her Pickles, the hysterical-pregnancy-suffering bimbo, could easily be overplayed in the search of a laugh. Instead, Umbach combines a totally spaced-out stare with endearing childish naivety and mannerisms to make the character disturbingly natural and funny in an unforced way.
There's a fine line between comedy and mockery, and being silly or over-the-top. SpeakEasy Stage Company's production of The Great American Trailer Park Musical remains firmly on side of fun. Barrett and Benoit ground the show in emotional honesty while the rest of the cast, with seemingly endless energy and enthusiasm, keep the jokes flying. It is far, far from Sondheim country, but this is one trailer park everyone should visit.