August: Osage County by Tracy Letts. Directed by Anna D. Shapiro. The Steppenwolf Theatre Company production presented by Broadway Across America at the Colonial Theatre, Boston, MA, though May 9.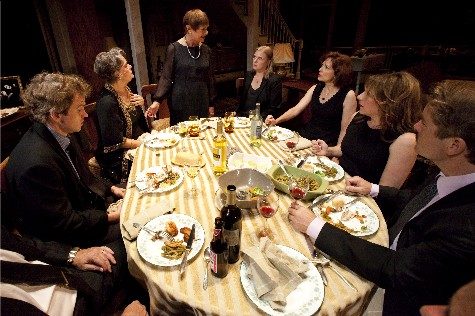 Reviewed by Bill Marx
"All happy families are alike, but every unhappy family is unhappy in its own way," opined Leo Tolstoy sagely in Anna Karenina. What the Russian novelist missed—or what might be the distinctive American contribution to the genre of family dysfunction—is ticking off the myriad ways that families depress themselves, the infinitely varied means of internecine torture.
The Greek playwrights were no strangers to domestic bloodletting, but they could only envisage a relatively small group of characters on stage. Tracy Letts's epic 2008 drama is American to the bone in its expansive belief that more is more; the three-hour-plus evening piles the dysfunctional bodies waist high, the spiritual boo-boos of an extended clan in Oklahoma ranging from drug addiction and alcoholism to failed marriages and way beyond.
Letts knows the heaps of misery are too much, so he introduces a welcome note of parody, a nervy tonal imbalance that no doubt helped the script garner Pulitzer and Tony awards—the play has the good commercial sense to both go over the top and laugh at itself at the same time.
The combination of laughing and gasping at out-of-control soap opera makes the show memorable in much the same way as watching the aftermath of a train wreck: you can't help but wonder who is going to be pulled out of the disaster next and what kind of mangled shape he or she is going to be in—and, of course, to thank the gods that your family isn't in nearly as horrific a condition.
Still, entertaining as August: Osage Countyis—the three hours move along, especially in this generally solid touring production, anchored by an indelible portrait of motherly surliness by Estelle Parsons—Letts ends up mistaking quantity for quality.
The ostensible cause for the mash-up of the Weston family is the disappearance of patriarch Beverly, a poet who, in the 1960s, published a critically acclaimed book of verse. Creative silence (writer's block? fear of writing a disappointing second volume?) followed. Forty years of teaching leaves Bev an alcoholic wreck, a sententious windbag given to quoting T. S. Eliot. (In contemporary American plays, mentioning Eliot is what poets do to show they are poets.) His terminally self-involved wife Violet suffers from mouth cancer, pops painkillers to the point of paralysis, and dissolves at Bev's absence, a leave-taking that occurs, suspiciously, after he hires a young, Native-American woman, Johnna, to help out around the house.
Violet's loud sister Mattie Fae and salt-of-the-earth husband Charlie show up, joined by the matriarch's three adult daughters, Barbara, Ivy, and Karen, all of whose lives and marriages are in various states of breakdown or blatant denial. Mattie Fae's's hapless son, Little Charles, has no job or prospects. Barbara's 14-year-old daughter, Jean, has a fondness for pot.
The long list of Weston traumas, creepy desires, and secrets forms the play's principal element of surprise and/or suspense—Letts efficiently loads in plenty of embarrassment and tears amid the lacerating truth-telling, which is often offered, with hellish vim and vigor, by Violet, most memorably at a meal in which just about everyone gets a splash of verbal acid in the face.
Letts has lots of fun letting his characters tell each other off—sisters admitting they don't feel affection for each other, husbands giving wives tough ultimatums—knowing that we share the same clear-the-decks fantasy, the vengeful dream of telling someone close and irritating to jump in the lake. All this is amusing or painful enough, but Letts tries to build his mega-Okie-soap opera into a tragic vision of American cultural decline, and here the script falls woefully short. A speech about the fateful hardness and materialism of the Westons rings false, as does an undernourished scene that suggests that the Native American's primal connection with the land serves as some sort of charm against our national misery.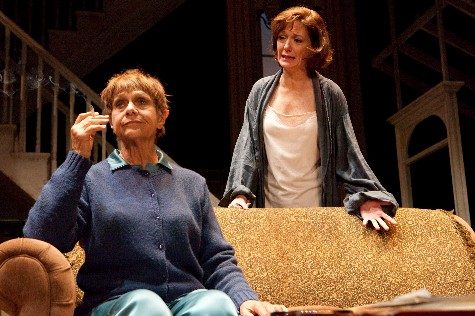 The script's playful intimations of Albee (Who's Afraid of Virginia Woolf?), Shepard (Buried Child), and O'Neill (Long Day's Journey into Night) only show its dramatic limitations—a dependence on superficial humor and easy hysteria rather than hard-won insight gained by glimpses of the soul stripped bare, aside from a chilling final vision of solipsism that could have been conveyed as powerfully in a more compact setting.
Still, Letts's playwriting skills have grown to the point that he is beginning to create rounder, more sympathetic characters. Only Karen and her oily fiancé are out-and-out caricatures of American immaturity, though the Native American housekeeper approaches tight-lipped cartoon.
When the performers are given complex figures to play, they come up with pleasingly intricate portraits, such as Shannon Cochran's cagily, vulnerable/tough Barbara and Angelica Torn's memorably passive-aggressive Ivy. Violet, a monster of "truth-telling" selfishness, is played to the sardonic hilt by Parsons, while Paul Vincent O'Connor does a nimble job as Charlie, a decent fellow caught up in the Weston insanity.
As in his earlier, more modest plays, Bug and Killer Joe, the playwright is an expert at whipping up hysterics—August: Osage County proffers a diverting picture of family crack-ups stacked on top of more family crack-ups. But there's not much to take away from all the traumatized mayhem once the dust has cleared.