Paradise Road: Jack Kerouac's Lost Highway and My Search for America by Jay Atkinson, Wiley and Sons, 250 pages, $25.95
Reviewed By Nancye Tuttle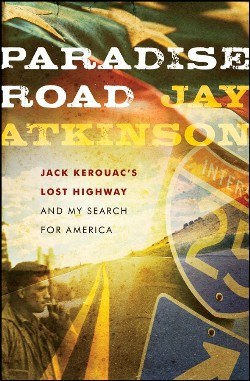 I'm ready to pack my bag and hit the road. But it isn't Jack Kerouac's iconic 1957 novel On the Road that's fueling my wanderlust. It's Jay Atkinson's compelling, new memoir Paradise Road that is prodding me to see the world and do it with little more than a map, notebook, and friend along for the ride.
Atkinson, a master journalist whose eye for the revelatory detail serves Kerouac's kaleidoscopic visions well, set out with a few friends in 2007-2008 to retrace the five trips the legendary Beat writer made across America in the late '40s and early '50s, the journeys that inspired On the Road.
It was the 50th anniversary of Road's publication, and Atkinson, who admires and emulates the Beat scribe from Lowell, wanted to celebrate that landmark event in American literary history, a modern classic filled with the jittery vibrations of "restless young Americans." He does this by focusing on the past and the present, a stereoscopic maneuver that combines a fact-filled, gossipy meditation on the life and writings of Kerouac with the highs and lows of an entertainingly personal trip through the roads of the novel:
Just as Kerouac had done, I had traded my small town in Massachusetts for someplace else, held great philosophical debates in moving automobiles, and stood on lonely roadways with my thumb out and four dollars in my pocket. Kerouac's subject, of course, is more than just bop parties and boxcars, or drinking wine and chasing women. Like a Brueghel painting, On the Road, teems with life, celebrating our moments on earth even as it mourns them. As Sal Paradise says, "The only people for me are the mad ones."
At its best, Paradise Road evokes the enduring craziness of American life, partly through the power of Atkinson's lively prose, which is filled with vivid descriptions, empathic observations of people at the margins, and colorful vocabulary. So, too, does his sense of whimsy, irony, and even a touch of nostalgia when he references Kerouac's words or remembers old friends.
While Kerouac had a young, Denver-based car thief named Neal Cassady to ferry him from New York to New Orleans, Mexico, California, and Colorado, Atkinson travels with three old friends, Surfer, Bongo and Piercey, each at different times. They are far more than your standard, protective sidekicks chosen for their driving skills: each companion brings his own perspective and personality to Atkinson's encounters, sometimes driving the book in surprising directions.
In a sense, of course, Atkinson is also traveling with Kerouac and Cassady. He does not consign them to the past:
Right now we're listening to Charlie Parker's crazy horn, as the sun tracks towards it zenith. When Kerouac and Cassady traveled this same highway, they listened to a radio show called Chicken Jazz'n Gumbo emanating from New Orleans that featured the Bird and other jazz luminaries. If Neal Cassady were alive now, he would be listening to hip-hop and sagging his pants, as the music that sprang from the stoops and alleys of the inner city is the "bop" of today: loud, sharp, carnal, and omnivorous.
Atkinson captures some of this "loud" and "sharp" energy in his writing: you careen with him down a perilous mountain road in Mexico, cool off in a lake on a hot summer day, and feel the ongoing pain and agony during a tour of the distraught Gulf coastline, still reeling over the aftermath of Hurricane Katrina.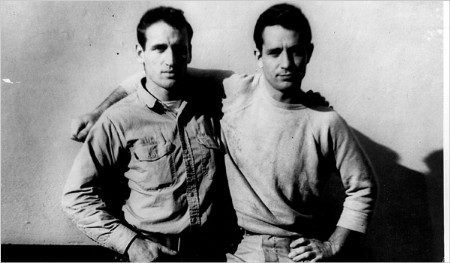 You taste the food, too, and smell the strong odors of life on the road. Hummus and lentils in Queens, boiled peanuts at a Georgian roadside stand, perfect Southern barbecue presided over by a pretty, sweet young thing who sets every man's heart aflutter.
And the people you meet are just right for the road—cops and quirky guys, old ladies and pretty young things, immigrants and low-lifes, charlatans, shysters and just plain folk. Atkinson gives each an honest, outgoing, accepting look and shares their stories.
Predictably, he finds quite a few changes on the road from Kerouac's day, offering glimpses of a nation that's more prosperous but in some ways blander and sadder: "The Denver neighborhood where Jack and Neal searched for Cassady's alcoholic father has been updated and gentrified by juice bars and outdoor restaurants and brick-fronted lawyers' and Realtors' offices."
But, like Kerouac, Atkinson ultimately savors the joy of the ride, the moment, the person, the taste, and the unknown. With eyes wide open and pen always poised, he takes us on a memorably adventurous journey.
Contact Nancye Tuttle at nancyedt@verizon.net
===================================
Order this book through the link below to Amazon and The Arts Fuse receives a (small) percentage of the sale.