By Bill Marx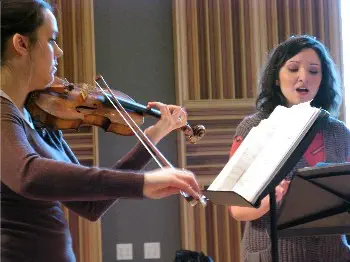 Soprano Aliana de la Guardia and violinist Gabriela Diaz performing selections of "Kafka Fragments" at a WGBH studio.
A recent World Books podcast serves up a literary/musical treat. A Boston company, Ludovoco Ensemble, presented a performance of "Kafka Fragments," a short chamber work composed by György Kurtág for soprano and violin in 1985. The 70-minute piece is made up of 40 fragmentary texts culled from the letters, diaries, and notebooks of Franz Kafka. Kurtág is considered by many critics to be Hungary's greatest living composer and "Kafka Fragments" has garnered enormous praise, even though its intensity can be formidable. In the words of one critic, the piece "all but defines claustrophobia in music."
I spoke to the two women performing "Kafka Fragments" in Boston — soprano Aliana de la Guardia and violinist Gabriela Diaz — about the appeal of Kurtág's work. But before the interview they perform, in German, some selections from "Kafka Fragments" and follow that sampling with the English translation of Kafka's words.
======================================================
For those of you who don't know about us, and wish to subscribe to this and other great podcast and blogs, The World is an international news program co-produced by the BBC World Service in London, Public Radio International and WGBH Boston. Subscribe to the World Books podcast here.
And World Books is more than my weekly podcast – the online feature includes reviews, interviews, news, and commentary on international literature, including a review of the novel "The Accordionist's Son," which critic Tommy Wallach hails as a superb meditation by Basque writer Bernardo Axtagas about how politics influences language and culture in unexpected ways. Those who want to talk about that and other issues about international fiction and culture should go to the World Books Facebook fan page. Agree or disagree, I want to hear from you.