By Caldwell Titcomb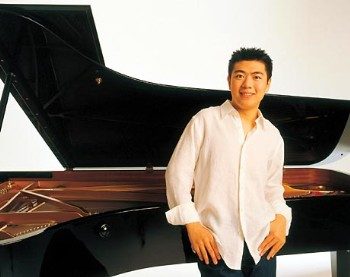 Chinese pianist Lang Lang can play the heck out of Chopin.
When I first heard Chinese pianist Lang Lang, he was a teenager. He displayed plenty of virtuosity, but without an idea in his head – and the music chosen was not worth anyone's time. He had begun lessons at three and performed in public at five, but it seemed likely that he was one more in a long parade of child prodigies who would soon vanish from the scene. Boston's Celebrity Series brought him to town in 2003, when he was twenty-one, and again in 2005 and 2007.
Listeners have split between cheerers and pooh-poohers (some of the latter have renamed him Bang Bang). I attended his Symphony Hall recital in 2007, and he had made enormous strides since my first exposure to him. So I went back last weekend to see how he was faring, and my verdict was largely positive.
For those who wonder about his name, by the way, the two syllables are not the same. They have separate written ideograms and are pronounced slightly differently: one name means bright or clear, and the other means son or young gentleman.
Lang began his March 1 concert with Schubert's Sonata No. 20 in A-major (D. 959). This was the middle of three sonatas that Schubert wrote with only weeks to live. It has four movements and lasts three-quarters of an hour. Lang brought warmth and restraint to the first movement, capturing the C-major surprises nicely. The Andantino is somewhat disjunctly sectioned, and Lang didn't quite make it all hang together. But he imbued the scherzo with the proper lightness as the left hand repeatedly crossed the right. He used little pedal in the finale, and the many stops and starts were what Schubert wrote into his score. If the overall impression of the sonata did not reach the sovereign level of Murray Perahia's reading, it achieved a high level indeed.
After intermission Lang moved into the twentieth century. Using a score and a pageturner, he launched into Béla Bartók's 1926 sonata (Sz. 80), written as a vehicle for the composer's own concertizing. Though it makes use of some folktune material, the work is extremely dissonant – and difficult. The music is athletic, with lots of quick leaps. It is intentionally harsh and even brutal, and for once Bang Bang is called for. Perahia, in his all-Bartók CD, could not bring himself to embrace the work's aggressiveness, but Lang Lang was not similarly reticent.
Lang then offered a batch of pieces from Debussy's two books of Preludes (1910, 1913), though he played them in a different order from that printed in the program. The famous "Engulfed Cathedral" was especially effective, with perfect control of dynamics. And he ended the concert with the most celebrated of Chopin's sixteen polonaises, the one in A-flat major, Op. 53. He was fully up to this grandiloquent music, and the rapid left-hand octaves in the middle section were amazing. Let's just say that he played the heck out of the piece.
At the end Lang was presented with a half dozen bouquets from the audience. As an encore he offered Chopin's smoothly flowing E-major etude, Op. 10, No. 3. I think it is now safe to say that the pianist is living up to his name of "bright young gentleman."