Red is about creativity and destruction, Apollonian rigor and Dionysian instinct, fathers and sons, love and rejection, life and death.
Red by John Logan. Directed by David R. Gammons. With Thomas Derrah and Karl Baker Olson. Staged by the Speakeasy Stage Company at the Calderwood Pavillion at the Boston Center for the Arts, Boston, MA, through February 4.
By Tim Jackson
Read Ian Thal's Arts Fuse review of Red.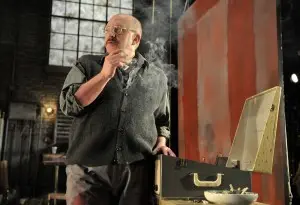 Scripts about art, particularly about creating, selling, or thinking about the meaning of art, tend to make for satisfying nights at the theater. Plays such as Donald Margulies's Sight Unseen, Pam Gens's Stanley, and Yesmina Reza's Art bring conflicting ideas about the power of creativity and commerce into a concrete, often personal, context, generating drama that is as psychologically illuminating as it is reflective about the value of aesthetics. So it is with John Logan's Red, which examines the beliefs and personality of painter Mark Rothko.
The play looks at Rothko in the late 1950s, when he was a leading abstract expressionist at the top of his form. It was a competitive field, and the artists working in that style were obsessive, protective, defensive, and visionary. Rothko was no exception. In the competitive New York art world of the time, artists such as Clifford Still, Jackson Pollack, "Ad" Reinhardt, and Willem de Kooning, faced off and challenged one another and themselves.
Logan, whose screenplays for Gladiator and The Aviator were nominated for Academy Awards, explores Rothko through his relationship with a young apprentice who has come to the master's studio to mix his paint, prepare his canvases, get coffee, and to suffer through regular tirades on the nature of art and creation. Rothko was commissioned to create four murals for the exclusive Four Seasons restaurant in the new Mies van der Rohe/Phillip Johnson Seagrams Building on Park Avenue, a landmark of modern architecture. Rothko is messianic: he is obsessed with the purity of his vision, perfecting his colors, and controlling how his paintings will be displayed. He doubts whether the public is worthy or even capable of understanding his art. We know that Rothko ultimately rejected the commission, and that he committed suicide about a decade later.
The play's dialogue is about much more than just art. For example, Logan has said that Red "had more to do with my feelings about art and theatre and mentors and fathers. Mark Rothko became the vessel for things I wanted to explore." The play is about creativity and destruction, Apollonian rigor and Dionysian instinct, fathers and sons, love and rejection, life and death. Though this all sounds heady and intellectual, Logan's well researched and passionate writing is served well by the sharp direction of David Gammons, which moves the proceedings along at a brisk pace. Moreover, Thomas Derrah, playing Rothko, transforms the conversation into a dance of emotions and ideas.
I interviewed Derrah for his perspective on this multi-layered play.
---
Arts Fuse: What has the audience reaction to the play been?
Thomas Derrah: It engages the audience on many different levels; I think everybody will have a different experience. We've had only four performances so far, but audiences certainly seem very enthusiastic at the end of the show. We've had a couple of standing ovations, which is always very flattering. We had a talkback last Sunday, and there was a lot of interest in Rothko and in the production and a lot of interest in the arguments that Logan's play puts forward.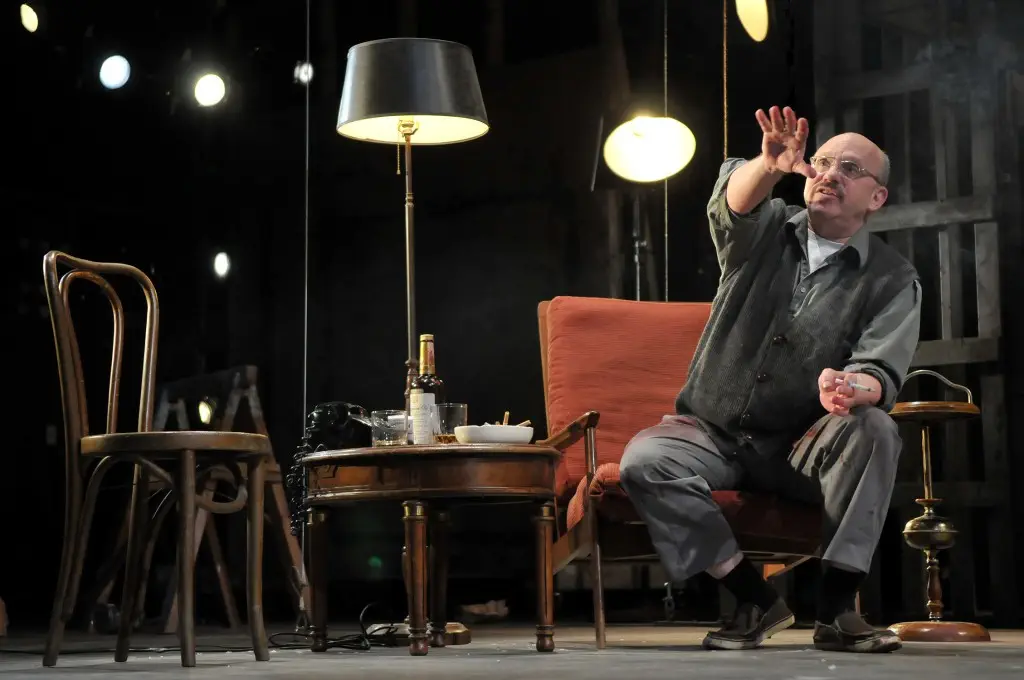 AF: There's a running theme of red and vitality versus death and blackness.
Derrah: I am personally surrounded by it because people I love in my life are either passing away or diminishing in terms of their strength and their vitality—my own mother and dementia—I think the black is swallowing the red there for sure. And recently with director David Wheeler's passing. You see these vital people aging, and you start to reflect on it yourself. It's just a giant topic, and I'm seeing it all around me. And as I age, obviously the people in my life are aging.
AF: But somehow I feel that Rothko is moving toward the black intentionally.
Derrah: Yeah. That's Rothko. Ten years after the time period the play is set he did kill himself. He kind of slips in the play, and he says, "When I commit suicide there's going to be no doubt about it,'' and Ken says "What do you mean when you commit suicide?'' and Rothko says, "I didn't say that." He is obviously obsessed by it and terrified by it at the same time. I'm not sure he wants to move towards the black so much as he is just obsessed by it—by how it's encroaching. He says, "we cling to that last bit of hope—that red'' because the intimations of our mortality are everywhere. Everything is closing in. It's like the storm clouds are gathering. He's trying to avoid it, but he really can't.
He was such a disappointed man, I think. Nothing turned out the way he wanted it to. And even when it did turn out the way he wanted, it wasn't enough for him. Even the Rothko Chapel (which is in Houston) is not exactly what he wanted. I don't think he was completely happy with it.
I stumbled in there one day when I worked in Houston, and it was like "wow"—a chapel built specifically for these paintings. The paintings are very dark, and it's all very still and cool and quiet and meditative. And you go in there and your head just opens up and you kind of "enter" into these paintings. It is everything he talks about in this play. It's an extraordinary place.
AF: You also performed an award-winning, one-man show as Buckminster Fuller last year. What is your process for entering into a once real person like Bucky Fuller or Rothko?
Derrah: It's a mystery isn't it? I'm not being evasive; it just is. Bucky was incredibly well researched. There's lots of footage of Bucky Fuller. I held off looking at that for quite a while until I had my own firm idea of what I thought he would be like. With Rothko those things don't exist. There are pictures of him and a lot of his writing is available. But the play pretty much gives you all the information you need. You need to decode it. David (Gammons) is a terrific director, the design team is fantastic, and of course Karl Baker Olson is such a great scene partner in the role of Ken. He's such a great foil.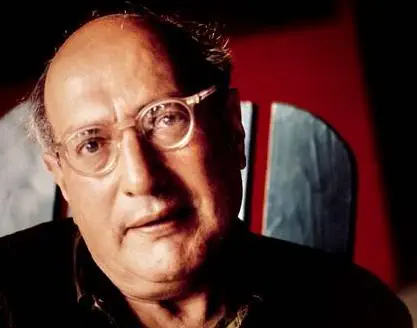 AF: What kind of relationship is it between Ken, his assistant, and Rothko?
Derrah: Rothko says to him right off the bat, "I'm not your friend, I'm not your shrink. I'm not your father. I'm not your rabbi. I'm not your teacher. '' And then he turns out to be all those things. With a vengeance. One thing that Logan did that is very smart is that he limited the world of Rothko and his relationships to just this room.
We're brought into the artist's world, and Ken becomes part of that world in the play. Ken becomes his child, his son, his enemy, and he's the tragedy that Rothko is so obsessed with. And Ken himself has a classically tragic past, which feeds into the whole tragic thing that Rothko is obsessed with. Always the tragedy.
AF: So the play contrasts Ken's lived tragic circumstances with Rothko's philosophical tragedy?
Derrah: It's an invention of Logan's, but I think it works. You have this young man, who is the future, trying to find his way in the world with a real tragedy tethered to him. Then you have this older man with a lot of recognition and a lot of advantages, and yet he is so disappointed, so angry, and so paranoid. One of my favorite aspects of the play in terms of theme is how Rothko brags about stomping Cubism to death and then becomes so paranoid about Pop artists coming and taking over.
AF: At one point, Ken says, "You're just mad because the barbarians are at the gate and what do you know, people seem to like the barbarians." It's such a significant moment in the play, in terms of American culture and art history.
Derrah: Yeah. And it's this way today—deciding who the "alpha" person is, who has the power artistically, who dominates the conversation, and who you have to push away to get somewhere. And now you have to guard that place because younger people are coming up. It's always been a major dramatic theme. As you get older, you start to feel defensive. Rothko becomes gracious when he tells Ken to get out there and do something new. Rothko knows something will push him out, that something new is going to come along and that it will speak to people. He needs to accept that because he did the same thing himself.
AF: He was born Marcus Rothkowitz to a Jewish heritage. Do you think that's part of his identity?
Derrah: I don't think he thinks about it. He made fun of some of his fellow artists for making art in synagogues. He wasn't interested in that. He'd much rather paint for the Catholic Church. He liked the pomp and circumstance of it. I'm not sure what that's about. He was very secular. He was proud of the fact that nobody knew he was Jewish. He talks about having lived in the ghetto among the other "thinky talky" Jews and also that he felt too Jewish for the Four Seasons restaurant when he visited there. But he talks a lot about Renaissance art, Christian stuff, Michelangelo, and Caravaggio, which seem to move him more. I don't really know. That's a tough question. The play doesn't really give you that context, and as such I don't think it really informs the character.
AF: Perhaps he used his background when he needed to. There seems to be an element of performance to Rothko.
Derrah: That's an excellent interpretation. He was a showman—clearly seen in the way he was obsessed with lighting his pictures. There's something incredibly theatrical about that. I don't think his paintings work without that element of theater. Which is why his personality makes for a particularly good play, because it's theatrical to begin with.
AF: It is theatrical, and the play certainly generates a lot of interesting conversation afterward.
Derrah: It's exciting isn't it—to leave the performance and not just say, ''Hey, where'd you park?'' but to engage and want to continue the conversation. It gives me hope that there is a need for theater after all.