In effect, "Playing for the Planet" is an open-ended, floating, world music festival featuring performers from New England.
By Steve Elman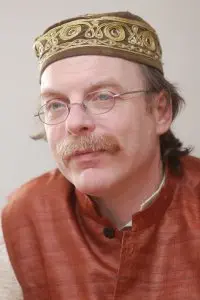 Let's get the promotion out of the way first. If you enjoy pleasant surprises and stimulation of the aesthetic synapses, write to warren@warrensenders.com and ask Warren Senders to put you on his e-mailing list for "Playing for the Planet" concerts. At the very least, you'll find out how much you don't know about the local music scene.
In effect, "Playing for the Planet" (PFTP) is an open-ended, floating, world music festival featuring performers from New England. It started two years ago as a single concert produced by Senders in the context of a day of world environmental activism, and it morphed into a series, with each of the following four concerts focusing on a different aspect of music—voice, percussion, bowed strings, and plucked strings have each taken center stage so far.
Senders expects to produce the next installment in six months or so. Even though he has no idea about who will be playing or what will be played (and past performance is no guarantee of etc., etc.), I'll bet that the music on offer come spring will be worthy of your attention, and you'll want to know about it well in advance.
PFTP V, entitled "World Strings [that is, plucked strings] Against Climate Change," presented at the Emmanuel Church Library on Friday, November 1, marked my second visit to the festival. (I also heard PFTP IV, "World Violins Against Climate Change," on April 22.) Now I feel at least minimally qualified to reflect on Senders's ambitions and the relevant realities, leavened with some regret about all the music I've missed.
In essence these concerts are Senders's way of grappling with an essential conundrum in an artist's life: can and should this non-utilitarian work called art have an impact on what we occasionally refer to as real life?
The water gets deep here.
Most artists are too involved with honing their craft and their personal themes to consider whether what they do will make the world better. Art is usually an act of faith in the future, a throwdown in the hope that someone picks up. What results from an artist's efforts isn't a pair of shoes or gallon of milk or a roof that won't leak. It's a patch of color on a wall, or a mass of typescript, or an untouchable object, or, horribly, in the case of the performing arts, a period of spiritual transport that can only be captured approximately if at all.
For most artists, this is enough. And it has to be. The effort involved in the hard work of art is sufficient to occupy most artists full-time or at the very least, to drain out so much energy that they barely have time to do the shopping. If you were Warren Senders, you might take sufficient satisfaction in writing large-scale compositions for the Jazz Composers Alliance Orchestra, having dinner with your wife, preparing your own recitals of Hindustani vocal music, playing with your daughter, giving others the benefit of your aesthetic experience through your teaching at the New England Conservatory and in private lessons, and remodeling the bathroom. But, in that case, you wouldn't be Warren Senders.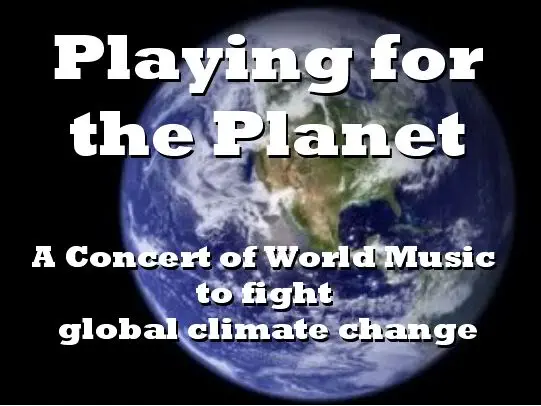 As Senders will tell you (and as he occasionally explains in lively monologues in between acts at PFTP concerts), he came to the realization that part of his life's work has to be an effort to preserve a planet livable for human beings so that music can continue to exist. Since he's become adept at producing concerts on a shoestring, he began directing those skills towards creating a series to generate money for Bill McKibben's 350.org. To maximize revenue, he jawbones outstanding area musicians into playing gratis, sugar-coating the ask with the promises of an attentive audience and a home-cooked meal.
Incidentally, this has given him the opportunity to create a personal showcase for world music. The last two concerts in the series have included Carnatic music from south India, jazz-rock fusion, classical guitar, folk music from middle Europe, and mid-17th-century, Ottoman music. (To hear what the latter sounds like, listen to Anthony Brooks's interview with members of Dünya on WBUR's "Radio Boston.")
It's worth noting that Senders does not ask the musicians to create environmentally-themed pieces, and not one of the performers I saw chose to do so. He simply invites them to present about 45 minutes' worth of music and to explain it as they see fit. It works. PFTP V, like PFTP IV, filled the Emmanuel Church Library chairs and left the crowd more than sated.
Fortunately, thanks to Andrew Gilbert's assiduously-reported preview piece in the Globe on November 11, I don't have to provide more detail here about the performers in PFTP V and about Senders's remarkable commitment—suffice it to say that Gilbert's work is worth a click.
Instead, let me concentrate on a few memorable moments that you missed if you didn't attend either of the shows:
In the April concert, Violinist Beth Bahia Cohen showed off some impressive, high harmonics, evoking birdsong in a tune from Northern Greece (shades of Florian ZaBach!).
For the first piece in Tara Bangalore's set in that same show, she chose a rag' that was particularly consonant for Western ears and concluded it with a two-violin conversation with Rasika Murati that demonstrated a beautiful rapport.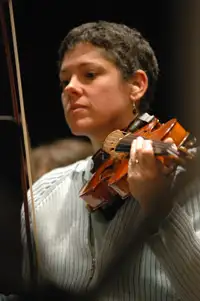 Mimi Rabson's group put jazz, funk, and rock into a very attractive, harmonic package as she showcased compositions from her current CD, Music. I especially liked "Hear I-Self," where her beautiful, musky sound on electric violin brought back some nice memories of Stuff Smith.
At the November 11 show, Dünya's opening medley of classical, Ottoman pieces (all new music to my ears) convinced me that I need to hear more of this music and learn more about this tradition. Mehmet Ali Sanlikol's sensitive oud introduction immediately centered the ear, and then Robert Labaree (çeng) and Cem Mutlu (percussion) filled out the structures with all the intuitive drive I would have expected from a seasoned ensemble of Indian musicians—and Sanlikol and Mutlu sang very well, too.
Durga Krishnan's performance was a rich and satisfying introduction to the veena, perfectly assembled and marvelously executed. Her improvisations were structured as beautifully as Sonny Rollins saxophone solos, with motifs introduced casually, then brought back over and over for cumulative effect. And Gaurishankar Chandrashekar's mrindingam solo showed off some very impressive chops.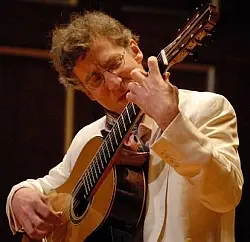 A set of duets by Eliot Fisk and Zaira Meneses featured all the fingerwork you'd expect from eminent exponents of classical guitar. Fisk's great control of harmonics was thrilling, especially on Joaquin Rodrigo's "Fandango." Meneses chose a spectacular display piece, Leo Brouwer's "Cuban Landscape with Bells," to demonstrate her mastery of unconventional technique. But for me, their performance of transcriptions of Luciano Berio's duets for violins was more contemplative, and as a result, the most luminous and fascinating part of the program.
PFTP shows offer a lot of music to digest, not to mention the comments from Senders and associates on environmental issues. They tend to start as close to 7 p.m. as possible and run long. But the vibe is informal, the stagecraft is minimal, the pace is brisk, and the soundsystem quality is excellent, barring an occasional delay or glitch that only reinforces the improvisational quality of the affair. If you're feeling a little overworked when the last notes are sounded, let the memories settle for a day or two. I think you'll find that your brain feels better for having had a little bit of aesthetic exercise.
And you just may have done some good.
---
Links for more information, sound clips, and direct purchase of the recordings mentioned:
• Contact information for Warren Senders (to receive e-mailings re future "Playing for the Planet" concerts): warren@warrensenders.com
• Andrew Gilbert, "Sounding a note of caution through music," Boston Globe, 11/11/11.
• Anthony Brooks's interview with Mehmet Ali Sanlikol, Robert Labaree, and Cem Mutlu of Dünya, with excerpts from a studio performance, as broadcast on "Radio Boston," WBUR, 11/11/11 (produced by Jessica Alpert).
• Beth Bahia Cohen's website
• Mimi Rabson's website, featuring her new CD, Music.
• Dünya's A Story of the City (available in download or CD form).
• Durga Krishnan's New England School of Carnatic Music website.
• Eliot Fisk's website.
• Zaira Meneses's website.
• Jazz Composers Alliance website.
• Running Gamak (Warren Senders' Blog).
---
Steve Elman's more than four decades in New England public radio have included ten years as a jazz host in the 1970s, five years as a classical host on WBUR in the 1980s, a short stint as senior producer of an arts magazine, thirteen years as assistant general manager of WBUR, and fill-in classical host on 99.5 WCRB.