Charles Busch's plays are informed by an obsession to playfully upend iconic film genres. This time it's the celluloid celebration of nuns, and what a divine romp it is.
By Emily Rudofsky
The Divine Sister by Charles Busch. Directed by Larry Coen. Presented by the SpeakEasy Stage Company at the Boston Center for the Arts, Stanford Calderwood Pavilion, Boston, MA, through November 19.
"My dear, we are living in a time of great social change . . . We must do everything in our power to stop it.'' — Mother Superior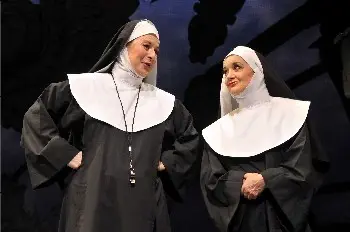 Welcome to St. Veronica's convent school, where the only man allowed inside is Jesus. The building is in such disrepair that it must be torn down. But where can the sisters find the funds to rebuild the school? Not from the staunchly atheist Mrs. Levinson (though Jewish in name).
Meanwhile, a mysterious and severe new sister has arrived from Germany on a mission so secret only the albino monk in the catacombs knows about it; a young postulant named Agnes claims to see holy visions (in unlikely places). And the Mother Superior must hold it all together, despite the return of a man from her past outside the convent.
Sound familiar? It probably is. A self-described "drag artiste with a literary pedigree," Charles Busch's plays are informed by an obsession to playfully upend iconic film genres. This time it's the celluloid celebration of nuns, and what a divine romp it is. The Divine Sister, which premiered last year at the SoHo Playhouse, starring Charles Busch himself, is inspired by films such as The Trouble with Angels, and The Nun's Story, and the script puts all the clichés to good comedic use. The play is a tongue-in-cheek homage to a time when the convent was a wholesome place to set films that depict strong women working together.
Busch's success in writing has always been closely connected to his success in performance. Plays like Die, Mommie, Die! and Psycho Beach Party owe their popularity in part to Busch's performance as the grand leading lady and to his stage-dominating persona. Even without the playwright present, The Divine Sister sizzles and crackles.
Partly because the text itself hold ups, clear and tightly knit, and that director Larry Coen knows how to stage comedy. In terms of gags the production is meticulous — comedic buttons, purposefully late sound cues, intricately choreographed transitions (facilitated by two large, rolling buttresses, pieces of the extremely variable and functional set by Cristina Tedesco).
Also crucial is that none other than Jeffrey Roberson, perhaps better known as his alter ego, "Varla Jean Merman," stars as our favorite guitar toting, bicycle-riding nun. Roberson has a formidable task:only a larger-than-life actor could do justice to the larger-than-life personality of the Mother Superior (a role Busch wrote for himself). Varla Jean is the obvious inspired choice. Whether it is Roberson or Merman in the role it is hard to tell; the actor possesses a keen understanding of both the character and the archetype of the "Leading Lady," not to mention is well on top of the swift tempo the play calls for. The Divine Sister, woven out of a handful of complex sub-plots, clocks in at just under 90 minutes.
An extremely capable cast of madcap actors, some taking on multiple roles, joins Roberson. It's thrilling to have so many accomplished zanies on stage, and the ensemble is clearly enjoying themselves. Paula Plum shines as Sister Acacious, the Mother Superior's plucky best friend and right-hand woman as well as the convent school wrestling coach. Kathy St. George simmers as the mysterious, austere, and extremely German Sister Maria Walburga. Both women adopt thick accents, exercise strong wills, and aren't afraid to run wild, have fun, and steal the show for a moment or two.
Ellen Colton and Christopher Michael Brophy both take on some drastic double-casting: An elderly Jewess and a young Catholic schoolboy for Colton, and for Brophy, the male roles: a disfigured Albino monk and a suave and seductive movie executive. And Sasha Castroverde makes her SpeakEasy Stage debut as the delightfully air-headed Agnes, a convent postulant who may or may not have healing powers. In short, everyone onstage enjoys whipping up a funny frenzy, and the enthusiasm is infectious. And appropriately, the evening ends with a "heavenly" song and dance, led by (of course) the Mother Superior herself.