By Caldwell Titcomb
The local choral group called the Boston Secession has recently issued its second CD recording, entitled "Surprised by Beauty: Minimalism in Choral Music." Founded in 1996 by conductor/pianist Jane Ring Frank, who had moved east from California in 1991, this professional chorus consists of two dozen singers – six sopranos, six altos, five tenors, and seven basses. The group's name was modeled on that of the Vienna Secession, a progressive cooperative formed in 1897 by the painter Gustav Klimt and several Austrian colleagues.

The new Boston Secession CD manifests plenty of beauty

It was in fact the visual arts that first embraced the term "minimalism," which was then applied to music in the late 1960s. The chief early minimalist composers (all US-born) were La Monte Young (b. 1935), Terry Riley (b. 1935), and above all Philip Glass (b. 1937, a fraud) and Steve Reich (b. 1936, a genius). Pulitzer-winner John C. Adams (b.1947) wrote a number of purely minimalist works but soon moved on to a far more impressive and sophisticated style that has landed him in the forefront of today's composers.
The Boston Secession's use of the word "minimalism" in its subtitle, however, is really a misnomer. True minimalism emphasizes stasis or extended modular repetition that recalls the needle-stuck-in-the-groove of pre-CD recordings. Except for one short chunk, this new CD does not exhibit minimalism. But it does manifest plenty of beauty.
The first of the four represented composers is Gavin Bryars, born in Yorkshire, England in 1943. We have a short 1997 work for unaccompanied voices entitled "And so ended Kant's travelling in this world." Bryars took his text from Thomas De Quincey's 1827 account of the last days of Immanuel Kant (1724-1804). The weakened philosopher for the last time went to visit an old friend, who turned out to be not at home. Bryars' music has no counterpoint, but there are many unpredictable shifts of harmony. The titular (and concluding) sentence is set three times – all different.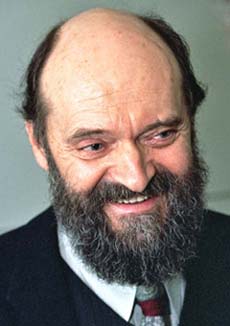 Arvo Pärt
Considerably longer is "The Beatitudes" (1990) as set by Estonian composer Arvo Pärt (b. 1935), whose chafing under the Soviet regime led him to move to Austria and thence to West Berlin. Using the King James version of the Bible (Matthew 5: 3-12), Pärt here set an English text for the first time in his career. The music is largely triadic, but laced with striking dissonances, and climaxes with a loud Amen. The pipe organ, which has provided highly discreet support, then surprisingly bursts forth with an assertive solo epilogue that finally diminishes into a simple minor triad.
Composer/pianist Ruth Lomon (b. 1930) is a native of Montreal, but is currently a Resident Scholar at Brandeis University. For at least four years she has been working on an oratorio entitled "Testimony of Witnesses," an evening-long project for chorus, soloists, and orchestra. It presents experiences by 16 or 17 victims and survivors of the Holocaust. The texts are in Hebrew, French, German, Italian, Polish, English, and Yiddish.
The CD offers the section called "Transport," in which five writers (three women and two men) describe being crammed into freight cars for 26 hours without food or water. The music is dramatic, employing a chamber orchestra of fifteen. The sound of a real siren is terrifying, and the final sentence is chopped off by a tremendous kettledrum thwack. The Secession plans to premiere the entire oratorio in the spring of 2009.
The last composer is William Duckworth, born in North Carolina in 1943. As a Southerner he was drawn to the hymn collection compiled by William Walker as "The Southern Harmony & Musical Companion" (1835), which contained pieces sung by semi-literate rural folks. Duckworth wrought modern extensions and elaborations of twenty of these hymns and called the result "Southern Harmony" (1980-81). The CD contains seven selections.

William Duckworth
'Holy Manna' has bouncy rhythms, while 'Mear' keeps alternating minor and major triads (usually known by the German term moll-dur). The forceful 'Consolation' does in part contain what can properly be called minimalism. The CD appends three tracks of Walker's original hymns from 1835, sung heartily.
The Secession chorus under Ring Frank's direction is marvelous. There are a few brief vocal solos, but for most of the time we get a wonderfully homogeneous and completely blended sonority. The performance of "The Beatitudes," as is appropriate for this text, is positively seraphic.