Those who think that accolades should go to the fresh or the marginal—work in Boston that could use the recognition rather than the usual suspects—will have a long wait.
By Bill Marx
"It's remarkable because the nominators tend to skew much older," said Rocco Landesman, president of Jujamcyn Theaters, none of whose tenants were nominated for best musical. "I guess they want to be young and hip. This is more surprising than usual." – "The Year's Tony List is Filled with Unusual Suspects," New York Times, May 14, 2008

Producer Rocco Landesman should head up to Boston. Here the mainstream theater types, particularly our critics, aren't trying to be "with it." Here, even though our theaters are surrounded with more students per square mile than in any other city in America, the geriatric reigns. Particularly when it comes to the shows that garner awards.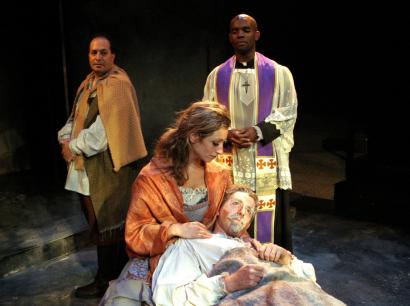 What do the young turks of YouTube make of award-winning shows like Man of La Mancha? It is not impossible to guess.
This year the prizes for the best productions were generally handed out to plays—with a couple of exceptions that prove the cobwebbed rule—that cater to Landesman's graying demographic. We may be seeing a generational change in our politics, but encounters with modern life, along with the ideas of the younger crowd, are disappointingly rare on our stages. Those who think that accolades should go to the fresh or the marginal—work that could use the recognition rather than the usual suspects—will have a long wait.
Meanwhile the theater awards, like the publications the critics write or blog for, are increasingly beginning to look like waxworks in a steam room.
Granted, in my experience culture awards of all kinds (theater, books, etc) are the flawed result of compromise, horse-trading, and intramural politics. These shows may or may not have been the outstanding productions of the season, but the line-up definitely gives off a strong whiff of mildew. The Elliot Norton Awards Selection Committee sent roses to the Huntington Theatre Company production of Noel Coward's Present Laughter, the American Repertory Theatre's revue of Coward songs, and a touring production of My Fair Lady.
As for the Independent Reviewers of New England (IRNE) Awards, best production nods went to Man of La Mancha!!! and A Streetcar Named Desire. The Williams is a great but weary-to-the-bone warhorse, and who under 60 years of age is excited to see how "To Dream the Impossible Dream" holds up? Harold Pinter's No Man's Land, which premiered in 1975 and won IRNE's Best Play award, looks cutting edge in comparison.
One of the few winners written within the past 10 years was Sarah Ruhl's The Clean House, which received a Norton Award. This was the predictable bow to the present because, as I argue in an earlier Arts Fuse entry, the dramatist is the current NPR-approved choice for "innovative" playwright, her whimsical surrealism disguising sentimental pieties and huzzahs for the joys of regression.
According to the critics, Boston stages do most of their best work with scripts that are either doddering antiques or safe and certified classics.
I missed the Elliot Norton winner for outstanding new play, but Brendan, IRNE's choice, expresses the retro mindset perfectly. The sitcom features a dead mother offering advice to a "good" Irish immigrant. His "bad" (hard-drinking, highly sexed) immigrant buddy—who has no ghost mom to rescue him from his sins—is dispatched to the Great Beyond for the satisfaction of the solid citizens in the audience.
Like TV and Hollywood, theater companies produce pieces that cater to their target demographic, which not only means doing plays from the '40s through the '60s but picking scripts that revolve around boomers. This season the HTC featured a line-up of aged heroines, from the spirit mom in Brendan to the wise Sufi teacher in The Cry of the Reed and the English professor in Third who suffers for her (and our) PC boo-boos. Nothing wrong with that focus, except that the plays don't dig deeply into these characters—they are handled gingerly, as if not wanting to alienate audience members rooting for an inspiring, Hillary-esque experience.
What will the young turks of YouTube make of Noel Coward or Man of La Mancha? Not much. Theater tends to lag behind the other arts—institutional affiliations and deterministic marketing strategies only compound the drift toward conservatism. The underlying fear that unites all those companies concerned with demographics—veering too far from the mainstream.
Why reward the dramaturgical placidity of the mid-century? NYT critic Ben Brantley noticed the rush to nostalgia in his piece on the New York season that just ended:
It's rare that the New York theater demonstrates the kind of thematic convergence that it's showing in the second half of its 2007-8 season. Trends on Broadway in recent years have tended to spring from purely (some might say cynically) commercial motives. Shows inspired by popular movies; musicals assembled from Top 40 songbooks; plays starring actors with little stage experience but lots of exposure via tabloids and television: these fads are all rooted in the belief that brand-name familiarity reduces the daunting risk factor of producing on Broadway.

Yet now Broadway is delivering the square center of the 20th century: a decade that has not, to my knowledge, been identified in marketing surveys as one that audiences are dying to shell out big bucks to relive. And not only is Broadway offering a full slate of 1950s-style offerings, it is also, unusually, in sync with the trends in clothing that have been walking the runways in recent weeks. What gives?

On the surface there is an obvious answer. When life gets messy—as it definitely seems to be in a country shadowed by explosive foreign entanglements and a possible recession—people long for tidiness. And the mainstream dramas of the 1950s are, for the most part, as neatly tailored and unassuming as a cloth coat worn by Pat Nixon, the vice presidential wife for most of that decade.
If theaters produce the "neatly tailored and unassuming" in order to survive and allay fears of economic slow down that is understandable—but is there any reason for critics to hand out awards to the tidy escapism of yesteryear, no matter how well done?
---
Bill Marx is the editor-in-chief of The Arts Fuse. For over three decades, he has written about arts and culture for print, broadcast, and online. He has regularly reviewed theater for National Public Radio Station WBUR and The Boston Globe. He created and edited WBUR Online Arts, a cultural webzine that in 2004 won an Online Journalism Award for Specialty Journalism. In 2007 he created The Arts Fuse, an online magazine dedicated to covering arts and culture in Boston and throughout New England.