May is usually a so-so respite before the summer season revs up, but there's some interesting productions popping up, including Propeller Theatre Company's all-male versions of Shakespeare's Richard III and The Comedy of Errors, Amy Brenneman's autobiographical show Mouth Wide Open, and an opportunity to see J. M. Barrie take it on in the chin in Peter Pansy.
By Bill Marx.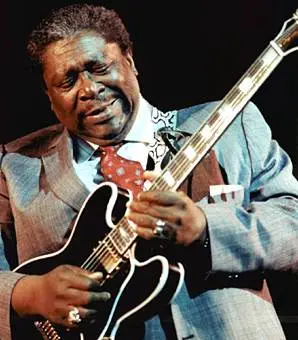 Why I Sing the Blues — An Original Musical by students at the Berklee College of Music. Directed by Rebecca Perricone. Presented by the Berklee College of Music at the Berklee Performance Center, Boston, MA, April 30 and May 1. Each year Berklee students write and produce an original musical honoring an American music icon, and this year blues legend B. B. King gets the showbiz homage. "The musical traces King's life from his humble beginnings in the Mississippi Delta to his place as an internationally beloved entertainer and icon of blues music. The show will feature some of his most popular songs, such as 'Sweet Sixteen,' 'Rock Me Baby,' 'Why I Sing the Blues,' and 'The Thrill is Gone.'" Besides Berklee students, the cast includes Grammy-nominated vocalist Nona Hendryx (Labelle, solo) and Grammy-winning guitarist Vernon Reid (Living Colour). Grammy-nominated drummer Terri Lyne Carrington will serve as ensemble director.
Passing Strange. Book and lyrics by Stew. Music by Stew and Heidi Rodewald. In collaboration with Annie Dorsen. Directed by Kate Warner, with music direction by Todd C. Gordon, and choreography by Kelli Edwards. Presented by New Repertory Theatre at the Arsenal Center for the Arts, Watertown, MA, May 1–22. The New England premiere of the 2008 Tony award-winning musical that deals with "the theme of transformation." The show "takes audiences on a pilgrimage led by a Narrator who shares his life through song. This soulful journey follows a young man from a comfortable, suburban neighborhood in Los Angeles, to the coffeehouses of an Amsterdam paradise, and finally to the riotous art houses of West Berlin, as he searches for his artistic and personal voice—what he calls "the real."" The cast includes Cheo Bourne, De'Lon Grant, Maurice E. Parent, Cheryl Singleton, and Kami Rusell Smith.
Peter Pansy by Ryan Landry and the Gold Dust Orphans. At Machine, 1254 Boylston Street, Boston, MA., May 6–29. Another of Landry's hysterically camp extravaganzas, this one takes aim at J. M. Barrie. It is billed as the tale "a very mischievous boy who not only has the ability to fly but swishes quite effeminately while doing so! . . . Move over Billy Elliot!"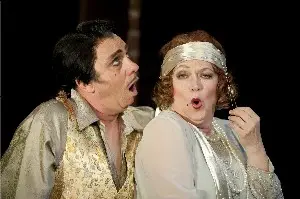 The Drowsy Chaperone: A Musical Within a Comedy. Music and Lyrics by Lisa Lambert and Greg Morrison. Book by Bob Martin and Don McKellar. Directed and Choreographed by David Connolly. Music Direction by Nicholas James Connell. Staged by Speakeasy Stage Company at the Boston Center for the Arts, Boston, MA, May 6 through June 5. "Mayhem, mix-ups and a gay (in the old sense of the word) wedding mark the high-spirited hijinx of this show, winner of five 2006 Tony Awards." The impressive cast includes Thomas Derrah, Karen MacDonald, and Will McGarrahan.
Emerging America Festival. Presented by American Repertory Theater (A.R.T.), Huntington Theatre Company, and the Institute of Contemporary Art/Boston (ICA) at OBERON, 2 Arrow St. Cambridge MA, the Calderwood Pavilion at the Boston Center for the Arts, 527 Tremont Street, Boston, and the ICA at 100 Northern Avenue, Boston, MA., May 13–15. "A festival featuring groundbreaking performances by American artists": the theatrical line-up includes Bellona, Destroyer of Cities, adapted and directed by Jay Scheib after Samuel R. Delany's classic science fiction novel Dhalgren (May 13–15), Beowulf—A Thousand Years of Baggage by Banana Bag and Bodice (Arts Fuse review) (May 13–15), and Psyched by Ryan Landry, featuring Larry Coen in a send up of Alfred Hitchcock's Psycho (May 14). Lots of other stuff, including The Great Emerging America Photo Hunt, The Emerging America Audio Plays, Podcasts and Walking Tours, etc—check out the website for venues, times, etc. Ask about The Emerging America Singalong Kit.
Richard III and The Comedy of Errors by William Shakespeare. Directed by Edward Hall. Presented by the Huntington Theatre Company and the Propeller Theatre Company at the Boston University Theatre, Boston, MA, May 18 through June 19. Two of the Bard's plays staged in repertory by a British, all-male company that is making its debut in Boston. The troupe's version of Richard III is "set in a gothic Victorian hospital, and features evocative, bloody imagery in the style of Grand Guignol." The Comedy of Errors takes place "south of the border" with "slapstick physical comedy, and a mariachi band" geared to make the production a "fun-filled family experience."
Silver Spoon. Book by Amy Merrill. Music and Lyrics by Si Kahn. Directed by Daniel Gidron. Presented by The Nora Theatre Company at the Central Square Theater, Cambridge, MA, May 19 through June 19. The world premiere of a musical that uses "toe-tapping folk numbers and rousing ballads" to tell the tale of two young lovers fighting for justice and searching for acceptance from their families, society, and each other in the idealistic days of the late 1960s."
Susurrus. Written and directed by David Leddy. Presented by Arts Emerson in Boston's Public Garden, May 20–26. This one is a first, I have to say—"a play without actors and without a stage. It is part radio play, part recital, part lesson in bird dissection, and part stroll in the park. Audiences follow a map around Boston's Public Garden as they listen to the piece on headphones." Leddy has been called a "theatrical maverick" with a "propensity for fearless experiment" (Financial Times) who is "Scotland's hottest, edgiest young playwright" (Sunday Times).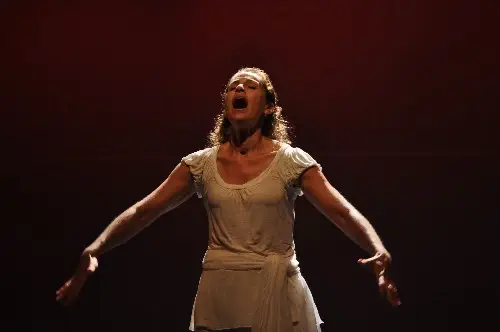 Mouth Wide Open by Amy Brenneman and Sabrina Peck. Directed by Peck. Presented by the American Repertory Theater at the Loeb Drama Center, Cambridge, MA, May 24–29. "Soulful, transcendent, laugh-out-loud funny, actress Amy Brenneman (Private Practice, Judging Amy, Heat) returns to her theatrical roots in this exuberant theater piece drawn from her own life experience that juxtaposes a hunger for the spiritual with the externalized pressures of celebrity." I remember Brenneman when she performed here as part of Bill Rauch's splendid Cornerstone Theater Company.
The Country Club by Douglas Carter Beane. Directed by Mikey DiLoreto. Staged by Happy Medium Theatre at the Piano Factory, Boston, MA, May 26 through June 4. A "comedy" presented by a relatively new local theater company. Set in Wyomissing, Pennsylvania, the script "follows a year in the lives of six insular friends (and one outsider) through a series of holiday-themed parties where drinks are bolted and truths are spewed." Sounds like an evening of fun and games in the spirit of Edward Albee's Who's Afraid of Virginia Woolf?
Women of Will: The Complete Journey, Parts I-V by Tina Packer. Directed by Eric Tucker. Founding Artistic Director Tina Packer's 40-odd years spent investigating all things Shakespeare informs this epic tour of the playwright's world, which is presented in five different parts. "Packer and acting partner Nigel Gore trace the chronological evolution of Shakespeare's female characters in relation to his own journey and growth as a writer. This version of Women of Will is fully expanded and presented in five parts, giving those who saw the Women of Will Overview last summer a complete look into Packer's stunning examination of Shakespeare's words and world."