By Paul Robicheau
The 11-piece group frontloaded its 90-minute set for immediate impact, answering the biggest challenge — replacing the vocal charisma of David Byrne — with a communal approach.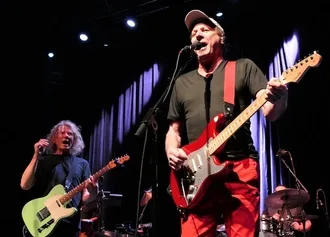 Talking Heads' 1980 landmark Remain in Light captivated both the head and feet with its pioneering blend of Afrobeat, New Wave pop, and avant-ambient texture. The Brian Eno–produced album not only remains atop my list of all-time favorites (the same for its supporting live show) but inspired full-length cover renditions by both jam giants Phish in 1996 and Afro-pop songstress Angelique Kidjo in 2018.
But the Remain in Light tour that hit House of Blues on Friday to toast the album's 40th anniversary offered the rare opportunity to see two of the record's principal contributors, including an actual Talking Head. Jerry Harrison, 74, hadn't toured since 1996, occupying his post-Heads period as a producer and a co-founder of GarageBand. And guitar contortionist Adrian Belew, who gave Remain in Light its sonic putty, followed that gig with three decades in King Crimson to highlight a résumé including Frank Zappa and David Bowie.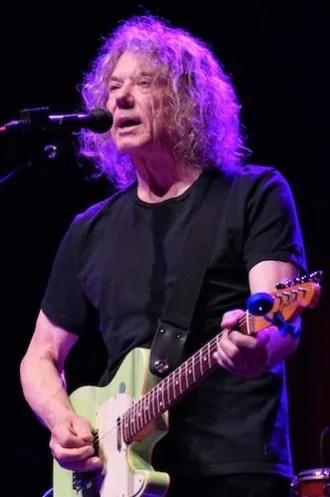 All they needed was the right ensemble to expand the ranks and they found it in Cool Cool Cool, an offshoot of Berklee-founded funk outfit Turkuaz, which Harrison once produced. Augmented by Boston-rooted percussionist Yahuba-Garcia Torres and Belew's steady bassist Julie Slick, the band provided the taut rhythm section needed to anchor the album's layered grooves of discipline and ebullience. While the group lacked the raw dynamism of Talking Heads' expanded 1980 lineup, it shifted roles to pull off the nostalgic stops, capped by a three-man horn section.
In turn, the 11-piece group frontloaded its 90-minute set for immediate impact, answering the biggest challenge — replacing the vocal charisma of David Byrne — with a communal approach. Belew, who was reportedly considered to replace Byrne in Talking Heads, sang lead on an opening shot of "Psycho Killer" (as Harrison joined its scratchy picking on second guitar). Then saxophonist Josh Schwartz handled lead vocals on the cowbell-pulsing charge of Remain in Light standard "Crosseyed and Painless" before female singers Shira Elias and Sammi Garrett volleyed the song's "Facts are simple/facts are straight" breakdown. Finally, Harrison represented the flip side to that album by ably intoning the spoken-word vibe of "Houses in Motion," with trumpeter Chris Brouwers pinching bits of the late Jon Hassell's eerie sound on record. Throughout that three-song kickoff, Belew also pounced on his Stratocaster with squealing glee like a kid in the candy store.
The percussive Afrobeat template for Remain in Light, "I Zimbra," came next, followed by its Fear of Music rejoinder "Drugs," Belew at home with its offbeat vocal while his guitar merged in a sonic mess-around with Harrison's synthesizer. They skipped the spooky, impressionistic back end of Remain in Light to highlight Talking Heads' more engaging songs yet kept some curve balls that worked, if less effectively than in the opening salvo. "Born Under Punches" leaned into more subtle syncopations around Schwartz's "Take a look at these hands!" exclamations and Belew's stop-and-start squiggles.
Belew left during a mid-set dip into the similar, sinuous groove of Harrison's 1988 single "Rev it Up" and Heads favorite "Slippery People," its female lead vocals unfortunately undermixed while a drums-and-congas break cooled the momentum. And when Belew returned to spark his funky King Crimson number "Thela Hun Ginjeet," its hard-to-decipher taped counter-narration might have made it the night's strangest inclusion for anyone not familiar with '80s Crimson.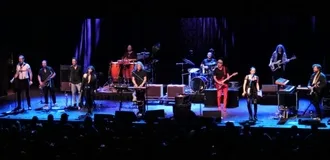 But a Heads-happy homestretch brought the energy back. "Life During Wartime" was lifted by female singers intoning the "This ain't no party/This ain't no disco" lines around the lead vocals of Harrison, who lashed a wild synth solo to the end. And "Take Me to the River" (in essence a cover of an Al Green cover) even saw Harrison dancing like an Egyptian before its slip to a whisper and back to a roar.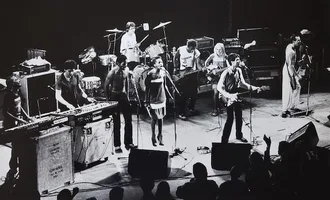 A wild encore of "The Great Curve" seemed appropriate as a showpiece for Belew with his whammy-wiggled whistles and seagull divebombs. By then, as a focal point of this band, the guitarist had pretty much emptied his bag of tricks. But the whole band's world moved, swiveled, and bopped, and it was great to see another large ensemble revive Remain in Light onstage for old and new generations alike.
---
Paul Robicheau served more than 20 years as contributing editor for music at the Improper Bostonian in addition to writing and photography for the Boston Globe, Rolling Stone, and many other publications. He was also the founding arts editor of Boston Metro.