It may be beautifully photographed, but this attempt to capture Charlotte Bronte's literary classic on screen doesn't bring anything new to the table, aside from playing up the hooking up in the manor. Jane Eyre should be more than a simple country romance.
Jane Eyre. Directed by Cary Fukunaga. The cast includes Mia Wasikowska, Michael Fassbender, Judi Dench, and Jamie Bell.
By Sarah Sanders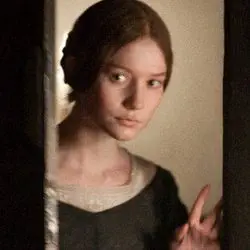 Yet another remake of a nineteenth-century classic for Hollywood. This time it is Charlotte Bronte's classic, quasi-Gothic novel Jane Eyre. Starring Mia Wasikowska (Alice in Wonderland) as the eponymous character, the latest version of the warhorse starts out very strong. The early misfortunes of a young Jane are presented with a graphic intensity: orphaned as a child, Jane lives with her wealthy but cruel aunt, who sees fit to send her to a strict religious boarding school where those around her reject her. After surviving the classes, Jane takes a post as a governess at Thornfield Hall, believing her life to be finally hers to control.
But young Jane soon learns that life at Thornfield isn't what it seems. Peculiarities crop up in the massive manor house and her employer, Edward Rochester (Michael Fassbender), is an abrasive and callous man who challenges and intrigues her. A cinematographer by trade, director Cary Fukunaga relishes in whipping up the ghostlike atmosphere of Thornfield Hall, with its dark, mysterious forests and deserted moors. The dreary weather of England's countryside compounds Jane's loneliness—she is a young girl adrift in a creepy world.
The film's early scenes of bleak despair and an encroaching eeriness, juxtaposed against Jane's own optimism and fragility, generate an old-fashioned, satisfying complexity. But then Rochester falls for Jane and, quite literally, the clouds disappear. Their love blossoms apace with the deepening spring. The cinematographic evidence of their budding love is graceful, but the romance degenerates into cloying cliché.
One of the biggest disappointments in the movie is the enigmatic love obstacle, Bertha Mason. Bertha is an excellent device in the book and her tremendous presence is felt though we rarely see her. In the movie, the character is dealt with entirely nonchalantly, as if it isn't a problem that Rochester has been keeping his deranged wife locked up in the back of the house. Apparently, anything goes at Thornfield, and Jane is only surprised to find out he has a wife, not that she's a caged, maniac arsonist.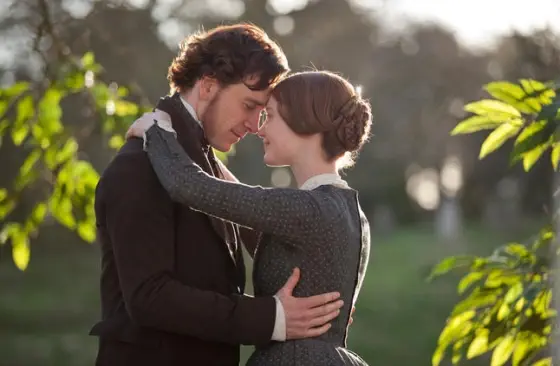 In addition, little of the novel's dialogue makes the adaptation—there are few long exchanges in the film. Instead, for the supposedly visually obsessed generation, there are reams of cheerless silences and scenery. When Jane speaks, she's full of spunk, holding her own against the brusque affect of Rochester, though the heroine is far less energetic than she is in the book. Bronte's Jane is an unloved waif, denied simple kindness at every turn, who has somehow generated the inner strength to tackle the world. Wasikowska, once she gets her man, puts Jane on cruise control.
So why remake Jane Eyre? Fukunaga debuted as a director two years ago with his gritty, violent, and emotional Spanish language drama, Sin Nombre, which he wrote and directed. There were no punches pulled in Sin Nombre, and Fukunaga was rewarded at Sundance for his risky direction. With Jane Eyre, he plays it safe, never building on the school-time sadism and macabre atmosphere he establishes early on. Are the earlier movie versions, such as the not-so-old 1996 turn starring Charlotte Gainsbourg and William Hurt, no longer up to snuff? This new, albeit beautiful, attempt to capture the venerable book on screen doesn't bring anything new to the table, aside from playing up the hooking up in the manor. Jane Eyreis more than a simple country romance.