By Aaron Keebaugh
Part rescue narrative and part comedic superhero story, this production offers a delightful visual and musical adventure.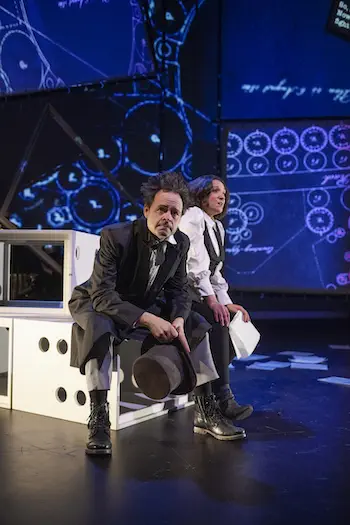 The engine sputtered, then went on the fritz. So Ada Lovelace kicked and cursed at the machine until it corrected its course.
Fellow inventors Lovelace and Charles Babbage were trying to present their prototype computer to Queen Victoria. But the sovereign only cared if the contraption could be used to help fight crime.
This conceit sets in motion a wondrous blend of history and fantasy in Elena Ruehr's The Thrilling Adventures of Lovelace and Babbage, which Guerilla Opera presented in its first staged production at MIT's new W97 Black Box Theater, MIT Theater Arts Building, Cambridge) on Friday night (runs through tonight). Part rescue narrative and part comedic superhero story, this production offers a delightful visual and musical adventure.
The 75-minute opera unfolds less as a continuous drama than as a series of humorous vignettes based on Sydney Padua's award-winning graphic novel, which reimagines the inventors as a crime-fighting duo.
Despite that, the true events of Lovelace's life are central to this story. She was the only legitimate daughter of Lord and Lady Byron. Her mother, abandoned by the poet, encouraged her to study mathematics so she wouldn't follow in her father's footsteps. Thrilling Adventures relays the Byrons' tense relationship as it focuses on Lovelace's successful real-life correspondence with Babbage, an established scientist on the brink of a breakthrough. While the actual events turned out differently — Lovelace and Babbage died before they could complete their analytical engine — the opera finds the scientists reveling in their imagined successes, equal in intellect if not in temperament. And, in true Femmes of STEM fashion, Lovelace is upheld as a model for future female programmers.
The story remains equally rewarding when Royce Vavrek's libretto meanders into the wild and wonderful events of this parallel universe. Act 3 finds Lovelace pressing at the boundaries of reality complete with Alice Through the Looking Glass absurdities. Numbers and symbols are personified, with a startled Lovelace being rescued by Babbage — who had refused knighthood in real life — riding a steam-powered stick horse. Act 4 shows them as decked out as superheroes using their computer to calculate the probabilities about who will commit the next crime. Hilarity ensues.
Ruehr's music effectively underscores this disparate collage, churning in fits and starts like the duo's finicky machine. Her melodies are tuneful, the harmonies sleek without resorting to dissonant cliché. Some passages even take on a bluesy swagger that perfectly accents the duo's capers.
Vocally, the music is just as enticing. Aliana de la Guardia's dark and vibrant soprano turns Ada Lovelace into an affecting straight woman, her smooth declamation a foil for the more madcap Babbage, sung fervently by baritone Aaron Engebreth.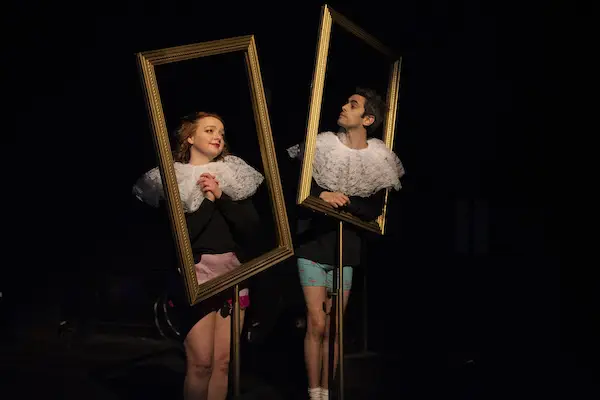 Every good crime-fighting team needs a nemesis, and tenor Omar Najmi made for a fittingly uproarious Minion. Decked in booty shorts emblazoned with the British flag, Najmi sang assuredly as his character lunged at Babbage in mock defense of the single-minded Queen Victoria, charmingly portrayed by soprano Erin Matthews. Her bright voice also complemented Najmi in various roles as Lord and Lady Byron and a couple of angst-ridden street musicians.
Violinist Lilit Hartunian, clarinetist Rane Moore, cellist Stephen Marotto, and percussionist Mike Williams matched the singers throughout with verve and vitality.
Simple sets and brisk stage action, created by Giselle Ty, keeps the story flowing urgently. Images projected on backdrops, designed by Tláloc López-Watermann, made each scene pop like panels from the original graphic novel.
"This isn't fiction but embellished fact," Lovelace sings in the epilogue. Either way, Thrilling Adventures is as much a triumph as it is a bit of wacky fun.
---
Aaron Keebaugh has been a classical music critic in Boston since 2012. His work has been featured in the Musical Times, Corymbus, Boston Classical Review, Early Music America, and BBC Radio 3. A musicologist, he teaches at North Shore Community College in both Danvers and Lynn.