By Michael Ullman
The last time Kenny Barron recorded solo was in 1981. That, besides the quality of the music, is a reason to treasure this album.
Kenny Barron, The Source (ArtWork)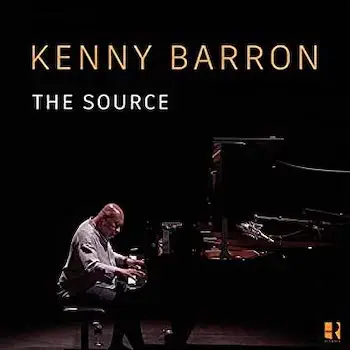 A few years ago, after Kenny Barron had finished his thrilling trio set at the Regattabar, I and an acquaintance stuck up a conversation with the pianist, who is as genial as he is talented. "You haven't lost a beat!" my companion told the pianist, who looked fresh and bright-eyed after two ninety minute sets. His eyes widened: "I had better not!!" he replied in mock alarm. Now 79, Barron has had a long career, without a significant pause. Philadelphia-born, he first recorded in 1960 on Yusef Lateef's The Centaur and the Phoenix, a Riverside record that also featured veteran trumpet player Clark Terry (and on certain sides, the relative newcomer Joe Zawinul.) In the next year Barron recorded twice for Savoy with his brother, tenor saxophonist Bill Barron. Both brothers had connections with the avant-garde. In 1962, the teenaged Kenny recorded Funk Dumpling with the quirky clarinetist Perry Robinson. Then he joined Dizzy Gillespie, and stayed with him for years. I first heard him in the mid '60s in Kresge Auditorium in a band led by Dizzy Gillespie, which must have been a finishing school for Barron, who was born in 1943 and thus was barely 20 when I first heard him.
By now Kenny Barron has recorded approximately 500 times. Every serious jazz collector must have him playing somewhere with somebody. His duets with Stan Getz collected as People Time have been particularly celebrated and he has made a distinguished series as a leader. He's played hard bop with quintets, recorded with Elvin Jones, Joe Henderson, and Booker Ervin. But he's not afraid of intimacy: his duet albums include sessions with jazz stars like Bobby Hutcherson, Ted Dunbar, Red Mitchell, Buster Williams, and Charlie Haden. He has made trio recordings with the likes of Ron Carter. Nonetheless, the last time he recorded solo was in 1981, when he released Kenny Barron at the Piano for Xanadu Records. That, besides the quality of the music, is a reason to cherish the pianist's new album The Source.
With two Ellington-Strayhorn compositions, and two by Monk, The Source seems to be paying tribute to Barron's influences. He's also a source: the disc contains new versions of four of his own compositions. There's one mystery number, "I'm Confessin'," that Fats Waller recorded in 1929. Pianist Teddy Wilson played it as well (he recorded it with Lester Young) so the tune could be a tribute to the swing era, or to Thelonious Monk, whose more whimsical stride version appeared on Solo Monk in 1965. The percussiveness of Barron's playing here and the use of a striding left hand make Monk the most likely suspect. The Strayhorn-Ellington ballad "Isfahan" from Far East Suite served as a feature for alto saxophonist Johnny Hodges. Its initial phrase seems to tumble downward and then land on a rich chord. That's the way Barron plays it, in his first iteration exaggerating the break after the run and rolling the chord that follows. In his improvisations he manages to suggest the written melody with a single note, or a run which has none of the original notes, as if the melody were a series of gestures. Strayhorn wrote "Day Dream" in 1939 when the Ellington band (without him) was on a tour of Europe. It was another Hodges feature: the saxophonist recorded it repeatedly during the last decades of his life. Barron plays it moodily, and at times almost straight, leaning into the gorgeous tone he gets from a piano.
Barron's recording of Monk's "Well You Needn't" begins with a bit of chatter, The producer (I think) tells Barron they are waiting, and the pianist responds as if surprised, "You're waiting for me?" He then stabs at a few seemingly unrelated single notes before ripping into an uptempo solo that — in contrast to Barron's interpretations of Strayhorn — has little to do with Monk's original melody until he's already a couple minute into it.  "Teo" is Monk's tribute to producer Teo Macero. It seems to be based on "Love for Sale." At least that's where Barron begins. In his thumping beginning, he plays the initial chord, then pauses, as if surprised at his own audacity.  This Monk tune turns into a swinger, though, and Barron approaches it joyfully. The melody trickles out amid little twirls of notes, arch pauses, and sudden rushes. The pianist settles into the stride classic about a minute into the performance. He also plays two originals, "What If?" and "Phantoms" from his Enja recording, What If?. Amongst his own compositions, Barron's "Sunshower" is the best known thanks to recordings by Stan Getz (including Bossas and Ballads, Verve). Ron Carter also recorded it on Piccolo (Milestone). What struck me in this new version is the varied, swinging interplay between the two hands, and Barron's ability to play with percussive panache without losing the forward motion. Without, we might say, losing a beat.
---
Michael Ullman studied classical clarinet and was educated at Harvard, the University of Chicago, and the U. of Michigan, from which he received a PhD in English. The author or co-author of two books on jazz, he has written on jazz and classical music for the Atlantic Monthly, New Republic, High Fidelity, Stereophile, Boston Phoenix, Boston Globe, and other venues. His articles on Dickens, Joyce, Kipling, and others have appeared in academic journals. For over 20 years, he has written a bi-monthly jazz column for Fanfare Magazine, for which he also reviews classical music. At Tufts University, he teaches mostly modernist writers in the English Department and jazz and blues history in the Music Department. He plays piano badly.