By David Daniel
The holiday is celebrated in every part of the world, but only a small portion of those places actually have snow then. So why this enduring notion of a white Christmas?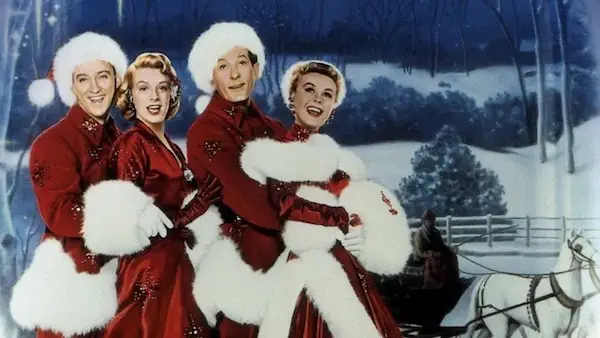 The 1954 film White Christmas opens in a bombed-out European village where a war-weary company of GIs is being entertained by two of their own. It's a pop-up show: a meager canvas backdrop, no costumes, a wind-up Victrola for music, but the entertainers, portrayed by Bing Crosby and Danny Kaye, are troupers. In a quiet moment, Crosby, against the grumble of unseen artillery, delivers the title song. The camera pans over the assembled soldiers, lost in reflection, presumably of their own holidays past. For the next two hours, snow haunts the film, desired and sought after, though not one flake falls until the last reel.
In countless movies, before and since — from Christmas in Connecticut to Christmas Story, The Bishop's Wife to Bad Santa — snow is a longed-for element, an emblem of something grand and large. Along with standard accoutrements of reindeer, snowmen, Santas, and sleighs, the wet stuff features in greeting cards, calendars, and advertisements for every conceivable product and service. The irony is that, while the holiday is celebrated in every part of the world, only a small portion of those places actually have snow then. So why this enduring notion of a white Christmas?
The church in Rome began formally observing Christmas on December 25 in the mid-third century. Scholars suggest the date may have been arrived at via a compromise among competing beliefs. Earlier, the date marked the return of longer days after the winter solstice; it also followed the pagan Saturnalia, a popular celebration during which people feasted and exchanged gifts. Various methods have been used to identify a date for Christ's birth, but the Gospels are mum on the specifics. Most Biblical scholars concur that the event wasn't in December. And even if it were in winter (which is speculation), snow in Israel, then as now, was uncommon.
Although the origin story of a white Christmas is hazy, it's not an ancient idea. Snow is mentioned in the season's traditional carols, many of which were written in the 19th century. For example, there are the lyrics in 1872's "In the Bleak Midwinter," drawn from Christina Rossetti's poem: "snow had fallen, snow on snow." In "Good King Wenceslas" the "snow lay around about, deep and crisp and even." But it's in the newer, secular Christmas songs where snow falls most merrily: "Jingle Bells" and "Winter Wonderland" and novelty songs like "Jingle Bell Rock" — "snowing and blowing up bushels of fun…" And, of course, there's the wistful yesteryear dreaming in "White Christmas," written by Irving Berlin in a California desert resort in the early '40s.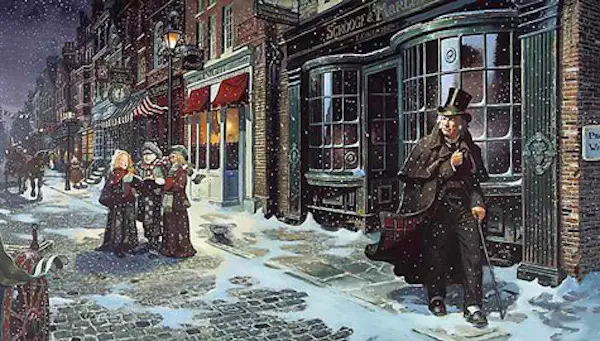 Charles Dickens is something of a founding father, too. A Christmas Carol, a Victorian tale adrift in snow, certainly reinforced the primacy of the holiday, a process explored in the engaging 2017 film The Man Who Invented Christmas. Nearer to home there's Nathaniel Currier, a Roxbury-born printer who, paired with James Merritt Ives, created a series of lithographs during the mid-1900s that chronicled and idealized American rural life. Their work is perhaps best remembered for densely textured scenes of snowy farms and sleigh rides across rolling white hills. Mass-produced and widely distributed, these images hammered home the connection between the holiday and snow, regardless of where people celebrated it.
Most adult New Englanders cherish childhood memories of holiday snow (often of exaggerated depths); however, polled on their views of a coming white Christmas, their enthusiasm is muted. "For the kids, it's nice" and "A little dusting is pretty." Many are happy with the first snowfall of the season, but after that… ? "Keep it in the mountains." By February the reactions are groans — and airline flights to sunny destinations with palm trees.
What no one doubts is that the mystique of a white Christmas has now thoroughly merged with a nonreligious vision of the season. Almost as soon as the jack-o-lanterns are snuffed out — and well before the turkeys are stuffed — the ads begin to appear everywhere, all red and green and sleekly glistening. Christmas has become an extended retail extravaganza, a secular commercial event seeking cover in a sacred holiday.
And the snow? National weather records show that from 1981 to 1990 the average December temperature in the continental US was a little below freezing. From 2011 to 2020, it rose by an average of nearly 2 degrees Celsius. Measurements for 40 years of December 25ths reveal that less of the US now receives snow for Christmas than in the '80s. What's more, the snow that does fall doesn't measure up to past depths. So, some of those "when I was a kid" memories may be true.
But it isn't really about snow. Like the land over the rainbow, or the green light at the end of Daisy Buchanan's dock in The Great Gatsby, snow is a symbol, whose power lies in whatever meanings we imbue it with. In the film White Christmas the white stuff doesn't fall until the finale, and when it comes it is about peaceful closure, a collective sigh of relief after war: various plot threads are tied up neatly against a backdrop of love and peace and joy, including sprinkles of schmaltz that accent a genuinely happy sing-along feeling. Americans are all in this together.
Of course snow, along with all the other pictorial paraphernalia, is besides the elemental point. As Dickens observed, the holiday season may be the one time "in the long calendar of the year, when men and women seem by one consent to open their shut-up hearts freely, and to think of other people … as if they really were fellow-passengers to the grave, and not another race of creatures bound on other journeys."
---
David Daniel
 is author of many books, including 
White Rabbit
, a novel of the Sixties. His new book, 
Beach Town
, a collection of stories set on the South Shore, will be published by Loom Press in spring 2023. He teaches at UMass, Lowell and blogs regularly at 
richardhowe.com