By Daniel Gewertz
Adam Sandler receiving a Mark Twain Prize is one more SNL achievement that defies understanding.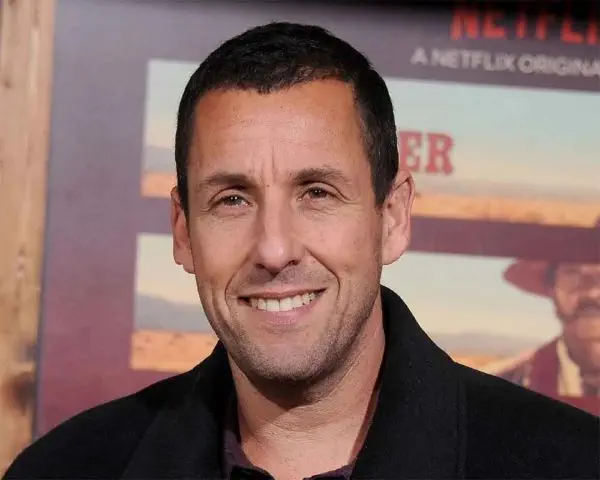 Two unpromising events. Last weekend, Steve Martin and Marty Short hosted Saturday Night Live and, despite these unique, canny talents, the evening still managed to be one of SNL's lamer episodes. It was just another installment in  the show's decades-long wavering — back and forth — between dumb and dumber. Only an extremely occasional host/writer gives us momentary hope for a comic rebirth. Three days later, the Kennedy Center announced that the 2023 Mark Twain Prize for American Humor will go to none other than Adam Sandler, perhaps the most annoying movie star ever birthed by SNL. (His film farces have received a whopping 37 nominations at the ignominious Raspberry Awards. Admittedly, he's also received solid reviews for acting in a few dramas in recent years. But none for his comedies.)
Okay, honoring Sandler may be baffling, but it's not a tragedy like war, or Xander Bogaerts leaving the Red Sox. It just undercuts the credibility of one more awards presentation. Every statue show has its clunkers. Look at the august Kennedy Center Honors: its 21st-century strategy has been to de-emphasize high culture, focus on widely known stars, and to project an image of diversity. Ratings! Ratings! Ratings! Granted, it is an uphill battle to maintain standards given the downward tilt of American popular culture. (Plus, lifetime achievement award ceremonies have a tough time keeping up with their excellent early choices. Initially, there's a backlog of fine talents waiting for entry. The first few years of the Kennedy honors, for example, brimmed with artistic giants.) Being DC institutions, both the Kennedy and the Twain might think of their honors a bit like the Pentagon thinks about pinning shiny objects on chests: the medal makes the man. If you don't have a perfect hero, manufacture one.
It is no surprise that SNL mastermind Lorne Michaels won a Twain. He deserved it for the first years of SNL: he may have based his sketch comedy concept on Second City and The Groundlings, but SNL was doubtless a stupendous comedic creation. Exactly when stupendous became stupidity is debatable. But I would guess that roughly 80 percent of the shows from the last 30 or 40 years range from lackluster to disastrous, even those with brilliant talents on stage. It is the writing that sinks SNL, not the performers. Decade after decade, the concept of nearly every single skit is: People sure are stupid. Teenagers are stupid. Fads are stupid. Politicians are stupid, especially presidential candidates. People on TV game shows are really stupid. And that's pretty much the whole ball of satiric wax. For 40 years!
It may be true that imitation is the highest form of flattery, but SNL proves it can also be the lowest form of comedy, especially when the sketches lack even a semblance of wit or clever ideas. Some of the imitators were sensational (Kate McKinnon, Dana Carvey, maybe Jimmy Fallon for music) and some were not. No one who saw John Belushi "doing" Joe Cocker will ever forget it. But SNL's fabled "writer's room"? They couldn't find a fine point in an office stocked with sharpened pencils. Every once in a while a guest host will manage to drive this team of sluggards into shape, like John Mulaney did the first one or two times he hosted. Suddenly, the skits got an incisive edge, some real conceptual heft. Imagination. After a batch of veteran cast members jumped ship, Lorne Michaels was quoted as saying that 2022 was a "transitional year." But from era to era, stars have become the whole shebang. Michaels dares to hire Elon Musk as a guest host. But consider a turn toward smarter writing? That's a dare too far for SNL.
When Fresh Air's Terry Gross interviews an SNL cast member, her usual journalistic distance fades away: she becomes a fawning fan-girl. Inevitably she asks the cast member how the skits are hammered out through the week, and is regaled with tales of relentless work, a merciless process of cutting the flab and finding the comic muscle. But in recent decades, the process could be the opposite: ideas are probably cut early on because they are considered too subtle, too substantial, too original, or too freaking brainy. They might, heaven forbid, try topical humor that operates on the assumption that the viewer's field of knowledge reaches beyond pop culture fads. Even wonky intellectuals are depicted as game-show fools. It is one size fits all shtick: content-free parody shouted at the loudest decibel.
Why is this show still on the air? How did it achieve the unassailable status of a national institution? It's become as permanent as the Liberty Bell, the Statue of Liberty and 60 Minutes. The ratings are way down this year, but cancellation doesn't seem to be a permissible idea. Who are these live audience members who scream and howl at every show? Did Michaels make a deal with Satan? Is that why huge stars still bother to guest host? Is that why no savvy, alternative humor show has cropped up in the last 30 years, since the glory days of In Living Color? Has SNL killed off the idea of  pointed sketch comedy on mainstream TV?
That low-class comic Adam Sandler is receiving a Mark Twain Prize also defies understanding. Sure, not every Twain award choice in the past was beyond question. Why an award for Julia Louis-Dreyfus but nada for Jerry Seinfeld? (It is possible that Seinfeld confidentially refused the award. Jim Carrey, a true genius of physical comedy, is another weird Twain absence. The only publicly revealed Twain Prize refusenik is Robin Williams.) But, until Sandler, every choice was understandable. I can only figure it this way: Sandler has sold many millions of movie tickets over the years. He also is one of the few comedy "legends" known to be a Republican. Could that be a factor in the machinations of this DC-based statue show? It might look good if an overt right-winger won at least occasionally. Ethnic and gender considerations have long held sway — why not political?
---
For 30 years, Daniel Gewertz wrote about music, theater and movies for the Boston Herald, among other periodicals. More recently, he's published personal essays, taught memoir writing, and participated in the local storytelling scene. In the 1970s, at Boston University, he was best known for his Elvis Presley imitation.