By Jason M. Rubin
Suzanne Vega is many things: a singer/songwriter, musician, poet, author, entrepreneur, playwright, and actress. A number of her personas are converging right now.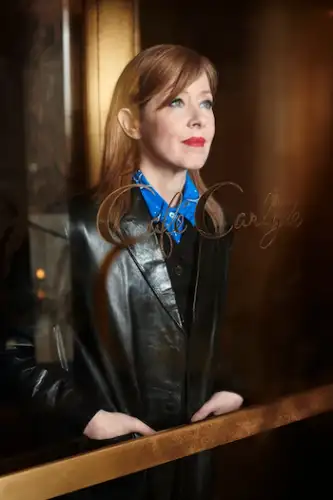 "Today I am a small blue thing," sang Suzanne Vega on her debut album back in 1985. Nearly five decades later, Vega is many things: a singer/songwriter, musician, poet, author, entrepreneur, playwright, and actress. A number of her personas are converging right now. She has a new live album out called An Evening of New York Songs and Stories; a film version of her 2011 one-woman show about the author Carson McCullers, called Lover, Beloved, recently premiered at South by Southwest to critical acclaim; and she will play the Academy of Music in Northampton on December 17. (After touring Europe through the winter and spring, she will return to this area for shows at Shalin Liu Performance Center in Rockport on April 20, 2023, and the Center for Arts in Natick on April 21.)
Born in California but raised in New York, where she currently lives, Vega populates her new album with songs that she set in the city. I asked her in what ways New York City shaped her as an artist and a person, and to what extent it has served as a muse, as opposed to simply a setting for her work.
"I definitely think it has been a muse as much as a setting," she said, "because I grew up there. There is a kind of humor that comes from living in Manhattan, a sense of privacy you learn to develop because you're usually squashed up against someone else — on the streets, in the subways. I've seen a lot of suffering and poverty, but I've also seen how beautiful and generous it can be. All the art that's available there — music, dance, sculpture — it's a place you go to fulfill your dreams, a place I've both fought with and celebrated."
New York was also the primary locus of her long-acknowledged musical influences, Leonard Cohen, Bob Dylan, and Lou Reed. Reed passed away in 2013, Cohen three years later. Vega credits them with helping her find her voice and artistic point of view.
"What I loved about Leonard Cohen was his deep use of metaphor, the sound of his recordings, the nylon string guitar, his voice, and the way he mixed in political and religious ideas," she said. "He was a fearless songwriter, and from him I learned not to be afraid to be melancholic. Reed was the exact opposite: he didn't deal in metaphors, he bluntly stated his facts and feelings, and he had a very edgy way of playing acoustic guitar. The way he attacked his subjects inspired me to want to reflect the world I lived in."
When her first album came out, Vega did a free outdoor concert in Harvard Square. Standing alone with her acoustic guitar, singing about Marlene Dietrich and neighborhood girls, about queens and soldiers, she could have no idea what an impact she would soon have. Just two years later, in 1987, "Luka," her song about an abused boy (told from his point of view), became a smash hit and suddenly the industry was signing female singer-songwriters again. Tracy Chapman's debut came in 1988, Shawn Colvin's a year later. But Vega, writing personal songs that were more cathartic than confessional, led the way. I asked her what she would have told her younger self that day in Harvard Square about what was to come.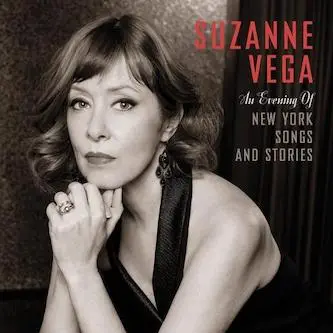 Her response: "I think for the most part I would assure her that in the long run, she'd still writing, still performing. There were a couple of times in my career, such as the second time I was dropped by a major label, that I became depressed for several months. But I learned that I could get back up and adapt with the times. I ended up starting my own label. I would have told her to be flexible and not give up."
In the last decade or so, say from the 2010s to the present, Vega released four volumes of rerecordings of her earlier songs and a number of live albums, yet only two albums of new material: 2014's Tales from the Realm of the Queen of Pentacles and Lover, Beloved, a 2016 set of songs from the stage show. One would think she'd had writer's block. But having screened the new film version of Lover, Beloved, it's clear to me that she has been well occupied by it. As in the stage show, Vega is the only actor, and the film version has a couple of new songs that were not part of the original show, or its soundtrack ("I'm going to have to do an updated soundtrack album," she said). As an actress, Vega uses her hands quite a bit but the rest of her body is stiff. Having read up on McCullers's life, I learned that she was a very sickly person, so some of that is understandable, but it doesn't allow for much motion, rhythm, or texture.
A longtime fan of the author's books, Vega told me that she took a theater class in college and began improvising McCullers's character for the class. ("I fell in love with her wildness," she said.) She wrote the first version of Lover, Beloved, with just five songs, for her senior thesis. She expanded it in 2011 and again for the new film. One of the best songs in the production is called "New York Is My Destination," which is on the new live album and brings us back to the theme of the Big Apple's enduring pull on her.
Of Vega's six US shows before she goes to Europe, five are in New York City; the lone outlier is the Northampton show. I asked her if she had a particular connection with that area.
"Oh gosh, yes," she said enthusiastically. "I used to play the Iron Horse all the time. I love it up there, it's like a second home. My daughter went to Williams College, which is about as far west as you can go in Massachusetts before stepping into New York."
That's good news for us, and no small thing.
---
Jason M. Rubin has been a professional writer for more than 35 years, the last 20 as senior creative associate at Libretto Inc., a Boston-based strategic communications agency where he has won awards for his copywriting. He has written for Arts Fuse since 2012. Jason's first novel, The Grave & The Gay, based on a 17th-century English folk ballad, was published in September 2012. His current book, Ancient Tales Newly Told, released in March 2019, includes an updated version of his first novel along with a new work of historical fiction, King of Kings, about King Solomon and the Queen of Sheba. Jason is a member of the New England Indie Authors Collective and holds a BA in Journalism from the University of Massachusetts Amherst.