By Scott McLennan
Billy Strings injects some contemporary vibes into Me/And/Dad, but this is first and foremost a back-to-the-roots album.
Dad/And/Me, Billy Strings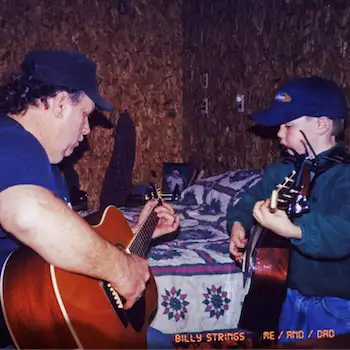 Rarely will you hear songs about death, sorrow, regret, longing, imprisonment, and despair delivered with as much utter joy as they are on the new Billy Strings record, Me/And/Dad.
And this paradox works like a charm, given that Strings and his father, Terry Barber, clearly relish revisiting their earliest musical dialogues via 14 bluegrass and country gems that father first introduced to son when the young guitar prodigy, who is now headlining arenas, was first learning where to place his hands on the instrument.
Barber himself is a skilled guitarist and emotive singer who performs with a passion and instinct that belies his "amateur" stature as a musician; Barber may not have scaled the same commercial heights that his son is now achieving, but the senior picker on this project proves that he knows his way around these songs just fine.
So, rather than this merely being a sentimental journey, Strings and Barber have whipped up a pretty fierce bluegrass album whose furies are rounded out by the talents of bassist Mike Bub, mandolin player Ron McCoury, banjo player Rob McCoury, and fiddler Michael Cleveland. Dobro player Jerry Douglas and fiddle player Jason Carter also joined the ensemble for a couple of tracks, with the sessions recorded mainly live in the studio with minimal overdubs.
Strings and Barber weave their guitar parts in playful, seemingly intuitive fashion. It often sounds as if these two players are sharing one mind. But their differences inevitably emerge when they trade lead vocals. Barber's bellowing howl and Strings's yearning twang vary the range of character in this collection of vivid musical snapshots penned by such masters as Doc Watson, Bill Monroe, George Jones, and Hank Thompson. Still, as dissimilar as their voices are, Strings and Barber are well matched when it comes to harmonizing.
Barber and Strings are careful to cover their musical bases, anxious to lay to rest any questions about Dad/And/Me being a vanity project. But they do take the opportunity to include a very heartfelt exchange, one that is palpable even to those who may not know the back story of these two.
Before he was Billy Strings, he was William Apostol, a kid from Lansing, Michigan, who was two years old when his biological father died of a heroin overdose. Apostol's mother, Debra, married Barber, and the talented musician exposed his young son to an array of musical influences. Yes, there was bluegrass. But the adolescent was also steeped in the performances of country stars such as the Stanley Brothers, Larry Sparks, John Hartford, and David Grisman. He also listened to rock 'n' roll idols, Black Sabbath and Jimi Hendrix among them. Like Barber, Apostal — who received his stage name Billy Strings from an aunt who recognized his talents early on — played in heavy metal and rock bands before moving into the bluegrass arena. Strings was a teenager when he teamed with mandolin player Don Julin, and the guitarist quickly drew the attention of acoustic music devotees.
Not only do Strings and Barber revisit the songs that grounded them in the bluegrass tradition, but the tunes also reflect some of the family's history. At one point, Barber was broke: to pay his family's bills, he pawned his guitar, a limited edition Martin D-93. Before Barber could retrieve it, the guitar was sold to another man. That new owner died not long after coming into possession of the instrument, which he described as the best flat-top guitar he ever had. A friend, Joe Singleton, was called in to help the family sell off the man's guitar collection. In 2009, Singleton and his wife Marla, who live in Northampton, Massachusetts, put the guitar up for sale in an online forum. Strings spotted it, worked out a payment plan when he purchased the instrument, and returned it to his father. The first song Barber played on the returned instrument was "John Deere Tractor," a country boy's lament written by Lawrence Hammond and originally performed by Larry Sparks.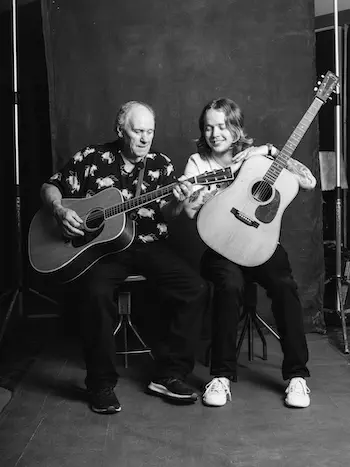 Strings dedicated "John Deere Tractor" to Joe and Marla Singleton when they were in the audience for Strings's 2021 concert in Boston. The tune is the centerpiece of Dad/And/Me because it neatly pulls together the themes of family, of competing values, of feeling like an outsider. Strings has worked through these conflicts in his own compositions, but here he is again, back at ground zero, but no longer a teen with dreams. Instead, he is an artist admired by fans of  traditional music and modern rock alike.
Strings injects some contemporary vibes into Me/And/Dad, but this is first and foremost a back-to-the-roots album. The recording opens with the traditional "Long Journey Home," and from there the musicians lean into hard-luck stories and images of an idealized home. Barber steps up on the prison blues "Life to Go," demonstrating what might be described as emotional virtuosity — there is nothing slick in this moving vocal performance.
Strings and Barber make room for the McCoury brothers and Cleveland to claim the spotlight via the wild musicianship in the instrumentals "Peartree" and "Frosty Morn."
Me/And/Dad taps into gospel music with "Little White Church" and then evokes street-corner preaching with the sassy "Dig a Little Deeper (In the Well)."
And, in an updated version of the Carter Family approach to making music, the project ends with Strings, his mother Debra, and Barber picking and singing their way through the poignant courtroom drama of "I Heard My Mother Weeping."
It's fairly common to hear a musician pay tribute to his or her influences, but Me/And/Dad stands apart from that genre in the way that Strings and his family blend their personal stories into these beautifully crafted songs.  In the process, these traditional tunes are refreshed, the glitter and nuance in these versions invaluable reminders of music as a means of forging connection.
---
Scott McLennan covered music for the Worcester Telegram & Gazette from 1993 to 2008. He then contributed music reviews and features to the Boston Globe, Providence Journal, Portland Press Herald, and WGBH, as well as to the Arts Fuse. He also operated the NE Metal blog to provide in-depth coverage of the region's heavy metal scene.