By Peg Aloi
A wrap-up of the London Film Festival that focuses on two favorites, Inland and The Store.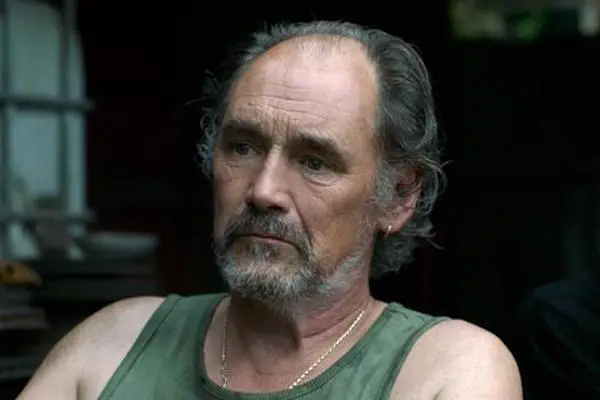 Despite having somewhat limited digital access this year, I really enjoyed the selection of films I was able to see, and I'm excited that some of them will soon be released internationally. My top pick for my favorite film of this year's London Film Festival was the UK film Inland, a very impressive debut feature by Fridtjof Ryder, starring the wonderful English actors Mark Rylance and Kathryn Hunter. The story centers on a young man (known simply as "The Man," played by relative newcomer Rory Alexander) who is hinted to be of Romani descent. As the film begins, there are dreamy shots of a young boy in the woods; it is implied that this is The Man as a child. He hears a whispery woman's voice speaking to him. He arrives at the home of Dunleavy (Rylance), who may be a family friend or may be his father (it's never entirely clear). Dunleavy appears to be a sweet loner of modest means and the character is played by Rylance with deferential charm and earthy warmth. Dunleavy treats the young man with affection, calling him "silly Billy" and saying he can stay as long as he desires. Flashbacks indicate that the young man has just completed a stay at an outpatient facility for mental health. He seems distracted by memories. He is happy to have a place to land that isn't the hospital, but he seems restless, anxious to go out to the woods. We learn that his mother disappeared in these woods some years ago, and it's unknown whether she is still alive.
With her gritty, witchy voice, Kathryn Hunter (the witches in last year's Macbeth) delivers unsettling voice-overs that are also oddly moving. They suggest that she is his mother, offering insights about her life in the past and perhaps in the present. It isn't clear if The Man is imagining her words or if there is some kind of a psychic link between them. Regardless, the device is a highly effective conceit for a film that is part ghost story, part thriller. I found Inland to be original, beautifully acted and directed, dramatically compelling and haunting, drawing on elements of both folk horror and fairy tale. It has gotten an international distribution deal and should be available more widely to audiences in the coming months.
A close second favorite was the very intriguing Swedish film, The Store. Set in a discount grocery store, the story is focused on the workers, who have to deal with decisions by management that generate considerable stress and anxiety. That nerviness pervades a world that is uncertain about feeding itself. A small homeless encampment is nearby and the residents there rely on the food waste discarded by the store for survival. Customers fight with each other over scarce quantities of cheap meats. A young employee on maternity leave is invited back to become a new manager and finds herself treating her co-workers and friends harshly because she is asked to fulfill her boss's unreasonable demands. On the one hand, this is a realistic look at how low-income workers and consumers live. But there is also a surreal element that intensifies the film's appeal: half of its story is told via stop-motion animation (making this an Italian co-production; the animation units were created in Italy). The characters rendered via papier-maché are grotesque but still appealing; the puppetry underscores the fragile humanity of the workers and the customers, underlining the narrative's pathos and immediacy. One normally thinks of Sweden as a wealthy country where hunger is an exception. The Store explores the underside of affluence, the pervasiveness of exploitation, and the odd sense of freedom attained when people resist the grind of capitalism.
Vicky Krieps gives an outstanding performance in More Than Ever as Hélène, a young woman from Luxembourg who is dying and decides to experience her final days on her own terms. Her condition is treated without sentimentality: the story opens with her in listless, quiet despair as she and her loving husband Mathieu (Hannibal Rising's Gaspard Ulliel) attempt to have yet another normal dinner party with friends. Hélène tries her best to remain optimistic, to accept her husband's hope for her survival. Eventually, though, she decides to go on a retreat to clarify what she wants to make of make of her remaining time. Directed by Emily Atef (who has worked on Killing Eve), this is a profoundly affecting film that portrays the day-to-day reality of a terminal diagnosis in a sober but elegant way.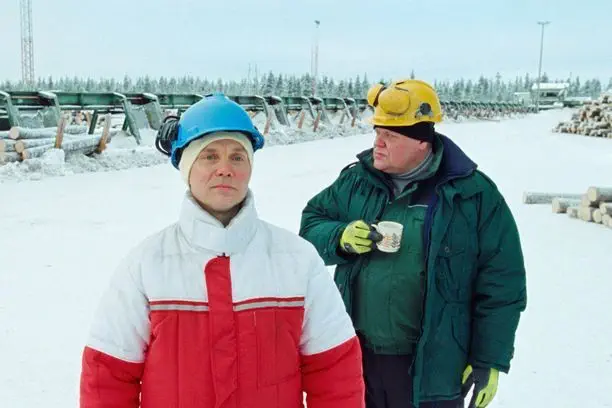 I also enjoyed The Woodcutter Story, a dark Finnish drama whose imagery draws on the brilliant colors of a fairy tale. In the first scene, a man in a suit treks across a harsh winter landscape to meet with a well-dressed woman in a small shed. There they sign an agreement that the nearby village will lose its lumber mill business: it will be replaced by a mining operation. The ensuing changes to the close-knit village — for whom woodcutting is the only industry they have ever known — swings between comedy and tragedy, the tone of the narrative swerving from upbeat to grim and swiftly back again. This stunning feature debut from Mikko Myllylahti is an inventive Scandinavian black comedy.
The feature debut Palm Trees and Power Lines got some positive attention at Sundance earlier this year. Filmmaker Jamie Dack expanded on her short film of the same title to create this spare, intense coming-of-age story. Lea (Lily McInerny, also seen in Tell Me Lies) is a bored teenager with a self-centered boyfriend and friends she finds immature and shallow. Her mother (Gretchen Mol) is distracted with work and her own relationship problems, and there is simmering tension between them. When Lea meets Tom, a seemingly "nice" man twice her age (played by the excellent Jonathan Tucker, seen in many series including Westworld, City on a Hill, and Justified), she is at first cautious but then allows herself to grow closer to him. He's sophisticated, gentle, and everything her boyfriend isn't, but there are some red flags that Lea isn't quite attuned to. This film gradually turns darker and more menacing; some unexpected twists arrive. McInerny gives a riveting performance as a girl yearning for love and independence who finds herself having to navigate unexpected perils.
Some additional films I saw that were excellent: Blue Bag Life, an intimate, absorbing documentary about (and co-authored by) Lisa Selby, a young artist whose fractured relationship with her mother and personal struggles with addiction are laid bare in this moving chronicle of struggle and triumph. The film was co-directed by Selby along with Alex Fry (for whom this is a feature debut) and documentarian Rebecca Lloyd-Evans. The revelations here are courageous, with the minutiae of various challenging life passages dramatized through frequent close-ups, text messages, and meetings caught on cellphone cameras. Blue Bag Life's unapologetic yet painfully intimate approach calls to mind Jonathan Caouette's Tarnation. I also enjoyed the experimental mixed media film The Blue Rose of Forgetfulness. Lewis Klahr's strange and delightful multichapter odyssey mixes odd but wonderful combinations of artistic materials, including collages and animations of '50s pulp comics. The movie's stories of love, betrayal, and noirlike mystery are accompanied by an appealing range of music, from torchy jazz standards to punk. The result is an experience that is eclectic, often surprisingly funny, and hard to shake off.
---
Peg Aloi is a former film critic for the Boston Phoenix and member of the Boston Society of Film Critics. She taught film studies in Boston for over a decade. She writes on film, TV, and culture for web publications like Time, Vice, Polygon, Bustle, Mic, Orlando Weekly, and Bloody Disgusting. Her blog "The Witching Hour" can be found on substack.