By David Greenham
English makes us consider what it looks like from the other side of our native tongue; from the outside looking in.
English by Sanaz Toossi. Directed by Melory Mirashrafi. Scenic design by Janie E. Howland. Costume design by Nina Vartanian. Lighting design by Amanda E. Fallon. Sound design by Ash. Dramaturgy and cultural consulting by Vahdat Yeganeh. Dialect coaching and design cultural consulting by Donya Pooli Yeganeh. Produced by Speakeasy Stage and performed at the Boston Center for the Arts, through November 19.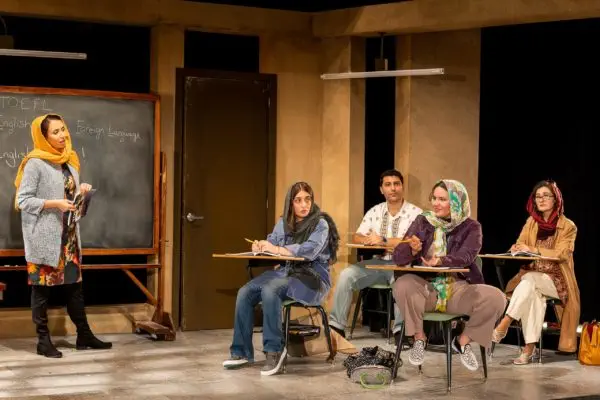 Are you a non-English speaker wanting to get into a Boston-area college? You're likely to need to take the TOEFL – Test of English as a Foreign Language. Many local schools require it.
In Sanaz Toossi's new play English, making its Boston-area premiere at Speakeasy Stage, TOEFL takes center stage. Instructor Marjan (Deniz Khateri) teaches a TOEFL prep class to students in Karaj, Iran, a large city just west of Tehran. Karaj has been in the news lately because it is one of the sites in the current protests about women's rights. English is set in 2008, a year before the reelection of President Mahmoud Ahmadinejad, which sparked protests as well as arrests of opponents of the regime. As dramaturg Vahdat Yeganeh points out in his program notes, many people at that time were taking English classes in the hopes of leaving the country. In 2008 the number of Iranian immigrants was at its highest level since the revolution in 1979.
Learning to speak English is difficult, but it is worth the effort. On the first day of class, Marjan tells Goli (Lily Gilan James) and the other three students "I think it's one of the greatest things two people can do together."
Goli, an enthusiastic 18-year-old, loves English. "Before I speak Farsi good, I know I want to speak English," she says in her stilted and hesitant tones, adding, "English does not want to be poetry like Farsi. It is like some rice. English is the rice. You take some rice, and you make the rice whatever you want."
Elham (Josephine Moshiri Elwood) doesn't feel the same way. She has been accepted to Australia's Royal Melbourne Institute of Technology to study gastroenterology — provided she can pass the TOEFL. "Every day in here I feel like idiot," she complains, "I am not an idiot and also I am nice." "English isn't your enemy," Marjan reassures her, "English is not to be conquered. Embrace it. You can be all the things you are in Farsi in English, too. I always liked myself better in English."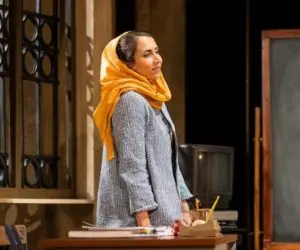 These exchanges reflect the issues and personalities that playwright Sanaz Toossi explores in her sometimes subtle, sometimes plodding, drama. Through a series of 23 vignettes — all set in the tiny, slickly stylized classroom designed by Janie E. Howland — bits and pieces of story emerge. Much of the conflict touches on the virtues and defects of assimilation. Generations of immigrants have fought to hold on to their culture.
Roya (Leyla Modirzadeh) is motivated to learn English for her granddaughter, Claire. Claire's father, Nader, and his wife live in "The Canada." Nader has become assimilated and has anglicized his name to Nate. He has insisted that Roya learn English before meeting her granddaughter. Elham protests, passionately, that Nate should be begging Roya to teach Claire Farsi, to learn about her heritage.
Omid (Zaven Ovian) speaks nearly perfect English. As the students play a game speaking English words while tossing a ball around the room, Omid draws on an impressive range of vocabulary. As they list items of clothing, the class brings up the basics: shirt, pants, shoe, sock, and so on. Omid suddenly comes out with 'windbreaker.' Moments later, as they shout out items found in a classroom, he offers 'white out.'
The teacher, Marjan, learned American English in a similar classroom in Iran before spending nine years in Manchester, England. Marjan recalls with pride a time she gave a woman on a bus in England some directions. Marjan's accent was not questioned. "She just thought that I belonged there," she recalls, still delighted.
English makes us consider what it looks like from the other side of our native tongue; from the outside looking in. In the play's best moment, Marjan explains that when you speak another language "you just feel so loud all the time. Like all the worst parts of your voice are being filtered through a microphone. Your head hurts and the days feel longer. You go years without making anyone laugh." She adds, "No one has any idea that you were the top of your class. Or that you're adventurous or optimistic or that you're kind. Really kind. You start to forget that you're adventurous and optimistic and kind." She concludes "How long can you live in isolation from yourself?"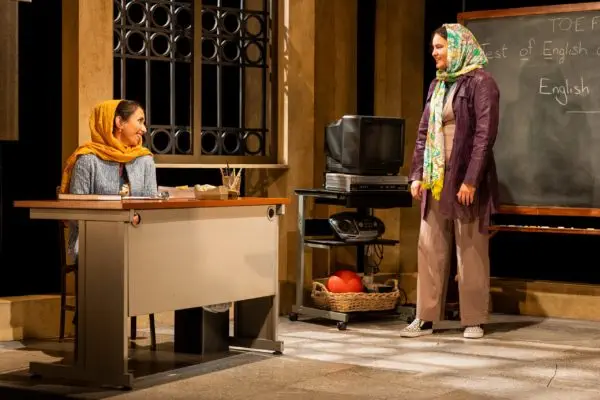 The cast of five is convincing, but they still have to mine the depth of the material. Too often the brief scenes come off as superficial. Director Melory Mirashrafi keeps these brusque episodes moving along while Amanda E. Fallon's expressive lights and Ash's suitably thumping music successfully maintain the story's energy through each brief transition. Nina Vartanian's costumes and Janie E. Howland's period-appropriate set pieces, along with Emme Shaw's props (including a working VCR), are all lovely, but the demand to keep up the dramatic pace restricts any sense that time is passing during the six-week course.
Still, for all its drawbacks, Toossi's play provides a perspective that many of us don't consider deeply enough. But we should. That outsider perspective is all around us. It's not uncommon for immigrants to speak multiple languages. Wander around Boston, Cambridge or virtually any US city and you're likely to hear multiple languages. At Boston's Fenway High School, a short walk from the Boston Center for the Arts, more than 50% of the students come from homes where English is not the primary language spoken. Instead of embracing and celebrating our differences, they are often used to separate us. English is a valuable effort in illuminating the humanity of these differences.
---
David Greenham is an adjunct lecturer of Drama at the University of Maine at Augusta, and is the executive director of the Maine Arts Commission. He has been a theater artist and arts administrator in Maine for more than 30 years.