By Jason M. Rubin
Unlike the slow, spacy stonerism of the 1973-77 era, early Pink Floyd is a much more rocking experience, and those foundational tunes of English psychedelia take on the excitement of punk to modern ears when heard live.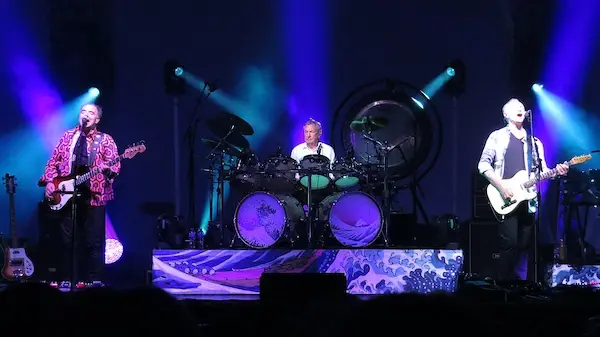 Though its first album, 1967's Piper at the Gates of Dawn, is considered a watershed masterpiece of psychedelia, Pink Floyd did not become a superstar band until 1973, with the release of Dark Side of the Moon. Subsequent albums like Wish You Were Here (1975), Animals (1977), and The Wall (1979) made them among the world's biggest rock groups. Original bassist Roger Waters, whose growing creative control of the group during that era was arguably responsible for this change in fortunes, has since turned The Wall into a cottage industry and personal cash cow, and goes on huge tours featuring songs from those classic albums — along with his own solo output, which is an acquired taste. Guitarist David Gilmour also focused on the more successful Pink Floyd material when he undertook his solo tours. Keyboardist Rick Wright died in 2008.
So what does drummer Nick Mason, ever-affable and low-key, the only member to play on every single album credited to Pink Floyd, decide to do? Operating on the entrepreneurial principle of "find a void and fill it," he assembled a band in 2018 dedicated to the pre–Dark Side of the Moon Pink Floyd catalogue. After a successful album and worldwide tour, the pandemic put the project on temporary hiatus, but Nick Mason's Saucerful of Secrets' "Echoes Tour" finally kicked off in the US on September 22, at the Schubert Theatre in Boston. The band is named after Pink Floyd's second album from 1968, and the tour is so named because the centerpiece of the show is a revised, somewhat shorter version of the song "Echoes," a 23-minute epic that takes up all of side two on 1971's Meddle. Mason's first tour already covered much of the landscape of Pink Floyd songs that fans thought they'd never hear live; adding "Echoes" to the mix raised those stakes considerably.
Originally scheduled for January but postponed to September, the show was worth waiting for, though the sight of many empty seats was distressing. While Mason doesn't have the name recognition that Gilmour and Waters enjoy, and his choice of repertoire is less well known to the general public, I can tell you the show is every bit as good as a Gilmour, Waters, or latter-day Pink Floyd concert (not to mention the many Pink Floyd tribute bands that have done good business over the last several years). There are lights, films, smoke, and, oh yes, exceptionally good music performed enthusiastically by a crack band that includes Gary Kemp of the '80s group Spandau Ballet. If they come around again, this is a show not to be missed. Unlike the slow, spacy stonerism of the 1973-77 era, early Pink Floyd is a much more rocking experience, and those foundational tunes of English psychedelia take on the excitement of punk to modern ears when heard live.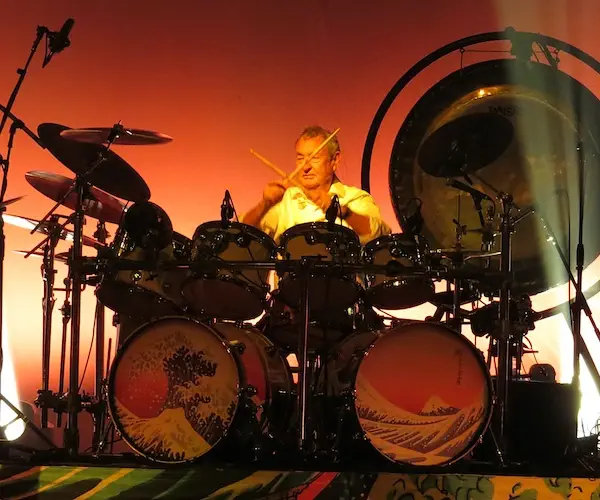 For those not in the know, the original psychedelic genius behind Pink Floyd was Syd Barrett, who, in addition to being the lead vocalist and lead guitarist, wrote most of the material on the first album, plus hit singles such as "Arnold Layne" and "See Emily Play." Rapidly escalating mental illness and herculean drug usage, however, forced his departure from the band before the release of A Saucerful of Secrets, on which he has but one songwriting credit. Eight of the 19 songs performed at the Schubert had Barrett's fingerprints on them. One of them, "Remember a Day," was written by Wright and appears on the second album featuring a Barrett guitar solo. Performed live just once by Pink Floyd in 1968, the song is included in the current tour as a tribute to the late keyboardist.
Much of the two sets was composed of songs from the most democratic era of the band, encompassing albums such as Atom Heart Mother, Meddle, and Obscured by Clouds, the latter being the album recorded immediately preceding Dark Side of the Moon. Bookended by the Barrett and Waters eras, this was a time when the band was doing great work without great acceptance in the marketplace. For Mason to present this material to concert audiences is more than simply fine entertainment, it's an important act of stewardship for the less-well-known part of Pink Floyd's recorded legacy.
The monumental "Echoes," still epic despite the editing done to it (which, frankly, the original could have benefited from), closed the second set in breathtaking fashion. The three-song encore set found the titular instrumental, "A Saucerful of Secrets," sandwiched by two of Barrett's liveliest and most joyful ditties, "See Emily Play" and "Bike," the latter of which also closed out Piper at the Gates of Dawn. As a drummer, Mason is solid but nothing special, especially when compared to progressive rock drummers like Bill Bruford, Phil Collins, Carl Palmer, and Alan White. His new band and this current tour, however, are very special indeed.
---
Jason M. Rubin has been a professional writer for more than 35 years, the last 20 as senior creative associate at Libretto Inc., a Boston-based strategic communications agency where he has won awards for his copywriting. He has written for Arts Fuse since 2012. Jason's first novel, The Grave & The Gay, based on a 17th-century English folk ballad, was published in September 2012. His current book, Ancient Tales Newly Told, released in March 2019, includes an updated version of his first novel along with a new work of historical fiction, King of Kings, about King Solomon and the Queen of Sheba. Jason is a member of the New England Indie Authors Collective and holds a BA in Journalism from the University of Massachusetts Amherst.