By Scott McLennan
As far as tour openers go, the concert on Friday presented no signs of a band holding back or slow to gain speed.
Bobby Weir and the Wolf Brothers at the Palace Theater, Waterbury, CT, (September 30).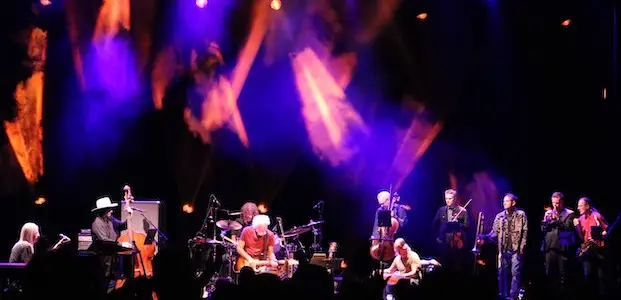 Bob Weir was back in Connecticut on Friday night, performing at the Palace Theater in Waterbury a few months after having played to tens of thousands of Grateful Dead fans who packed the big concert shed in Hartford for a Dead and Company concert; the two experiences were separated by more than just time and the miles between respective venues.
For this trip, it was in the guise of Bobby Weir and Wolf Brothers and, like DeadCo, the musicians stuck closely to a repertoire of Grateful Dead standards, though additions included some choice cuts from Weir's records made outside of his work with the legendary psychedelic rock group he helped found in 1965. Yet, in the more intimate setting of the Palace Theater, and accompanied by a less orthodox configuration of musicians, Bobby Weir and Wolf Brothers transformed a bunch of songs. Tunes that are now becoming rock 'n' roll standards sounded fresh because they were pulled away from a traditional "Grateful Dead" set up. It's as if Weir realizes that he is not just competing against his own legacy. He is up against the myriad other bands out there performing Grateful Dead as repertoire in one way or another.
On Friday, Weir made clear he continues to be the master of this game.
The Wolf Brothers originated in 2018 with Weir on guitar and vocals, Jay Lane on drums, and Don Was on upright acoustic bass. The band continued to develop its primal campfire sound a couple of years later by adding longtime Weir associate Jeff Chimenti on keys and Greg Leisz on pedal steel guitar. That configuration, for a run of shows last year, further expanded with Brian Switzer on trumpet, Adam Theis on trombone, Sheldon Brown on sax and flute, Mads Tolling on violin and Alex Kelly on cello.
Known as Bobby Weir and Wolf Brothers with the Wolf Pack, this expanded version – with Barry Sless on pedal steel in place of Leisz– is what rolled into the Palace and will be out on the road for a 21-date cross-country trek that includes three nights performing in Washington, D.C. accompanied by the National Symphony Orchestra. There will also be a three-night run in Weir's San Francisco stomping grounds during which time the guitarist/singer/songwriter will celebrate his 75th birthday.
As far as tour openers go, the concert on Friday presented no signs of a band holding back or slow to gain speed. Weir and the Wolf Brothers began the two-set, roughly three-hour performance with the majestic "Playing in the Band." It was evident from the start that this group would be patiently and skillfully making use of all the sonic tools it has at its disposal. Rather than launch into lengthy improvisational jams, a la Dead and Company, this ensemble functioned more like a disciplined jazz orchestra, with Weir directing different players to take solos while other groupings of players held down the rhythms or riffed on melodies.
After "Playing in the Band," Weir dispatched the strings and horns for a bit and delivered his cover of Robert Johnson's "Walking Blues" followed by the more angular rock of Weir's mid-'80s Grateful Dead composition "Hell in a Bucket." The contrast between those numbers spotlighted just how much more freedom the revamped Wolf Brothers gives Weir to stretch out. Sless and Chimenti carried leads and engaged in respective back-and-forths with Weir: it all added up to a more expansive musical palette.
And, before we go any further, it is worth reiterating that Was and Lane are staggering talents that not only lay down the grooves but set appropriate boundaries. They keep the free-flowing sound of this band from spiraling out of control (Weir is particularly prone to spiraling).
Weir told one of his oddball stories to set up a beautiful rendition of "Black-Throated Wind," one of his defining numbers co-written with John Perry Barlow. The strings and horns added warmth and depth to this haunting rock ballad.
Following a cover of Bob Dylan's "Queen Jane Approximately," Weir returned to the mid-'80s for another gem, this time retrieving the biblical-meets-political mash-up of "My Brother Esau."
The band then uncorked "Dark Star," a psychedelic opus from the Dead's earliest days that usually serves as a late-show highlight and can go on for more than 30 minutes. On this night, Weir "Wolfed" it: layers of flute, piano, electric keys, pedal steel, and trumpet moved in and out of an arrangement whose concision effectively shaped our journey into the open free-form space that is "Dark Star."
As bold and elegant as the "Dark Star" was, Weir wasn't done, and closed out the set with a brawny version of his Western Plains murder drama "Jack Straw," given some extra flourish courtesy of a trombone solo.
Weir, armed with acoustic guitar, began the second set with a pair of cowboy-folk tunes, "Only a River" from his charming 2016 Blue Mountain solo record, and "Me and My Uncle," a staple in the Grateful Dead repertoire for practically its entire career.
The whole Wolf Pack then re-emerged to begin a magnificent stretch of music that leaned into Jerry Garcia numbers, starting with a spectral "Birdsong" that featured engaging interplay between Weir on electric guitar and Brown playing flute.
That segued into Weir's own Grateful Dead masterpiece "Estimated Prophet," with the Wolf Pack on hand to conjure up the song's recorded version, which includes sax parts by Tom Scott. Was' thundering bass lines were particularly room-shaking on this reggae-tinged number.
As the Grateful Dead would often do, Weir transitioned from "Estimated" into the Jerry Garcia-penned "Eyes of the World." What the Dead didn't do — which Weir and his wolves did — was splice Marvin Gaye's "What's Going On" into the middle of the song before finishing with a warm, ambient return to "Eyes."
With the Wolf Pack sent to the wings, Weir and the core players dug into Garcia's "Black Peter," a dirge-ish blues that, whenever Weir played it in the years after Garcia's 1995 death, could sometimes drag. He acquitted himself well this time around. Anyone in the sold-out house with even a passing knowledge of Grateful Dead concert structure was probably assuming Weir would close on one of his signature upbeat songs, perhaps "Sugar Magnolia" or a Chuck Berry cover.
Instead, Weir and crew went for a mind-blowing finale; the band played the entire "Terrapin Station" suite, which was recorded in 1977 with full orchestral and choral arrangements. The Grateful Dead would only play the main segment of the suite in concert. It is rare to find anyone tackling the entire composition live.
Weir and the Wolves summoned the suite's cinematic sweep, were not averse to rambling through some of the sections open to jams, and made it a joyful, rather than reverent, execution of a beloved slice of the Dead canon.
Best of all, nobody saw it coming.
Weir, the Brothers, and the Pack returned for an encore to play the Grateful Dead's biggest commercial hit, "Touch of Grey," once again validating the familiar chorus: "We will survive."
---
Scott McLennan covered music for the Worcester Telegram & Gazette from 1993 to 2008. He then contributed music reviews and features to the Boston Globe, Providence Journal, Portland Press Herald, and WGBH, as well as to the Arts Fuse. He also operated the NE Metal blog to provide in-depth coverage of the region's heavy metal scene.