By Blake Maddux
"I remember playing the Rathskeller. I think that was the second gig we had in the US. I remember what a dive that was. I remember how really exciting it was to be there. Just the promise, the potential."
The greatest legacy of The Velvet Underground's barely heard final album – which featured zero original members – might be that it inspired the name of one of the more successful British bands of the new wave era.
Composer, vocalist, guitarist Glenn Tilbrook and lyricist, guitarist Chris Difford formed Squeeze in 1974, one year after the release of VU's swan song.
Four years later, the Welsh multi-instrumentalist who played on that seminal American rock group's first two albums, John Cale, produced Squeeze's modestly successful debut.
1979's "Cool For Cats" and "Up the Junction," each of which peaked at #2, marked the beginning of an impressive run of hit singles in the UK. On the critically acclaimed albums Argybargy (1980) and the Elvis Costello coproduction East Side Story (1981), Squeeze's fusion of classic pop, power pop, and new wave gelled to perfection.
East Side Story included "Tempted," which is probably the band's most timeless and recognizable single to US audiences. However, it was not one of their biggest UK hits and was sung not by Glenn Tilbrook, but by new member Paul Carrack.
Squeeze never had a major entry on the US charts during its 1978-1982 run. Yet a 1982 compilation of their UK hits during that period, Singles: 45s and Under, sold one million units stateside by 1992. It wasn't until 1987, after having broken up and reformed, that they reached the US top 40 with "Hourglass" and "853-9537".
Having dubbed themselves the "At Odds Couple" for a 2015 tour, Tilbrook and Difford have parted ways several times only to reconvene as a duo (Difford & Tilbrook) or in Squeeze, who opened 22 shows across America for Hall & Oates last year and have a month's worth of performances scheduled in the UK before the end of 2022.
In the meantime, Glenn Tilbrook is undertaking one of the most extensive US tours of his career, the penultimate stop of which will be at City Winery Boston on October 7.
The following Q&A is a condensed and edited version of a phone interview that I did with on September 21 him as he walked the streets of Chicago.
---
The Arts Fuse: It has been a while since you have done an extensive solo tour of the United States. What inspired you to hit the road now?
Glenn Tilbrook: Because, I think, well a) I enjoy it, and b) it's freedom from how Squeeze is. Not that I long to escape Squeeze, far from it. But what I mean by that is, we're very structured within Squeeze. I think that works very well for us as a band. We know what we're doing. By myself, I can make up the setlist as I go along. So that's a lovely freedom. I live or die by my own sword on the stage, and it's also easier to interact with an audience. I miss doing that.
AF: Is there a Squeeze and/or solo album of which you are particularly fond but is less appreciated by fans?
GT: I am really fond of Happy Ending [2014 solo album], actually, because that was quite an experimental album, being all acoustic and percussion. I found myself setting guidelines and parameters for how the songs would be. I always tend toward full-band arrangements. I'm trying to curb that back a bit.
AF: Who are some contemporary musicians whom you find inspiring or just particularly enjoy listening to?
GT: There's one artist over all others who has influenced me the most and that's Kae Tempest. I think she's creating works of lyrical stunning beauty. Her writing partner, Dan [Carey], creates backdrops for her words. That's been the biggest thing that has rocked my world in the past…it tends to be like every 10 years that something really, really big happens.
I've seen Beyoncé live twice. She is absolutely amazing. I don't know how many people are involved in the songs, but they're always good. She is the arbiter of what she does, and she's really, really experimental.
There's also a tremendous movement of young jazz musicians at music college in London, in Greenwich, whose ability makes my jaw drop. I'm not an envious person but I wish I could play like that! And there all 19, 20, 21, and they're so inspiring.
AF: How about longtime favorites whom your still keen on?
GT: I saw Paul McCartney at Glastonbury, and that was almost like a religious experience. He's 80 years old, he doesn't have the voice that he had, but what he does have is a tremendous stamina. And he's developed the best ability of anyone who's advanced in years I've ever heard. He has a technique, he's sort of shouting the notes. It doesn't have the purity, but it has an attack, an honesty about it that blew me away.
AF: What have been some pleasantly surprising places – in public, in private, on TV, in movies, etc. – that you've unexpectedly heard your voice coming out of a speaker?
GT: I knew about this, but I had forgotten about it. When I was watching Breaking Bad and Walter White is getting ready to have a party at his house, and Squeeze is playing. I said, "Yes, of course. Walter is a Squeeze fan. Of course he is!" (laughs) That gave me so many brownie points with my then teenage sons, I've got to tell you!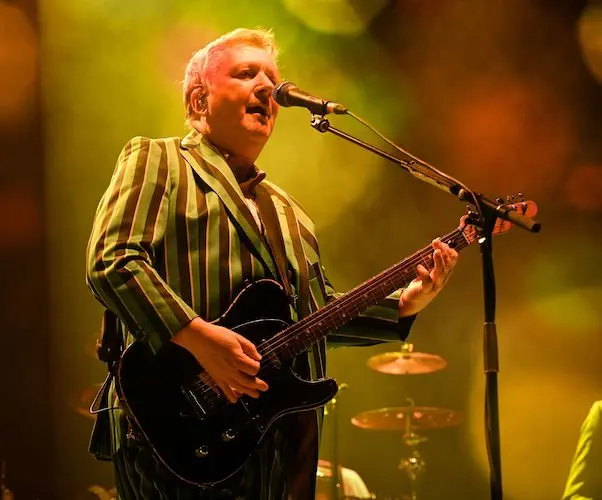 AF: Who were some of your early influences as a guitar player?
GT: My dad always wanted me to be a jazz musician, which wasn't my thing. So he took me to see Joe Pass, Barney Kessel, and other people when I was in my early teenage years.
I think when I was 17, I had one of the live albums that Joe Pass did with Niels [-Henning Ørsted Pedersen], the bass player, and Oscar Peterson at the Montreux Jazz Festival, and I just took one his solos, it was on vinyl, and I slowed it down so that I could learn it. It took me ages, but it taught me so much.
AF: Which of your own solos would you rank among your personal favorites?
GT: Probably two, which bookend the earlier Squeeze career. One would be "Another Nail [in my Heart]", because it took a lot of work and it hangs together. It's a sweet solo. And the other one would be "Some Fantastic Place," on the other end of the scale. It's more Brian May-inspired, I guess. Brian May and Hendrix are two of my great loves as a guitarist.
AF: What kind of music do you enjoy that might surprise people who know your work?
GT: Jazz might be the answer to that. Thanks to my dad, jazz has been a presence in my life and has become increasingly so the older that I've gotten. I appreciate the sophistication and the songwriting so much. It's just a wonderful expressive way of being. The freedom of command over your instrument. I've sort of struggle with that as a guitarist.
The UK rap scene, people like Stormzy and Dave, is incredibly inventive. I love the way the language moves on. It's never a fixed thing. I could never speak like my kids speak, 'cause they have grown up in a different time. I love that and I'm fascinated by that. I never what things to stay still. It's so great.
Stormzy and Dave are lyrical masters, you know. They talk about things that are really important to younger people about society. I think they're very eloquent. I love the fact that Stormzy and Dave and other UK artists are really talking about their own environment. If you can't relate to it, you can sort of make up in your head what you're missing.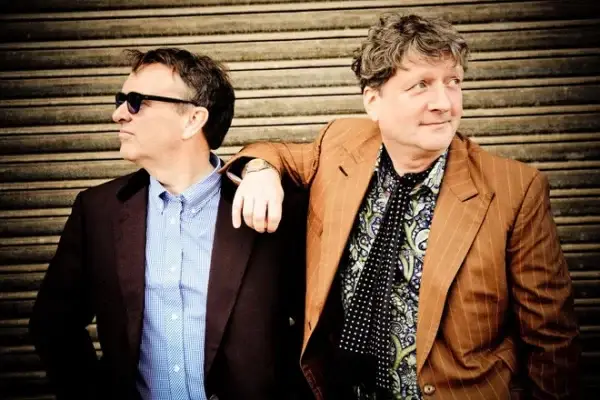 AF: Do any specific memories of playing Boston stand out to you?
GT: I remember playing the Rathskeller. I think that was the second gig we had in the US. I remember what a dive that was. I remember how really exciting it was to be there. Just the promise, the potential. I'd traveled very little before I came here, and America was everything that I thought it would be. It was glorious, and it was fantastic to be here. It still is all this time later.
AF: What can fans look forward to from you or from Squeeze?
GT: Actually, Squeeze just recorded a new song three weeks ago, and I think that's going to be the first thing for a new record.
We haven't done a record in five years, and I think it's about time we did one. 'Cause you begin running on fumes as a band if you don't do anything new. It's good for your head, it's good for your motivation.
So what I'd like us to do is to do two albums. One album of new material, and the first song that we've done I'm so, so pleased with. And do another album of 50-year-old songs that Chris and I didn't record. I think we'll do that, and try to release them together or simultaneously, you know.
In the UK, we're doing a six-track EP and the profits from that are going to go towards The Trussell Trust, which is a network organizer for food banks. The new song will be on that and on a new album later on. The other songs are two recut Squeeze songs – in a really great way, actually – and there's three live tracks.
---
Blake Maddux is a freelance journalist who regularly contributes to the Arts Fuse, the Somerville Times, and the Beverly Citizen. He has also written for DigBoston, the ARTery, Lynn Happens, the Providence Journal, The Onion's A.V. Club, and the Columbus Dispatch. A native Ohioan, he moved to Boston in 2002 and currently lives with his wife and five-year-old twins — Elliot Samuel and Xander Jackson — in Salem, MA.