Like most jazz listeners, I first learned of Pharoah Sanders through his association with John Coltrane, principally on three 1965 recordings: Ascension, Meditations and Om. His presence was a catalyst for Coltrane's evolution from the work he had done just a year before on Live at Birdland, Crescent and A Love Supreme. Sanders was pushing him to a kind of end game; one where bop, post-bop and modal playing were jettisoned, replaced with sound pushed to-and past-the breaking point. Coltrane heard — or more properly "felt"  — Sanders' playing as vital to his overall sound. He provided a blistering, splintered cry that expanded the sonic palette of Coltrane's group to its fullest possible range. In the last two years of his life, we hear Coltrane moving closer to Sanders (Then, after Coltrane's death, we hear Sanders moving closer to Coltrane).
I heard Sanders a number of times through the years, in many different contexts, but the Sanders concert I attended at New York City's Village Vanguard in 1970 was the most dramatic fusion of music and audience that I've ever experienced. I can't be positive of the personnel, but apart from Sander, I believe it was Cecil McBee on bass, Lonnie Liston Smith on keyboards, Clifford Jarvis on drums, and possibly Nat Bettis on percussion. Performances at the Vanguard always seemed to inspire high levels of musician-audience communication, but that evening, the assemblage of people in that crowded basement abandoned the need for the usual musical guideposts and surrendered completely to the seismic, inchoate pull of the music. Throughout the evening, Sanders' torrent of sound built in intensity until the energy reached an intolerable level. I could feel the blood seeming to boil in my veins. Clearly, I was not alone, as the audience spontaneously began banging on the Vanguard's little round tables. Whiskey glasses and beer bottles shook and fell to the ground as screams and howls emerged from the audience. That night, "free" music, a music that has no well-trodden earth-bound anchors, which is born not of training or professionalism, burst forth naked.  A congregation was forged. I am profoundly grateful to Pharoah Sanders for that experience.
— Steve Provizer
[Note: the late Anthony Wallace wrote this wonderful homage to Pharoah Sanders after his 2018 performance at Boston's John Coltrane Memorial Concert. It nicely sums up why should be grateful for Sanders' "noise joyful."
Sometimes Pharoah Sanders came back and played like a primordial saxophone deity, cutting into the rhythm section like an act of penetration.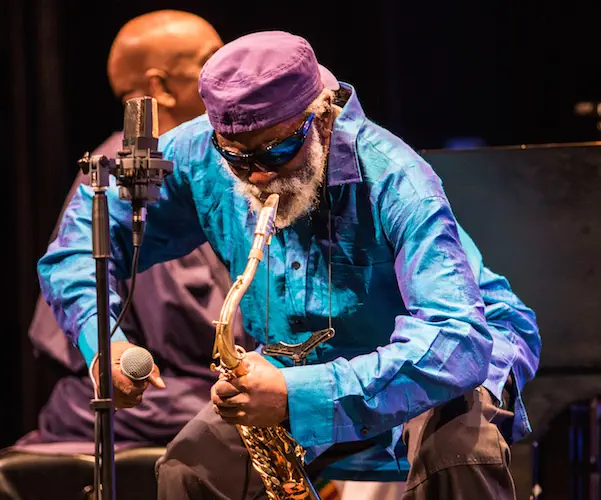 On Saturday, October 7th the Pharoah Sanders Quartet headlined the John Coltrane Memorial Concert, which this year celebrated its 40th anniversary, the longest-running such tribute to Coltrane in the world. The event was held at Northeastern's Blackman Auditorium, "total capacity 991 persons" according to their website.
The house appeared to be almost sold out and the audience, mostly white, mostly aging hippies and academic types (this is Boston, after all), was enthusiastic, for they (we) were there to see a legend, and they (we) were not disappointed. To come for the Music and for the History as well, and to not be disappointed, to get History and also to get Music both in the present tense and to be able to sit with them awhile, this is a very rare thing, and not exactly the same as how you might experience them at a Bob Dylan show, though his version is also very good.
The room:
A woman a few rows ahead of us who had, I'm guessing, developed her fashion sense around the time of Carole King's Tapestry, possibly by consulting the album cover, though she did not bring a cat to the show.
Pharoah Sanders' youngest son Tomoki gadflying about the room as he did when we'd met him a few years back at a Ravi Coltrane concert at Berklee, then also carrying a saxophone case, and who could say to anyone in his path, "Step aside, varlet, for I am born to the purple," and we would have to do it, too.
A couple who looked as if they'd just come from a hike in the Maine woods
A goodly array of fannypackers with frizzed hair and packed fannies.
Some distinguished-looking black people in understated clothing walking around like foreign dignitaries.
A pair of eminences gris yukking it up across the center aisle.
A man somewhere behind me bloviating about free jazz in a loud, authoritative voice the way minor characters sometimes talk in Woody Allen movies.
Trump enters into it:
A woman in the seat to my left begging her companion not to mention Donald Trump.
How to write this review and not mention Donald Trump. How to do anything and not mention Donald Trump. But this is not a review because I'm not a music critic, just someone who wanted to attend the concert and then maybe write about it. I would not "review" a modern master in any case, but I would write about what I saw and heard. Without mentioning Trump's name. Or not too many times.
The Pharoah Sanders Quartet:
Turned-around purple baseball cap, iridescent purplish-blue shirt jacket worn sort of like a dashiki, which is to say magisterially, Racer X sunglasses, white hair vigorously clumped on either side of the purple baseball cap, pointed white beard of the kind frequently worn by sages, loose black pants, soft slippery black shoes good for shuffling and / or ambling on and off stage or for planting oneself in the middle of the stage like a Person of Great Authority. Pharoah Sanders, the man Ornette Coleman once called "probably the best tenor player in the world."
Three highly skilled sidemen who never missed a beat and who would have been worth the $50 ticket as a piano trio: William Henderson on piano, Nat Reeves on bass, Jonathan Blake on drums. At times veering close to the sound of the original John Coltrane Quartet, at other times not.
Some songs I recognized, or almost: no playlist in the program so this is some of what I can recount from the two sets, which lasted about 45 minutes each: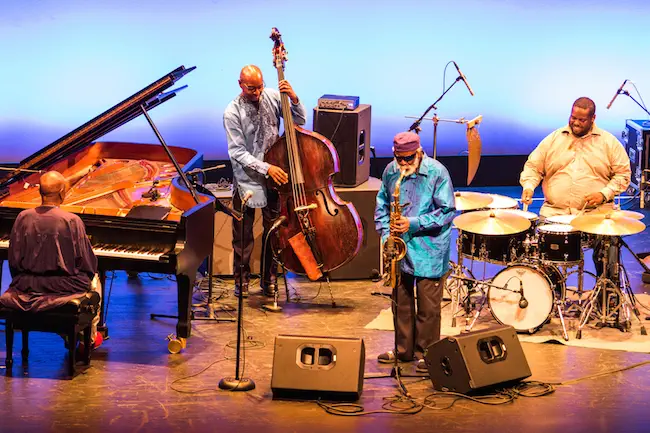 First set
Opened with a song that sounded like "A Nightingale Sang in Berkeley Square" but wasn't. Voice of Coltrane, clear and direct tone, insistent and patient, yet different somehow, like bright metal with the surface worn off, but brighter. The playing with steely resolve that strips "standards" of all sentimentality and cant, pretension, fashions them into something they were never intended to be, which is a vehicle for truth.
"The Creator Has a Master Plan": a Pharoah Sanders original, call and response, chanting and clapping, "The power of God! The power of God!" like he really meant it and like we really believed it.
Second set
Opened with a Spanish key improvisation (at the end even gave us an Ole!). Might have a title but I don't know it.
"I Wish I Knew," my personal favorite standard from Ballads, very like Coltrane in voice and phrasing but with a harder edge, less patient, more insistent, less like dancing with a beautiful woman one is trying to seduce and more like dancing in the darkness one is trying to seduce. And succeeding.
"Giant Steps": burned it down, relentless, ferocious.
Calling God into it:
Pharoah Sanders took the stage of Blackman Auditorium on Saturday night. At first he looked old and frail, slightly stooped, but he played with strength and control and a kind of steely resolve that you could see as well as hear. We wondered how long someone who looked like that would be able to play like that. It seemed at first that perhaps some of the stuffing was out of the mattress. One song would be heroic let's just say though perhaps not charge money for it. He played and took his solos then shuffled with his saxophone to the side of the stage to sit and rest, first on a stool then later on a red chair a staff member brought him as if placing it at his feet. The younger men played while the grandfather sat with his saxophone in the red chair. But then he stood up and ambled purposefully back to the center of the stage. Like a brave man making his way back to life. It was thrilling. He did this a number of times throughout the two sets and each time it was thrilling.
Sometimes he came back and played like a primordial saxophone deity, cutting into the rhythm section like an act of penetration. Sometimes he danced for us, sang, chanted, clapped his hands, invited us to clap and sing. We clapped and sang, feeling happy, feeling also a little foolish, the way we always do when someone on a stage asks us to clap and sing along. At the end of the first set when he spoke the names of the band members we wondered if that was it. It wasn't, the second set even more powerful, for now he could leave what he had on the stage, leave everything he had. Which was, as it turned out, a great deal. "And I'm Farrell Sanders."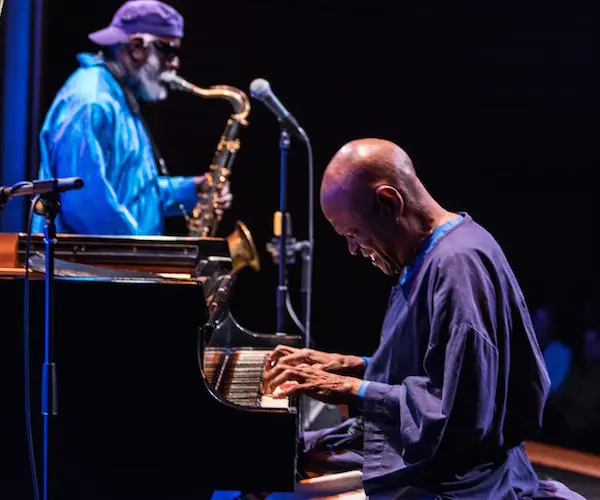 He appeared younger with each song. He appeared to grow younger.
When he first spoke it was a surprise, a voice confident and powerful, young and commanding: a rich baritone like something of great value heretofore hidden. Sang and played and danced and clapped. Stood in his iridescent purplish-blue shirt jacket dashiki. Stood his ground. Magisterially. Stared outward from behind the Racer X sunglasses, the steady gaze of notes from a saxophone trained on a specific target, feet planted, a stance of the body addressing the world and waiting for the world's response.
Addressing the world in song and dance and chanting and calling God into it and inclining his ear toward a response.
Displaying a certain measured ear-inclined youthful confidence in the quality of that response.
Making his way back to life:
Like a brave man making his way back to life on shoes like soft black slippers, probably felt but maybe velvet—when you make the patient and decisive walk back to life you can dress the way you want to dress, and everyone will admire you for it, even if you do only that much. But then to play like that, to play like Pharoah Sanders which is to play like oneself but to evoke Coltrane, that would be a good trick, to evoke one's own notes and Coltrane's notes at the same time, to be a 77-year-old jazz musician and play your own music should be enough for anyone, but to do that and to bring the spirit of your dead friend into the room, dead for fifty years but living for those two hours, Coltrane's musical voice and phrasing never far way, especially on a few of Trane's own numbers like "Giant Steps," which the quartet burned to the ground, or "I Wish I Knew," a standard associated with Trane, to play it like Trane played it on Ballads and to play it like one's own song—all of Trane's lyricism but something harder running down the spine of the song, unyielding. I wish he had played "Naima."
How does Trump's name enter into it?
Well the story goes that the aging hippies and college professor types and distinguished- looking black persons were once young and this perhaps goes as far back as when John Coltrane was still alive and they believed in jazz as part of a larger impulse toward enlightened social change that would include black people in public speaking freely to one another in a language they'd invented expressly for that purpose, for freedom and to test the bounds of freedom and captivity and to operate creatively in the liminal space between the two, and to not really care if anyone understood what they were saying though of course some claimed they did. Understand.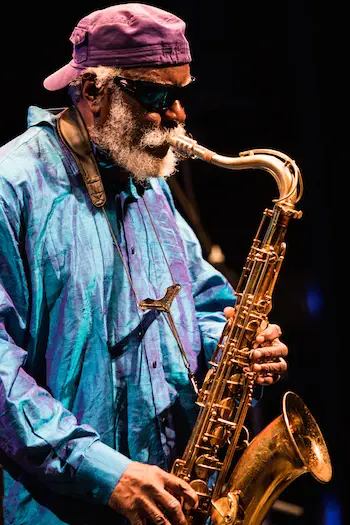 And for other reasons as well:
For beauty and to establish a non-western standard of beauty, to build politics and social cohesion on aesthetic value, and aesthetic value of a certain kind, of the body, but of a different sense of what the body is, of the spirit, but of a different sense of what the spirit is. Not Christianity, most certainly not.
To summon the African plain with cries and squawks, honks, banging of drums and clanging of horns, drums and piano like the thundering herd, bright blare of brass like the sun that relentless beats on all humans as they go about their pleasuring and their misery.
The fertile yet inhospitable landscape that we yearn for, that we emerged from, the Africa of everyone's imagination, a collective Africa for people to dance and clap their hands to or toward.
For people to make some kind of noise joyful or otherwise as a way of approaching God.
"The Creator has a master plan. Peace and happiness for every man."
As music with which to mourn the institutionally sanctioned murder of unarmed black men and boys.
Things like that.
And they played it and put it on records and sold the records and some few made money and got famous but that wasn't really the point.
Here is where we get to Trump:
It was about freedom and living for something, standing for something and really standing for it. You could wear whatever kind of clothes suited you, nobody cared, though it never hurts to look good. And they did it and people appreciated it and they kept doing it. It seemed important.
This is sometimes called art when it doesn't go away or break up or get trampled underfoot with the weak and the infirm.
First and foremost teaching us about freedom in a time when we might benefit from some instruction on the subject. Teaching us about standing for something and dressing for the occasion and taking some enjoyment in it. With patience and resolve again and again making our way back to something. All of us. Standing from the red chair and holding the saxophone or whatever is our instrument to hold and walking the slow determined walk back to our place in the world. Our place in the world and what is expected of us when we have made our way back there.
He thanked us and left the stage and never came back. Standing ovation of course it goes without saying. Thanked us and left the stage and meant it like he'd meant everything else. No mistaking what he said for something else. No mistaking any of this.
I'm afraid that is where Trump comes in.
---
Anthony Wallace's collection of short stories The Old Priest won the 2013 Drue Heinz Literature Prize and was first reviewed by Roberta Silman in The Arts Fuse. The book went on to become a finalist for the 2014 PEN/Hemingway Award. More on Anthony Wallace and his collection The Old Priest. More recently, he has published short fiction in The Missouri Review, Hotel Amerika, and The Southern Review. His short story "The Work of Art in the Age of Mechanical Reproduction" won a Pushcart Prize and was published in the 2018 Pushcart anthology. Tony Wallace passed away in 2018. A short story of his, The State of Grace, was published this year in Boston University's 236 Magazine.