Now that dramatist Neil LaBute's scripts are being produced on Broadway, he has fanned the earlier whiffs of amorality in his work away. The obscene language and provocative hooks remain, but those are not a bar to popular success (think of David Mamet).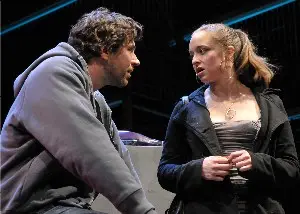 reasons to be pretty by Neil LaBute. Directed by Paul Melone. Staged by SpeakEasy Stage Company at the Boston Center for the Arts, Boston MA, through April 2. 
By Bill Marx. 
Aren't the plays of Neil LaBute at least supposed to be shocking? From Bash, his promising first play, to 2006's Fat Pig, LaBute excelled at adroitly using abusive language and sexual/cultural hot button situations to make theater critics and audiences believe they were looking into the murky heart of the American psyche. And he had a diabolical talent for it. The last script of LaBute's I saw on stage, the shape of things, features a female graduate student, who, as an art project, commences a hot affair with a nebbishy guy, leaving the poor rube flat once she gets her grade. Oh, the horror! Art's for art's sake hurts! 
But now that LaBute's scripts are being produced on Broadway— reasons to be pretty was a 2009 Tony Award Nominee for Best Play—he has fanned the stinky whiffs of amorality away. The obscene language and provocative hooks remain, but those are not a bar to popular success (think of David Mamet). What has changed is that the customary bad behavior is placed in a less cynical, faux-nihilistic context. At this point, some of LaBute's nasty boy-men and girl-women are growing up, which is supposed to reassure us that America's power-playing monsters can climb out of the pit of barbarity. The aftermath of the Wall Street meltdown suggests otherwise. 
At least that is the inspiring impression left by reasons to be pretty, whose apple pie message would fit any installment of MGM's all-American, Andy Hardy film series: treat women with respect, fight bullies and conformity, and study hard. 
Of course, the lesson has been souped up considerably for the new millennium. Reasons to be pretty starts off with Steph haranguing her boyfriend, with nerve-rattling, scatological fury, that he was overheard telling someone at work (a warehouse in the suburbs) that she was just "regular looking." Greg doesn't understand her anger or see how her dissatisfaction comes from more than just this incident. They break up, meeting up with one another from time to time throughout the rest of the play, at first to trade insults. Because we never experience what Greg and Steph once meant to each other, it is hard to care whether they come back together or not, but that is part of LaBute's dramaturgical challenge. 
Greg has things to learn about himself and women, an agonizing education provided by his co-worker Kent, who is married to Carly, a security guard at the warehouse. Macho windbag Kent has a thing for another employee, the beautiful Crystal, and lets Greg in on his plans for conquest. LaBute teaches Greg the adult way through his trademark bouts of nasty language, filled with their usual amusingly demented energy, though sometimes the fowl-mouthed duets go on far too long (Greg spends an amazing amount of time patiently being insulted or belittled). Because we are dealing with working class guys, there is even a physical dust up, for the sake of characters making crucial psychological realizations, of course.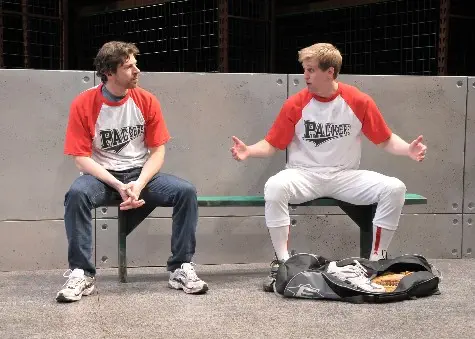 The language may be tangy, but LaBute's thin characterizations rely heavily on stereotypical cultural markers. For example, the insensitive Kent is sports crazed, ultra competitive about the warehouse baseball team winning the league championship. Once we see Steph wearing dresses, her personality softens, her language cleansed of curse words and aggression. Greg must be smart because he reads classic literature, bringing volumes of Edgar Allan Poe, Jonathan Swift, and Nathaniel Hawthorne to the lunch room. (In my favorite moment in the play,  instead of going to work Greg gives the finger to the Man and opens up his Washington Irving, who was, by the way, America's first important theater critic.) 
The Speakeasy Stage Company cast is personable and handled with efficient care by director Paul Melone. There's no intermission, but the nearly two-hour-long show moves along with likable dispatch. I prefer my scoundrels more full-throttle, but there's an intriguingly genial kick to Burt Grinstead's Kent, who exudes invulnerable, good-old-boy opportunism. Angie Jepson is aptly explosive, though the actress doesn't sufficiently suggest the second thoughts Steph has for Greg, while Danielle Muehlen provides plenty of smarty-pants attitude as Carly, though her performance turns a bit soap opera-ish as the plot turns. 
Andy Macdonald's Greg, a boy-man struggling to break out of rut, comes off as overly hangdog, at least early on. But Macdonald eventually intimates that empathy for others and a hunger for self-respect and success simmers underneath Greg's get-along-at-any-price surface, though the actor doesn't convince me that it all comes at once, like a package in the mail. For LaBute, as in Andy Hardy, maturity of heart inevitably brings maturity of mind. The playwright's optimism is as neat as his pessimism.