By John R. Killacky
Scorned and consigned to oblivion in his day, Julius Eastman is finally being celebrated for his unabashed talent and the sheer audacity of his inimitable genius. Brava diva!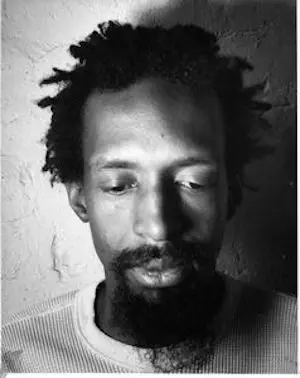 In '70s New York, Julius Eastman was an outrageous presence in the avant-garde performance scene as a composer, singer, and pianist. Black and openly gay, he was an outsider. He died homeless and forgotten in 1990. As the music world grapples with righting the canon, there is resurgent interest in this sui generis maverick.
He was nominated for a Grammy for his recording of Peter Maxwell Davies's Eight Songs for a Mad King (1974) and was as easily at home performing with Meredith Monk on Dolmen Music (1979). Monk fondly recalled Eastman in a recent conversation, saying he was "full of contradictions, but so intelligent with an essential love and devotion to music itself. He taught me a lot about theory and harmony."
His own compositions challenged prevailing aesthetic norms that were very straight, very white, and very male. All so not him. Eastman told the Buffalo Times in 1976 he aspired: "To be what I am to the fullest: Black to the fullest, a musician to the fullest, and a homosexual to the fullest."
While classically trained in voice and composition at Curtis Institute of Music, structurally he was a proto-minimalist, frequently utilizing multiple grand pianos awash in overtones. He called it "organic music." His titles were, at times, provocative — Crazy Nigger (1978), Gay Guerilla (1979), and Nigger Faggot (1978) — while the music was transcendently spiritual. He conducted his 1974 symphony, Femenine, wearing a dress. Vocal and piano scores as well as disco recordings round out his genre-fluid oeuvre.
Whether on stage at Carnegie Hall or in gay clubs, his outsized persona captured the public's gaze. However, Eastman became increasingly erratic, struggling economically as well as with addiction. When he was evicted for nonpayment of rent in 1981, sheriffs threw his scores, papers, and belongings into the trash. He lived in homeless shelters and outdoors in a city park, in addition to couch surfing with friends, while still sporadically performing and composing.
Monk said Eastman would occasionally show up at her loft at odd hours, and she would feed him. "Afterward we would play four-handed piano pieces and one night sang the Henry Purcell songbook," she reminisced. Monk loaned her upstate cottage to him for three months. "He was not of this earth, just needed someone to take care of him."
In 1986, choreographer Molissa Fenley commissioned Eastman to create a score for two sections of her Geologic Moments performed at Brooklyn Academy of Music. She told me, "Working with Julius was always surprising. I often had to telephone his brother to find him for rehearsals." Backstage he would fall fast asleep in his dressing room: "He was very sick at the time, but once on stage, he'd be unbelievable, brilliant, completely obsessed. People loved him."
He eventually disappeared from Manhattan and died destitute in obscurity in a Buffalo hospital in 1990 at the age of 49. An obituary was not published in the Village Voice until eight months later, so unsure were people whether he was dead or alive.
Eastman's legacy languished in limbo until composer Mary Jane Leach and other colleagues published a book of essays, Gay Guerrilla: Julius Eastman and His Music (2015). Fragments of scores were reconstructed, aided by tapes of early performances, and that jump-started a resurgence, first in alternative performance spaces and then going mainstream with the Los Angeles Philharmonic and Orchestra of St. Luke's. In June, the American Modern Opera Company guest-curated some of his music at the Ojai Music Festival.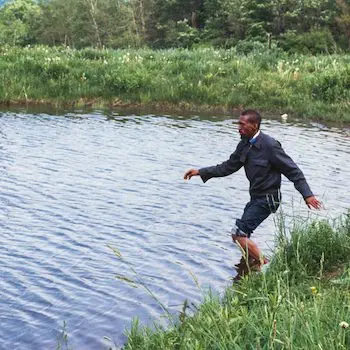 The contemporary music collective Wild Up has also been championing Eastman's compositions, committing to a seven-part anthology on New Amsterdam Records. Last year they released Julius Eastman Vol.1: Femenine. The album was hailed "a masterpiece" by the New York Times and NPR placed it among its top 10 records of 2021. The propulsive 70-minute symphony, built on circular phrasing and expanding repetitions, generates an ecstatically immersive experience of cascading lyricism.
Last month, Wild Up released Julius Eastman Vol. 2: Joy Boy. His idiosyncratic compositional style — open-ended scores that interweave multiple genres and whose instrumentation is not always specified — is lovingly realized by an ensemble whose background encompasses classical, jazz, and improvisational music.
Exuberance abounds throughout this recording. The title (and first) track features the never-before-recorded Joy Boy, a buoyantly discordant stepping stone to the trippy undulations of Buddha (Field). Two radically different versions of Touch Him When showcase Wild Up's virtuosic musicians veering from placid minimalism to metallic drones. The record culminates with Stay On It, a dance-inflected work of harmonic convergence that induces incantatory rapture through a cacophony of chaotic sounds.
Artistic director of Wild Up Christopher Rountree writes in the recording's press material that he wants listeners "to find themselves in these pieces. And in their multiple iterations. We want this work to be quintessentially queer. Every moment full of choice."
Julius Eastman: the fierce black queen iconoclast, scorned and consigned to oblivion in his day, is finally being celebrated for his unabashed talent and the sheer audacity of his inimitable genius. Brava diva!
---
John R. Killacky was profiled last October by Debra Cash in the Arts Fuse and is the author of because art: commentary, critique, & conversation (Onion River Press).