By Michael Ullman
Steve Davis, Bluesthetic (Smoke Sessions)
Trombonist Steve Davis says he never strays very far from the blues, and he proves it with this fine album.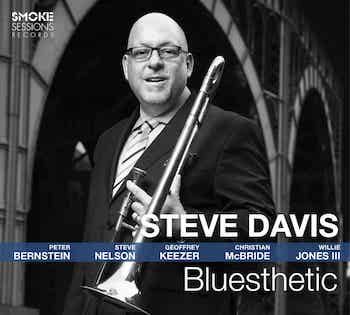 I first heard trombonist Steve Davis at the beginning of the '90s when he was with that wonderful jazz finishing school, Art Blakey's Jazz Messengers. In the latter years of that decade he began a long stint with Chick Corea in his so-called Origin band. Davis's flexibility and technical security on trombone, which even J.J. Johnson called a "horrible" instrument, were obvious from the start. He is also a fine melodist: Chick Corea called him "Davissimo the Melody Man." He has influential musical friends. For his latest album Bluesthetic he put together an all-star band of musicians about whom he says, "Recording this album was kind of like a family reunion. We all go back 30-some years together, which is kind of surreal." He is the only horn on the date: his mates are guitarist Peter Bernstein, vibist Steve Nelson, pianist Geoff Keezer, bassist Christian McBride, and drummer Willie Jones III. (Jones is no relation to the drummer Willie Jones who played with Lester Young and who recorded with Sun Ra.) With this band, Davis says, it's no wonder the music came off well. They play Davis originals and a blues made up on the spot that he calls "Off the Cuff." The cuts are short, the solos taut and meaningful. Everyone contributes: I found myself listening to the rhythm section, the fascinating interplay between Christian McBride and drummer Willie Jones III.
Davis' compositions include tributes to his heroes and evocations of places significant to him. Everyone solos, but I'll single out pianist Geoff Keezer, who is energized and exciting throughout. He is, of course, featured on Davis's tribute to Chick Corea, "A Star for Chick," which begins with Jones playing a four-bar introduction on drums. The attractive theme that follows is stated at first by trombone and vibes in unison. For the second A section, Davis drops out and vibes and guitar play the melody, while the seemingly improvised B section is mostly given over to Keezer. The arrangement serves up modest, even unobtrusive, variety. With his customary burly tone, the trombonist solos first, followed by Peter Bernstein, whose long, boppish lines give way to Steve Nelson and then to Keezer. Keezer plays a repeated phrase reminiscent of something Davis played a few minutes earlier, and then takes it into new harmonic spaces. Davis plays his "Far Away Dream" heavily muted. It's a slow, evocative ballad, a mood that everyone clings to: Nelson's solo consists of a few well-placed notes that seem to fade away rather than conclude.
On "Silver at Sundown," Davis pays tribute to Hartford's Horace Silver and to the local club he played at before his discovery by Stan Getz. (Drummer Jones played with Horace Silver as well, and can be heard on Silver's Jazz Has a Sense of Humor.) It's a Silver-styled blues. Davis says he never strays very far from the blues, and proves it with his Bluesthetic. Again, to my ears, Keezer's stands out in the sequence of fine solos: he seems to come in from outside — he plays with virtuosic power and harmonic daring. He also stops his longer lines at times to stomp out a few soothing chords: he wants to remind us that all this music, including the leader's lithe playing and rounded tone, swings comfortably. Compositions such as "Bedford Stroll" are appealingly direct, the mood gently swinging. They all fit seamlessly into the comfortable musical world Davis creates.
---
Michael Ullman studied classical clarinet and was educated at Harvard, the University of Chicago, and the U. of Michigan, from which he received a PhD in English. The author or co-author of two books on jazz, he has written on jazz and classical music for the Atlantic Monthly, New Republic, High Fidelity, Stereophile, Boston Phoenix, Boston Globe, and other venues. His articles on Dickens, Joyce, Kipling, and others have appeared in academic journals. For over 20 years, he has written a bi-monthly jazz column for Fanfare Magazine, for which he also reviews classical music. At Tufts University, he teaches mostly modernist writers in the English Department and jazz and blues history in the Music Department. He plays piano badly.