By Peg Aloi
This series presents a compelling perspective on the relativity of determining crime and punishment, but also meditates on the nature of guilt.
The Staircase, HBO Max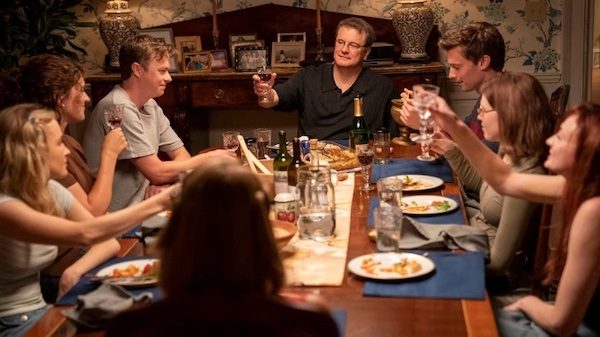 Based on the 2018 documentary series of the same name (available to view on Netflix), this limited series on HBO chronicles the notorious story of novelist Michael Peterson, convicted of murdering his wife, Kathleen, in 2009 in their Virginia home. The writer has continually maintained his innocence and claims that his spouse died in an accidental fall down the stairs. But the trial jury decided that there was sufficient evidence Peterson was responsible for her death. The original doc series was made by a French team who spent intimate hours with the writer's large and unconventional family, which included two sons from Michael's previous marriage and two daughters who had been adopted as young girls, as well as a younger daughter with Kathleen. The series inspired by the doc makes good use of a fluid timeline that slowly accumulates layers of context. The result is a great deal of suspense, despite the fact that the outcome of the story is so well established. Viewers of the Netflix series may find their assumptions challenged as the narrative unfolds.
Played by Colin Firth, Peterson is a witty, affable talkative man who, after writing several successful historical novels, spends most of his days working out at the gym and trying to option screenplays of his work. Kathleen, played by Toni Collette, has an extremely high-powered and well-paying job that generates a fair amount of stress between the couple. The pair are well known in social circles and the community's response to the news of Kathleen's sudden death is shock and sadness. Their family and friends continuously underscore how loving and devoted the couple was, and therein lies the tension that drives the series: if Peterson did it, what motivated him?
I started watching the fictional HBO series before I saw the documentary series. I soon realized that I needed to finish viewing the latter in its entirety before taking in the HBO version. Fortunately, because the HBO series was only airing one episode a week, I had time to do this. I recommend watching the documentary series first, if only because it shows you how uncannily precise and thoughtful Firth's performance is — he captures Peterson's mannerisms perfectly. There's very little video of Kathleen available and not very much of it is shown in the doc, so Collette's performance is inevitably more of a dramatic creation. One of the hardest working actresses of her generation at the moment, Colette was a fine choice for this role — she is more than up to the task, and her stunning portrayal of three different scenes portraying precisely how Kathleen may have died are harrowing to watch. It's an excellent cast all around, including Shirley's Odessa Young as adopted daughter Margaret and Mad Men's Rosemarie DeWitt as Kathleen's sister Candace, who believes Michael is guilty.
There's a fair amount of time spent in the documentary on the legal team's strategy to help Michael, not only to escape conviction the first time, but to overturn his conviction via appeal on several occasions. Peterson's attorney, David Rudolf, is played by the excellent Michael Stuhlbarg (Call Me By Your Name) and Peterson's brother Bill, also a lawyer, is played by Tim Guinee (Inventing Anna). Parker Posey does an astounding job playing assistant district attorney Freda Black, meticulous in every detail, right down to makeup, clothing, and accent. The Peterson children are constantly present and their maturation from teenagers to college students to young adults with families of their own is fraught with various crises of identity and culpability for their sometimes reckless actions: a narrative choice that sheds light on the shadow side of this privileged family brought low by scandal.
One unusual feature of the HBO series is its portrait of the documentary team that captured so much footage of the Peterson family; their access seems almost uncomfortably personal. Peterson's intimate relationship with the documentary's editor is insinuated in the opening scene of the first episode. Having exhausted his appeals, Michael is waiting to enter an Alford plea in order to be released. The editor of the documentary team, played by Juliette Binoche, is by his side and presumably planning to be with him after his release, a connection that, we later learn, developed after she worked on the documentary series. She maintained contact with the writer while he was in prison, convinced he was innocent.There are some wonderfully authentic behind-the-scenes details about filmmaking here, as when Binoche asks an orchestra to repeatedly play music that will eventually become the doc's opening theme. She requests to listen to the theme again and again, asking that it be played slower, louder, more intensely, etc. This exercise makes a very powerful point, once you realize that this is the music one continually hears in the documentary, from the opening credits onward. It speaks to the passionate dedication of the documentary filmmakers (led by Jean-Xavier de Lestrade), but also their desire to avoid any heavy-handed manipulation. And yet as we see in HBO's provocative retelling, the documentarians did indeed have their own beliefs about Peterson's guilt. It is this attention to detail that renders this remarkable story so compelling and worthy of retelling, and in the wake of HBO's premiere the matter continues to trigger heated arguments.
---
Peg Aloi is a former film critic for the Boston Phoenix and member of the Boston Society of Film Critics. She taught film studies in Boston for over a decade. She's written on film, TV, and culture for web publications like Time, Vice, Polygon, Bustle, Mic, Orlando Weekly, RadioTimes, and Bloody Disgusting. Her blog "The Witching Hour" can be found on Substack.