By Scott McLennan
The band Neighbor isn't reinventing the wheel, but it's not getting steamrolled by it either.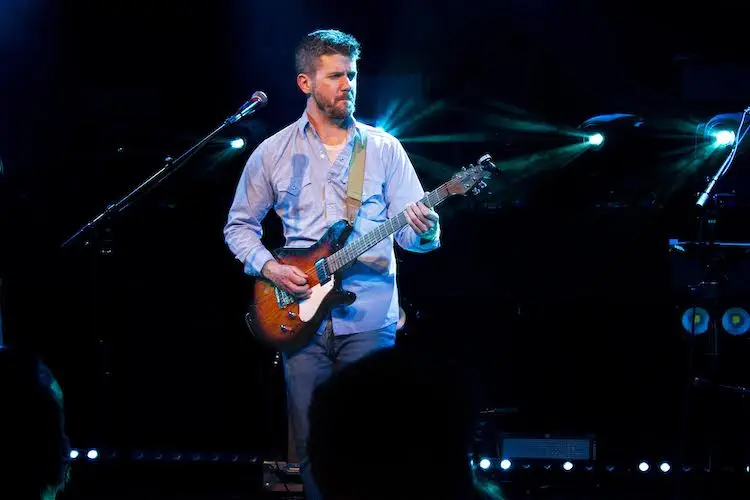 The band Neighbor capped a successful spring tour of the Southeast with a "back home" show in early May at the Paradise in Boston. It was the quartet's first time headlining the venerable Commonwealth Ave rock club that has a storied legacy of presenting breakout shows by Tom Petty, U2, Talking Heads, and The Police.
But one has to wonder if Petty, Bono, Byrne or Sting experienced what the four guys in Neighbor experienced after guitarist Lyle Brewer wound down his cathartic solo in the song "Planet Silver." It was met with such a stadium-sized roar from the crowd that the band had to stop playing and enjoy the wave of euphoria directed its way.
"I almost cried," recalled Neighbor keyboard player and singer Richard James.
By that point in the show, it felt like Neighbor was not at the end of something but rather at the start of its next chapter.
James, Brewer, bass player Dan Kelly and drummer Dean "Dux" Johnston came together in 2019. James, who plays in the band Pink Talking Fish which covers the music of Pink Floyd, Talking Heads, and Phish, was itching to have an outlet for his original music.
The first person he contacted was Brewer, a journeyman guitarist with impeccable chops and ability to sound amazing in whatever genre he plugs into. It was a fortuitous reconnection, as the two actually were neighbors in the '80s when their families lived next to each other in Andover, MA.
Kelly, who played bass in New Motif, and Johnston, a first-call drummer in the region and a member of both the Graduals and Club d'Elf, are a rhythm section that sounds great whether putting a bit of jazzy swing into a country-leaning blues or thrashing hard and pushing Neighbor's feel-good music to metallic borders.
At one point in his musical journey, James went to New Orleans to study with revered roots music piano player Jon Cleary. Besides learning some technique, James was inspired by Cleary's weekly nightclub residency in the city, a regular gig that allowed the artist to work through new material and give fans a chance to see him regularly.
So, Neighbor took the same approach and started playing every Tuesday at Thunder Road in Somerville. And it was there that Neighbor built both a supportive community of fans and a thick catalog of original material.
"We pushed each other almost psychotically to write new material," James said. "I asked Lyle to learn a Jimi Hendrix song. But he went off and wrote his own version of it."
One of Neighbor's strengths is the way it can take an influence such as Hendrix and then explore some facet of that root sound to come up with a fresh piece of music. Neighbor isn't reinventing the wheel, but it's not getting steamrolled by it either.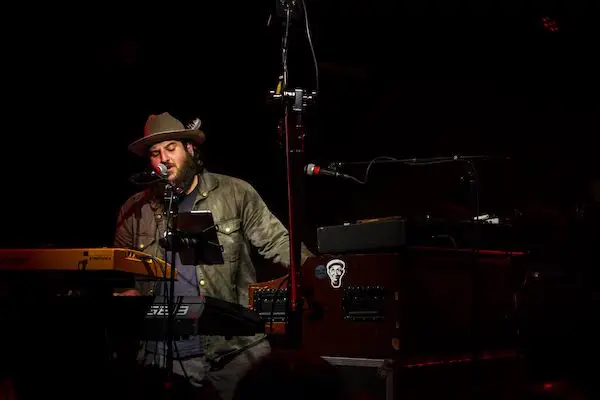 When the band played its marathon show at the Paradise on May 6, the only cover songs it presented were an apropos, albeit jammed out, version of Eddie Money's "Two Tickets to Paradise," the night's very first song, and Willie Nelson's "On the Road Again," the concert's wind-up, delivered via a rare lead vocal by Brewer.
But in between Eddie and Willie, many other bands were invoked with Neighbor's own songs. The recently written "Broadway," for instance, had the sort of oddball loping rhythm that the Grateful Dead could use to good effect plus a few lyrical images evocative of Dead iconography. It wasn't exactly a Dead song, but it sounds like a dog-whistle for Deadheads.
Elsewhere in the show, shades of Little Feat and The Band emerged in some of the more rustic numbers. Neighbor's second set at the 'Dise was packed with lengthy improv-driven jams that at times recalled the psychedelia of primordial Pink Floyd.
While James acknowledges that Neighbor is not one to hide its influences, the band does distinguish itself in the way it deftly covers its familiar sonic terrain in ways that do not sound slavish or lazy. The song "Grandaddy Said," for instance, embraced everything from chicken-scratch guitar licks to ELO-style grandeur.
The residency at Thunder Road (which sadly shuttered permanently during the COVID-19 pandemic) not only allowed the group to build its catalog and develop its chemistry, but also fostered a rabid following that becomes downright evangelical when spreading the good news about Neighbor.
James says the diehard fans identify as "Neighbors," "and they have been instrumental to the band's success and gotten our name out there."
When Neighbor got the call to play at the 2021 Peach Music Festival, a big gathering in Pennsylvania for the jam-band scene, the Neighbors leaped into action and rented a plane to fly over the Scranton festival grounds and carry a banner announcing Neighbor's set time and location. James said that about 4,000 people packed into Neighbor's midnight show at Peach. That opened the floodgates to more touring for the group as well as interest from industry pros wondering "Who are these guys?"
The band appreciates whatever support the fans provide, and James says he has answered every email sent the band's way. In fact, he has mailed out countless recordings of shows just for the asking. To him, going this route – and avoiding putting Neighbor's music on Spotify – is rooted in a particular philosophy of art and music.
"Music used to be about people telling other people about a band. That's how I got introduced to all of the music I love. You'd see someone wearing a band t-shirt and ask about the band. Or someone would give you a mix CD. I still believe in the power of human-to-human contact and putting quality music behind that," he said.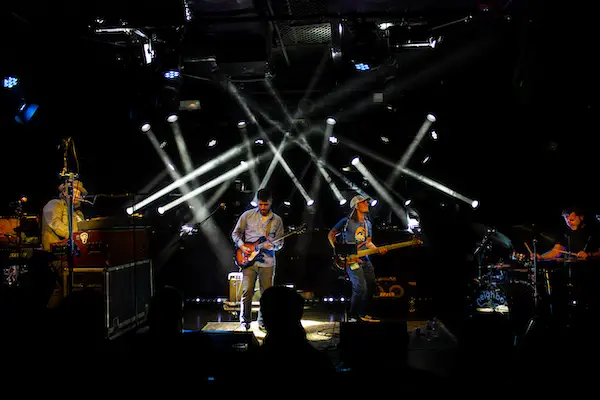 The next phase of the band's development will be the release of a proper studio album of original material. That is already well under way, and the band has a new management team to navigate the continued growth of the group.
"It's like starting from scratch in every new market we play," James said. "But you have to remember why people came to see you in that first year out at Thunder Road and how all of this has jelled over the last three years."
The band very much wants to grow, but it also wants to retain the handcrafted feel of the Neighbor experience, not to mention leave time to keep developing new material.
"There are people willing to help us take Neighbor to the next level, and we decided there is no better time than now," James said.
Neighbor has a stacked summer schedule including a return to the Peach Festival on July 2 and an appearance at the Beach Road Festival on Martha's Vineyard with headliners Beck, Wilco, and the Avett Brothers happening Aug. 26 to 28. In addition to playing shows across the country this summer, Neighbor has local headlining gigs July 28 at The Met in Pawtucket, RI, and Oct. 22 at the State Theater in Portland, ME. And Neighbor recently announced Into the Sun, which will take place Sept. 9 to 11 at Soundcheck Studios in Pembroke and feature Neighbor each night performing with guest artists in the lineup plus sets by Jennifer Hartswick's band, Club d'Elf and others.
---
Scott McLennan covered music for the Worcester Telegram & Gazette from 1993 to 2008. He then contributed music reviews and features to the Boston Globe, Providence Journal, Portland Press Herald, and WGBH, as well as to the Arts Fuse. He also operated the NE Metal blog to provide in-depth coverage of the region's heavy metal scene.