By Jonathan Blumhofer
Violinist Lea Birringer's performance of the Christian Sinding selections are impressive. Her Mendelssohn Violin Concerto, though, is missing drive, excitement, and passion.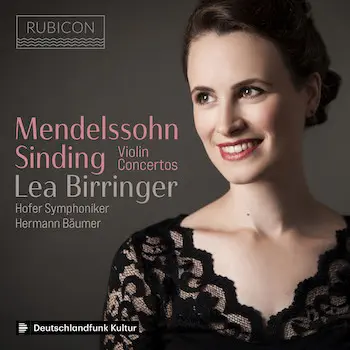 Unfamiliar with Christian Sinding? You're probably not alone. Though after Edvard Grieg the turn-of-the-(20th) century's most famous Norwegian composer, Sinding – who spent much of his life and career in Germany — is, today, all but forgotten: an application to join the Norwegian Nazi Party (unsigned by the then-senile composer, who was just weeks from death at the end of 1941) obliterated his posthumous reputation. Of course, given the composer's frequent critical drubbings — Sinding's innate conservatism didn't win him many friends in the press as the early 20th century proceeded — that might have happened anyway.
Regardless, nowadays he's something of a fringe figure, largely neglected by the mainstream. This fact helps violinist Lea Birringer's new recording of Sinding's Violin Concerto No. 1 and Romance in D major stand out just by the program. As it happens, her performances of both pieces are pretty good, too.
This A-major Concerto, published in 1898, is steeped in the style of Brahms and Bruch, which is to say there are lots of double stops, plenty of lyricism, and moments of spirited, jocular fun to be had along the way. A great piece it probably isn't — the first movement's main subject is all but beaten to death over its last third and the second's passacaglia theme meanders — but it's tuneful, idiomatic, and, on its own terms, more than a little refreshing.
Much of the credit for this goes to Birringer and the Hofer Symphoniker led by Hermann Bäumer: they've all got a firm measure of Sinding's style. The involved solo line is dispatched with sweetness and clarity, Birringer knowing just how to shape each phrase and color each turn. She's most impressive over the last two movements, spinning the second's long-flowing melodic lines with effortless beauty while flexibly articulating the finale's playful turns.
Throughout, Bäumer draws an accompaniment from the orchestra that is knowingly balanced, smartly directed, and richly engaged with Sinding's technique (the finale's subtle repurposing of earlier themes from the piece, for instance, is done with an agreeably light hand).
Similar qualities mark the pairing's traversal of the Romance. Completed just 12 years after the Concerto, the piece seems to inhabit a different world: the harmonic writing is far more chromatic and Sinding's instrumentation is commensurately richer. Suffice it to say, Birringer and friends shine in the performance, which, despite the music's unexpected turns, always finds its way home affectingly.
Alas, the same can't quite be said of the reading of the Mendelssohn Violin Concerto that fills out the album. Perhaps the concern was that this favorite would overshadow the Sinding selections. Or maybe there was something altogether otherwise afoot. Either way, this is Mendelssohn interpretation of almost defiant dullness.
Everything is spacious and deliberate. The first movement, for instance, clocks in nearly 90 seconds above average — and feels like even more. Though the Andante flows nicely, there's none of the spark one gets from Heifetz, Hahn, Mintz, Perlman, or others in the finale.
It's rather a shame: Birringer's got all the notes under her fingers and plenty of little details make it through (the monster solo arpeggio just before the finale's last chords, for instance, is actually audible). Yet there's not much drive, excitement, or passion on display here. The end result is that the Sinding selections stand out — but how much more impressive might it have been had they held their own against an equally compelling take on one of the cornerstones of the repertoire?
---
Jonathan Blumhofer is a composer and violist who has been active in the greater Boston area since 2004. His music has received numerous awards and been performed by various ensembles, including the American Composers Orchestra, Kiev Philharmonic, Camerata Chicago, Xanthos Ensemble, and Juventas New Music Group. Since receiving his doctorate from Boston University in 2010, Jon has taught at Clark University, Worcester Polytechnic Institute, and online for the University of Phoenix, in addition to writing music criticism for the Worcester Telegram & Gazette.