By Jonathan Blumhofer
Opalescent's overriding aspect is celebratory – but from a variety of angles.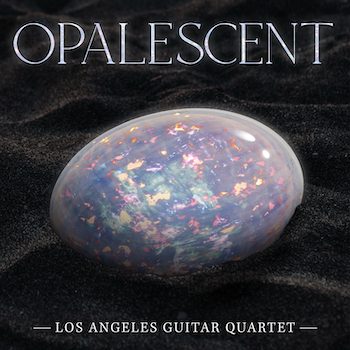 Light and sound, sound and light: the terms are often enough used in conjunction with one another, so why not an album built on a conversation between the two? That's the concept behind the Los Angeles Guitar Quartet's (LAGQ) Opalescent, a release that also marks the group's 40th anniversary. It's a beguiling effort, one that combines technical rigor (of both the compositional and performative varieties) with a strong sense of musical purpose.
While the album's eight selections cover a fairly wide stylistic spectrum, none of the pieces make excessive demands on the listener. Indeed, Opalescent's overriding aspect is celebratory – but from a variety of angles.
Sometimes, as in Andrew York's Hidden Realms of Light, the mood is broadly unconflicted. Here, the LAGQ realizes the music's layers of rhythmic patterns and balances of foreground and background lines with aplomb. Catching, too, are the group's executions of the snappy riffs in Matthew Greif's arrangement of Michael Hedges' Aerial Boundaries.
In Tilman Hoppstock's Suite Transcendent, the ensemble revels in the music's knowing play of light and shade. This is music of bold contrasts: the spare textures of "Open Landscape" and dense counterpoint of "A Breath of Wind" mirror moments of real delicacy, like the shimmering harmonics in "La Porte Du Ciel." Throughout, the LAGQ colors Hoppstock's writing beautifully, particularly the touching coda of "La Grande Cathedrale."
Phillip Houghton's affecting Opals comes out well, too, especially its hypnotic central section, "Water Opal," with its eddy-like swirls of melodic fragments and soulful climaxes.
Impassioned playing marks Robert Beaser's Chaconne. The twelve-minute-long score is the album's longest and most encyclopedic, referencing the genre's archaic origins (the bass line is drawn from Purcell) as well as more recent musical languages.
Appropriately, Beaser's writing boasts an impellent sense of rhythmic and melodic direction. To be sure, the writing never loses sight of its latent dancing impetus, even as it veers towards jazz around the midpoint. At the same time, the LAGQ smartly navigates the score's striking shifts of texture, mood, and dynamics across each of the nine variations, taking conspicuous joy in the allusions to Iberian guitar repertoire over the Chaconne's concluding pages.
There's no shortage of personality to be had in the album's remaining fare – Frederic Hand's Chorale, Kevin Callahan's Alki Point, and Houghton's Wave Radiance – each of which benefit from performances of warm tonal resonance and strong linear shaping. Particularly fine is the Hand, whose welcomely pungent (and sometimes unpredictable) harmonic progressions frame a central section of gently flowing lyricism.
---
Jonathan Blumhofer is a composer and violist who has been active in the greater Boston area since 2004. His music has received numerous awards and been performed by various ensembles, including the American Composers Orchestra, Kiev Philharmonic, Camerata Chicago, Xanthos Ensemble, and Juventas New Music Group. Since receiving his doctorate from Boston University in 2010, Jon has taught at Clark University, Worcester Polytechnic Institute, and online for the University of Phoenix, in addition to writing music criticism for the Worcester Telegram & Gazette.